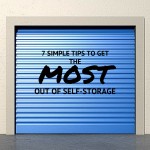 W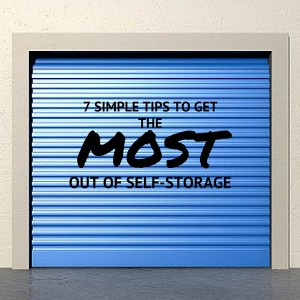 hen it comes to self-storage, there's really no one-size-fits-all solution when it comes to getting the most out of using this service. Houston storage units can come in all types of sizes in different areas and offer competing prices, but finding the type of affordable storage Houston residents actually need can sometimes be difficult.
To help reduce such concerns, listed below are seven tips on how to get the most from your particular storage unit:
Consideration of Price
Merely finding the least expensive facility is no guarantee that you'll end up satisfied, since the adage, "You get what you pay for," immediately comes to mind. Therefore, when seeking out the affordable storage Houston consumers expect, it's best to check on what's included in the price.
Chief among them should be the availability of climate-controlled units. While not necessarily important for all items, it's vital when electronic products and other sensitive material is placed there. After all, it gets mighty hot in Houston during the summer and get very chilly in the winter months, extremes that can damage such equipment.
Getting Protection
This area refers to both the specific area where the Houston storage units are located and the steps made to protect yourself. Any quality self-storage unit should be safe enough to visit without fear of being under siege by criminals looking to steal from unsuspecting residents and should also have security cameras in place.
The other part of this equation deals with addressing the possibility of damage to your items. You should either have insurance in place or the company should provide it within the context of your monthly fee.
The Need for Accessibility
Life doesn't always go according to plan, so there may be times when obtaining an item from the storage unit is needed during odd hours. That means making sure you have things stored at a facility that gives such entry.
Such places allow renters to access their units 24 hours a day, providing them with a pass code to get into the facility. However, this isn't always the rule, so make sure to check with the company staff and check your rental contract.
Organization is Key
Nothing's more frustrating than to spend extra time searching for an item in a storage unit. That's why making sure to place up front the most frequently used items in there and to clearly mark the boxes holding them, so that they'll quickly be available
Preparing a checklist or map of the items in the unit will also help alleviate concern about where certain items are located. Also, make sure to put the sturdiest items at the bottom to avoid items potentially being crushed. It may seem tedious at the outset, but will be beneficial in the end.
Using All Your Space
While it's always helpful to have an aisle or room to move around in your self-storage unit, that may not be possible if it's completely filled up. Regardless, certain items can be taken apart or placed in a specific fashion, allowing for additional room
These include items like furniture or tables that allow for parts of them to be removed or mattresses that can be placed sideways instead of flat. Also, the inside of some appliances can be used to store minor items.
Obtaining Floor Protection
Houston storage units are sometimes not immune to heavy rains, which can turn out to be disastrous for items in there if the unit isn't sealed completely. To avoid such circumstances, it's best to place some plywood or other floor protection to slightly elevate the storage items and keep them safe.
Covers are Welcome
Over the course of weeks and months, dust will inevitably develop inside the unit, but simply using dust covers or plastic to protect exposed items from these annoyances will help save time when it's time to retrieve them.
When it comes to the type of affordable storage Houston residents demand, the suggestions above are just some examples of the ways for them to get the most bang for the buck. Count on A-AAA Storage in Houston, and contact us today!
The post 7 Simple Tips to Get the Most Out of Self-Storage appeared first on A-AAA Houston Storage.