Though they may sound similar at first glance, Hypersomnia and insomnia are two distinct sleep disorders that impact people in different ways. Below, we outline some of they key differences to note when comparing hypersomnia vs. insomnia, along with the more common symptoms for each.
What Is Hypersomnia?
Hypersomnia is a neurological disorder categorized by excessive sleepiness or time spent asleep. It can result in a large amount of stress and difficulty functioning within day to day life. It affects social, occupational and professional aspects of life. Hypersomnia can also be known as hypersomnolence or idiopathic hypersomnia (meaning it arises from no actual-life cause).
Note: The content on Sleepopolis is meant to be informative in nature, but it shouldn't taken as medical advice, and it shouldn't take the place of medical advice and supervision from a trained professional. If you feel you may be suffering from any sleep disorder or medical condition, please see your healthcare provider immediately.
Causes Of Hypersomnia
Hypersomnia can be caused by a variety of other medical issues (see Secondary Hypersomnia, below). It can also be caused by adverse reactions to medication, or as a result of drug or alcohol addiction issues. There is some evidence for a genetic predisposition to hypersomnia, relating to a somnogen (sleep inducing hormone) in the spinal fluid, although the exact hormone and cause for production of it are still not known.
Symptoms Of Hypersomnia
There are two main symptoms of hypersomnia. One is excessive daytime sleepiness with no real life cause (after what should be enough sleep). The other is an excess of hours spent asleep (usually categorized as more than ten hours per night), typically for a time period longer than three months. Chronic sufferers may sleep up to 18 hours a day, and will never feel "refreshed" upon waking.
[Learn the difference between hypersomnia vs. a sleep attack.]
Other symptoms of hypersomnia can include anxiety, low mood, short temper and irritability, lack of energy, slowed thoughts and speech, restlessness, appetite changes, poor memory, and even hallucinations. If you exhibit any of these symptoms, it's best to see a medical professional immediately.
Secondary Hypersomnia
Hypersomnia can exist on its own as a singular disorder. However, it's more prevalent in combination with another malady. Hypersomnia is often experienced alongside mental illness like clinical depression. It's also commonly diagnosed with multiple sclerosis, epilepsy, obesity, celiac disease and encephalitis (inflammation of the brain). Hypersomnia can also itself be a symptom of other sleep disorders, such as narcolepsy or sleep apnea.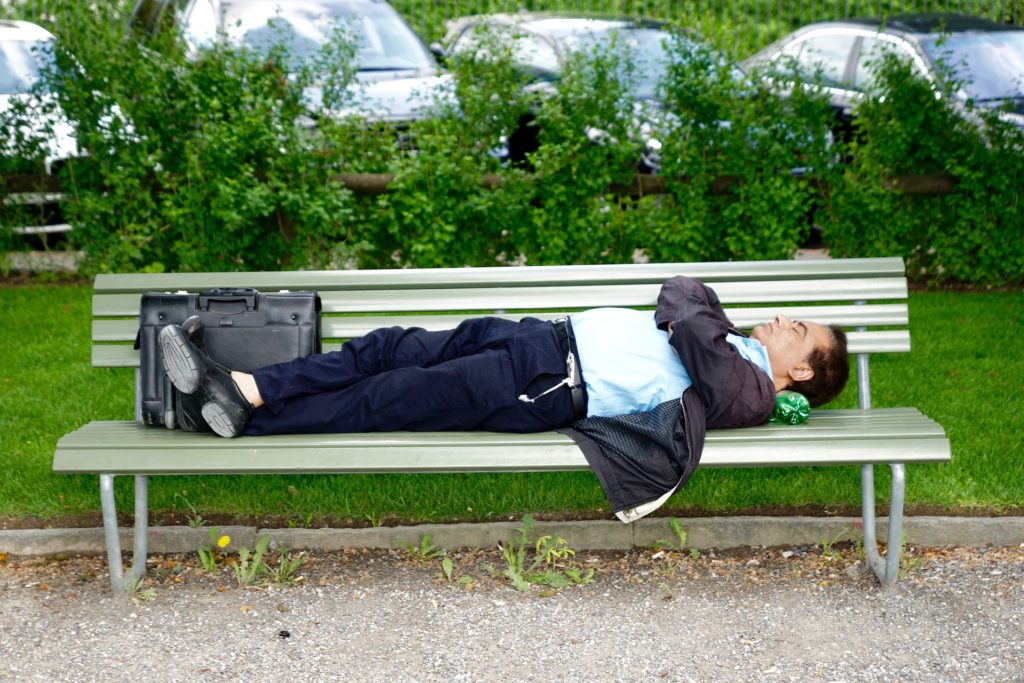 Kleine-Levin Syndrome
Kleine-Levin syndrome (also known as Sleeping Beauty syndrome) is a rare sleep disorder categorized by long periods of hypersomnia followed by a long period of waking. During wakefulness, the sufferer experiences extreme appetite and hyper sexuality. It's particularly prevalent in teenage boys.
Treatment For Hypersomnia
Hypersomnia treatment really depends on what type of hypersomnia one is suffering from. There is no complete cure for chronic hypersomnia, however the symptoms can be alleviated through different medicines or lifestyle choices. If hypersomnia is present alongside another condition, often treating the other condition can have a drastic improvement on the hypersomnia, too.
For severe cases of hypersomnia, treatments may include an amphetamine-esque stimulant. Other factors like avoidance of caffeine and alcohol, not eating a lot late in the day and maintain good sleep hygiene can have positive effects on hypersomnia.
What Is Insomnia?
Insomnia is a sleep disorder categorized by extreme trouble sleeping. It can take the form of difficulty in falling asleep, or in staying asleep for the amount of hours needed. Insomnia is defined as sleeplessness with no actual-life cause, such as noise pollution.
Insomnia effects around 30% of adults at some point in their life. It impacts the night time experience, but it also has repercussions for during the day. It can adversely affect relationships, social life, work performance, and mental and physical health, and general quality of life.
Types Of Insomnia
There are around fourteen different types of insomnia. The categorizations tend to be about length of time with the disorder (transient, acute, short term, or chronic), the cause for the disorder (adjustment, drugs or substance related, comorbid, sleep hygiene related, or behavioral), or the way the disorder presents itself (onset, maintenance, idiopathic, paradoxical, or psychophysiological).
Causes Of Insomnia
A common cause of insomnia is psychological stress. It can also be caused by chronic pain, restless leg syndrome, hyperthyroidism, heartburn, and sleep disorders like sleep apnea. Other lifestyle choices can increase likelihood of insomnia too, such as working night shifts, abusing drugs or keeping bad sleep hygiene.
Symptoms Of Insomnia
The main symptom of insomnia is excessive daytime sleepiness. It usually results in low energy and a depressed mood and irritability. Other symptoms include lack of attention span, poor memory, sadness or irritability, anger, poor decision making, and frustration Insomnia can also increase risk of things like motor accidents, and typically results in less productivity at work.
Treatment For Insomnia
Severe insomnia can be treated with sleeping pills, however for many they are not a long term solution and can have unpleasant side effects. Lifestyle changes are usually the most effective way to counter insomnia. Things like keeping a good sleep schedule, maintaining sleep hygiene, not drinking caffeine or alcohol and avoiding heavy foods before bed can have a dramatic improvement on insomnia. Cognitive behavioral therapy (CBT) can also be used in treatment of insomnia.
Again, if you experience any symptoms of chronic or lasting insomnia, or if your symptoms or impacting your quality of life, it's best to seek advice from a medical professional. Symptoms and diagnoses can vary significantly between individuals.
Differences Between Hypersomnia And Insomnia
Although both hypersomnia and insomnia can have the similar effect of extreme fatigue, they're actually quite different in terms of how they present themselves. In very simple terms, insomnia is a lack of sleep, while hypersomnia refers to getting too much without feeling the benefits.
Both hypersomnia and insomnia can have hugely adverse effects on one's life, though they can be managed and their impacts lessened. If you're concerned about either of these, or another sleep disorder, it's important to speak to a doctor or health professional to find out what can be done.
The post Hypersomnia vs. Insomnia: Differences and Symptoms appeared first on Sleepopolis.