Leesa was one of the original bed-in-a-box companies, selling its first mattress as early as 2014. Since then, it's developed a number of different sleep products (blankets and pillows and foundations, oh my!) as well as new kinds of beds.
Today, I'm giving the old side-by-side once over to the all-foam Leesa and its sister brand, the hybrid Sapira. While these mattresses have a lot in common, they also have some key differences that make for two totally unique sleeping experiences.
So brew yourself a cup of soothing chamomile tea and get ready for a deep dive into the dreamy world of Leesa mattresses. If you're in a hurry you can click here to skip to the summary.
Leesa Coupon: Click here to save $100 on any Leesa!
Sapira Coupon: Use code SLEEPOPOLIS200 to save $200 off any Sapira mattress – Click Here
Similarities
As I mentioned up top, these beds actually do have a lot in common, even as their constructions are incredibly different. So, before we dig into the specs that give these mattresses their distinct feels, let's chat about some of their similarities.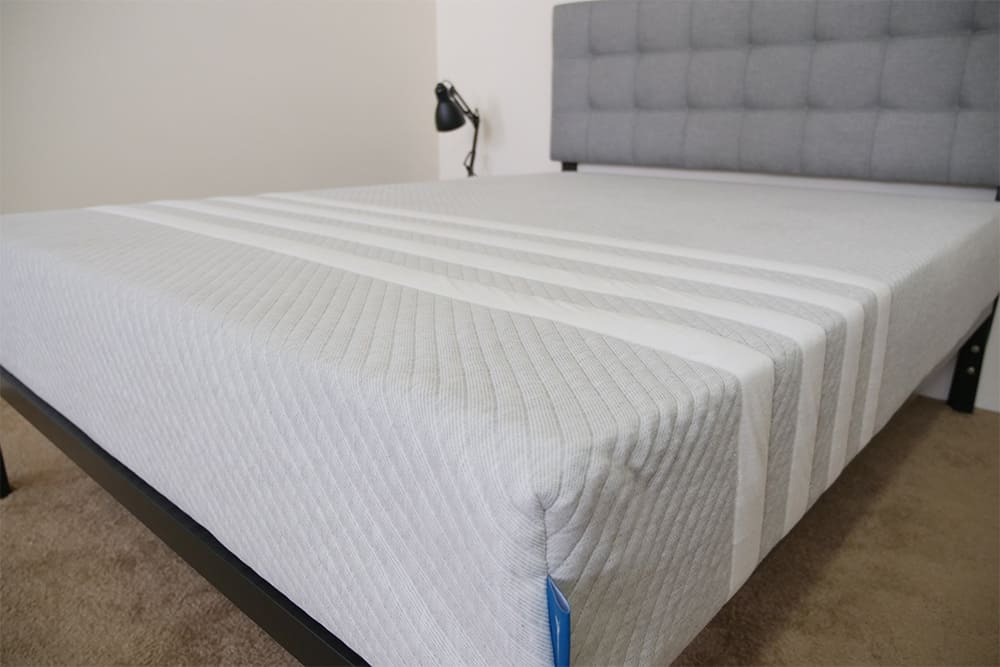 Pressure-relieving foam – Both the Sapira and Leesa employ premium foam top layers for immediate comfort and pressure relief. The use of memory foam in particular is an important similarity as it provides the two mattresses with some excellent body contouring.
Cooling – These beds are also built to sleep cool. This is achieved in the Sapira with its individually wrapped coil system, which encourages healthy air flow throughout the structure. In the Leesa, the cooling comes from its breathable cover and aerated layer of Avena Foam (also present in the Sapira), which aids in containing and dispersing heat.
Construction
And now onto the differences. Moving forward, the most obvious thing you'll notice is that the Leesa is made up exclusively of foam while the Sapira combines foam with innerspring technology. The differing materials will obviously create disparate feels, so I'm jazzed to dig into these layers and assess them side-by-side.
I'm going to walk you through a brief synopsis of each bed's specific construction below, but would encourage you to also check out our full reviews of the Leesa and Sapira.
Leesa
Cover – Made up of a polyester blend, the cover of the Leesa is soft to the touch and has a cozy feel. Stretching it with my hands, it felt both durable and breathable.
Comfort Layer – The comfort layer is constructed of 2" of Avena Foam. The material is like latex, which means it responds quickly to pressure and is fantastic at cooling. It also produces a pleasant bounce, which will help to keep the sleeper on top of the mattress as opposed to in it. This section is aerated and built with a wavy design, which encourages air flow throughout the bed.
Memory Foam – Below the comfort layer, you'll find 2" of memory foam. This section will produce lovely body contouring and pressure relief, which is great for all sleepers, but especially for those who doze on their sides. And while memory foam has a reputation for overheating, its placement below the cooling comfort layer keeps it from getting too hot.
Base Layer – Finally, the base of the mattress is built with 6" of high-density polyfoam. This layer acts as the foundation of the bed, giving it its structure and support.
Sapira
Cover – The cover is pretty thin and is constructed with a Polyester and Lycra blend, which makes for a stretchy material that won't bunch up when you move around. Lycra is also great for temperature control as it actively wicks moisture away from the body.
Comfort Layer – The comfort layer is built with 1.5" of Avena foam. The material is perforated with holes, which encourages air flow and ensures that you won't sleep too hot. This layer also responds quickly to pressure, so you'll never feel stuck in the bed.
Contour Layer – Below the Avena foam, you'll find 1.5" of memory foam. This layer provides quality pressure relief to the sleeper as well as some enjoyable body contouring.
Transition Layer – Nestled between the soft foam of the bed's top layers and the sturdy springs of its core lies 1" of high-density polyfoam. The main function of this layer is to act as a transition between the different materials in the mattress.
Support Layer – The next to last layer is made up of 6" of pocketed coils. They're individually wrapped, meaning they move independently of one another to help extend the body contouring properties of the memory foam throughout the mattress. These springs also imbue the Sapira with its supportive bounce, which helps lift the sleeper out of the bed.
Foundation Layer – At the base you'll find 1" of high-density polyfoam. This layer helps to anchor the bed and gives some support to the pocketed coils.
So what?
While the Leesa and Sapira share similar foam layers, their differing support structures are going to produce two distinct feels. We'll explore this more in depth later in the comparison, but for now just note that the Sapira's use of pocketed coils is going to create more of a classic body contouring feel than the Leesa. This makes the Leesa a tad firmer than the Sapira, so it could be a nice option for those who change positions in the night. .
FAQ: What type of mattress is right for me?
The Feel
Nitty gritty details aside, let's get down to how these bad boys feel. This is, after all, why you've stumbled upon this comparison, so I'm going to do my best to provide you all with a sense of how you'll experience these mattresses when you've turned off the lights and slipped into bed for sleep.
Everyone feels the firmness of mattress a bit differently, because of size and weight distribution, so I brought in three more testers to try out each of these Leesa beds. Below are the graphs showing the average firmness rating for each of these mattresses.
While feel is, of course, a super personal thing, I'm going to do my best to break down all the aspects that contribute to these mattresses' fully unique vibes.
Leesa
As you can see on the graph above, my testers were in agreement about the firmness of the Leesa, giving it an average of 7. When compared to the industry standard rating of 6.5 for medium firmness, this mattress is just a touch on the firmer side. When I stretched out on the Leesa, I definitely felt its supportive lift, but also noticed some great body contouring and sinkage from the memory foam layer. The quick response of the Avena Foam allowed me to switch positions easily and prevented me from feeling stuck in the mattress, which tells me this would be a solid pick for a wide range of sleepers.
Sapira
My testers were also pretty much in agreement about the firmness of the Sapira, giving it an average rating of 6.6. When compared to the industry standard of 6.5 for medium firmness, it's clear that this hybrid mattress falls squarely between soft foam and firm innerspring. I personally gave the mattress a 6.5 because while I felt some sinkage from the top foam layers, I also experienced a pleasant boost from the springy coils, which helped me feel like I was sleeping on top of the mattress. This is particularly great for back and stomach sleepers who benefit most from a little lift and a firmer feel.
Funnily enough, the two mattresses experienced the same amount of sinkage even for having such different constructions. Taking a closer look, though, it's not that surprising given that most of this sinking is a result of their shared plush foam top layers. This means that regardless of your pick between the two, you'll get a nice mix of snuggly sinkage and bounce.
So what?
Though you'll experience quality support and pressure relief from both the Leesa and Sapira, their feels are pretty different. The all-foam construction of the Leesa lends this mattress a firmer vibe, with its sinkage mitigated by the quick response of the Avena foam top layer. The Sapira, on the other hand, is less firm and extends the body contouring through the memory foam and into the pocketed coil system. All this really means is that if it's important for you to be able to move around and feel like you're sleeping on top of your bed, the Leesa would be my pick for you.
Hip and shoulder pain? Check out my top picks for side sleepers.
Motion Transfer
Whether it's with your long term partner or your second cousin dropping into town for a wedding, you're bound to share your bed with someone during your mattress' tenure. That's why it's crucial to consider motion transfer when making a big mattress purchase.
As the graphic demonstrates, both the Leesa and Sapira are pretty good at containing motion. I'd give a slight edge here to the Sapira, whose individually wrapped coils are excellent at isolating and dispersing motion throughout the entire structure. This makes it a fantastic bed for couples, who won't be likely to feel too much disturbance as their partners toss and turn in the night.
So which do I buy?!
When deciding which of these fantastic mattresses to go with, there are a few factors to consider that will practically make the choice for you.
The first thing to figure out is what kind of feel you're after. While both of these beds will give you pressure relief and support, they do it in different ways. If you enjoy the luxurious soft feel of an all-foam mattress, you can't go wrong with the Leesa. However, if you enjoy the bounce and support of a traditional innerspring, the Sapira might be the better option for you.
The second comes down to how you sleep. If you're strictly a back or stomach sleeper, I'd recommend that you check out the Sapira. Its supportive bounce and relative firmness will keep your spine in alignment and have you feeling like you're sleeping on top of the mattress. If you can't land on one single position, your best bet is to consider the Leesa.
Third, how often will you be sharing your bed? If you've got a consistent bed mate, you might want to opt for the Sapira as its excellent motion transfer will help both you and your partner snooze peacefully through the night. The Leesa's not bad at containing movement either, but you just can't beat the motion-isolating wrapped coils of its sister bed.
And finally, how much are you willing to spend? As you can see in the price table above, there is a difference in cost between the two mattresses. The Sapira is more expensive ($1,475 for a Queen) than the Leesa ($940 for a Queen), so if you're prioritizing value, the Leesa could be the bed for you.
To get even more specific about my mattress recommendations, I'm going to group certain types of sleepers together that might enjoy the same mattress.
Leesa
Sleepers who change positions in the night
Anyone in search of an all-foam feel
Want to sleep cool
Sapira
Couples
Anyone in search of a hybrid feel
Back and stomach sleepers
Alright folks, that about does it on this Leesa vs Sapira comparison. As always, if you have any specific questions or want a personal mattress recommendation, leave a comment on the video and I'll make sure to get back to you ASAP.
The post Leesa vs Sapira Mattress Comparison appeared first on Sleepopolis.