A mold infestation usually comes with health symptoms that are similar to respiratory allergies.
24/7 Service Call Now
30+ Years Experience – HVAC Engineer
Of all the problems you might have with your Air Conditioning, Mold in the duct system can be dangerous for your health and not so easy to get rid of. This problem develops over time and is not easy to identify before it gets too bad.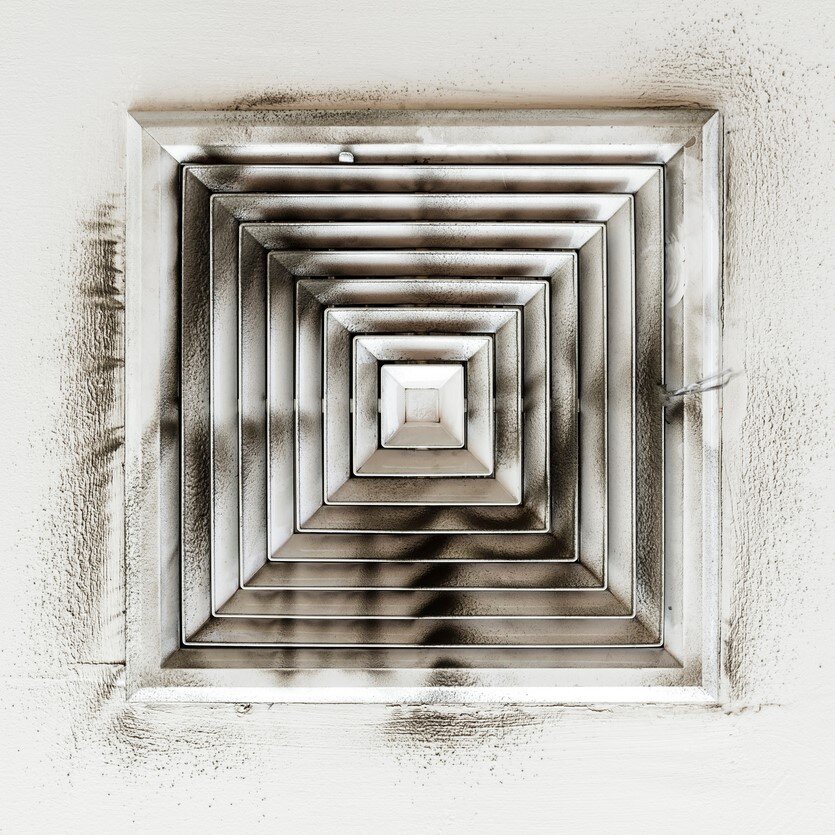 Here are four signs to look out for when regularly evaluating your air conditioning system. They will help you identify a mold problem early and solve it before it damages your health, home, or HVAC system.
Strange Smell in the House
The first sign usually noticed during a Mold Infestation is a strange, musky smell in the house, especially when the AC is on. The smell might be felt in the whole house or only in adjacent rooms that may get less sunlight or lack proper air circulation. The smell is similar to mildew smell, and you might become used to it over time. Ask someone who is visiting you if they notice a moldy smell when they enter your home. If you suspect something, call a professional AC service and have them check the inside of the vents.
Mold Spots or Black Dust around the Duct Openings
If you start noticing mold spots and mold dust, your problem already got much bigger. Usually, the infestation is quite advanced if you actually see the mold at the duct openings, ceilings, or walls. Mold looks differently, depending on the species infesting your house. It can look like a white, fluffy deposit or green-blue spots. Black mold, one of the most dangerous kinds, looks like black dust covering your duct grids, and you might mistake it for regular dust.
Allergy-like Symptoms
A mold infestation usually comes with health symptoms that are similar to respiratory allergies. You will get a runny nose, watery eyes, coughing, and sneezing, etc. If these symptoms disappear as soon as you leave the house or you stop using the air conditioner, it's a sign that you might deal with mold.
Headaches, Breathing Problems
Some of the worst symptoms you can get from mold growing in your air conditioning system are headaches, dizziness, breathing problems, and other more serious signs. For people with certain conditions, such as asthma, these respiratory problems can be exacerbated and degenerate in an emergency.
If you notice one or more of these signs, seriously consider a mold infestation and investigate further. Calling an AC service is the best way to deal with such a problem because DIY solutions may not be safe or as effective as specialists. In addition, if you want to prevent such problems, then it would be wise to schedule maintenance visits at least once a year.
Thomas Hoffmann Air Conditioning & Heating
Thomas Hoffmann Air Conditioning & Heating specializes in installing, repairing, and maintaining the cooling system for your home. We are dedicated to keeping our customers cool in the hot summer months by selling the best air conditioners on the market, providing preventative maintenance services, and sending out our certified technicians to service your existing equipment.
24/7 Service Call Now
30+ Years Experience – HVAC Engineer