Its Time To Find The Best Tile Sealer For You
If you are thinking of using any form of natural stone tile in your home or tiling project then a quality tile sealer should be the first thing on your mind.
To protect the beautiful finish during installation and to maintain the stone tiles look for years to come, you need the best tile sealer available to protect your investment against everyday living.
This review of the best tile sealers for 2019 is here to help you select the right sealer for your tile choice and also highlight which kind of finish you can choose from. (Natural to glossy).
Lastly, I will point you toward the best prices for every tile sealer on review.
If you are looking for the best grout sealers – click here.
Click Here to Jump to the Best Tile Sealers Information Table.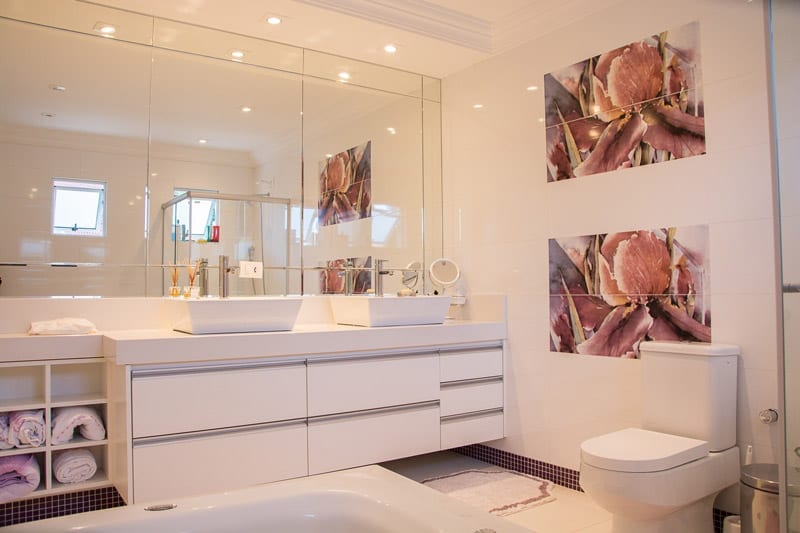 This best tile sealer guide will aim to clarify the confusion involved with tile sealants and explain which product will work best for your chosen material. From slate, travertine, marble and any other stone tile, there is a tile sealer for it.
Any mumbo-jumbo concerning penetrating tile sealers, oil or water-based tile sealants and any related terms will be clarified as well.
Let's go seal some tile!
The Best Tile Sealers Information Table
| Name | Type | Rating | Use | Price |
| --- | --- | --- | --- | --- |
| Aqua-X Stone Sealer | Penetrating | 5 | All forms of natural stone tiles and unglazed tiles. | Check Price |
| Aqua Mix Sealer's Choice Gold | Penetrating | 4.5 | Ideal for porous surfaces like sanded grout and travertine etc | Check Price |
| Miracle Sealants - Seal & Enhance | Non-Penetrating | 4 | Perfect for natural stone. Enhance the color of stone and leave shine. | Check Price |
| Stonetech Bulletproof | Penetrating | 4 | Ideal for the best stain protection for marble, granite and slate. | Check Price |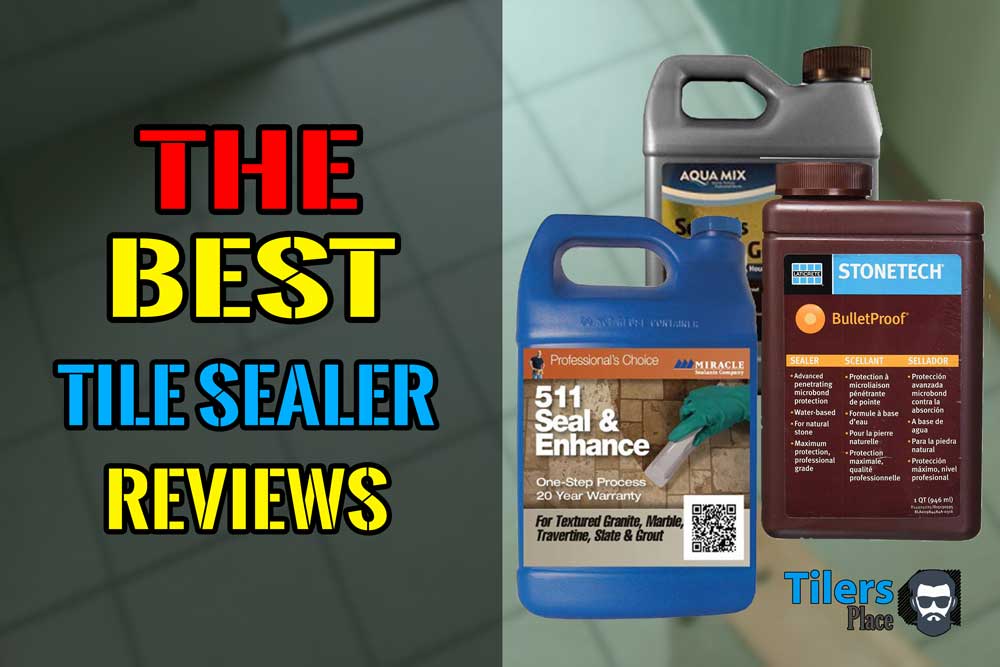 Professional Tiler's Pick ✓
This Is An All Round Fantastic Tile Sealer. Suitable For ALL Natural Tiles, Indoors & Out. Leaves A Natural Sealed Look.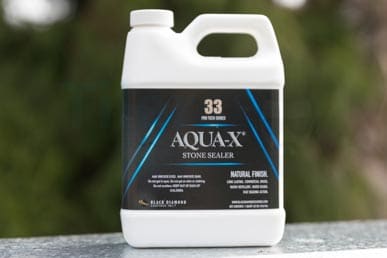 1. The Best Tile Sealer :

Aqua-X – Stone & Clay Brick Sealer
The best tile sealer for all types of natural and manufactured tiles is Aqua-X Stone Sealer by Black Diamond Coatings.
It is a low odor, water-based, penetrating tile sealer suitable for sealing:
• All Types of Natural Stone Tile – sandstone, slate, quartz, marble, limestone, granite, bluestone / basalt)
• Manufactured Tiles – unpolished porcelain tiles, clay pavers, polished & unpolished concrete, terrazzo, encaustic tiles, terracotta.
It is safe to use for both exterior and interior tiles and has the best properties overall for every day and most common uses. Low Odor and VOC!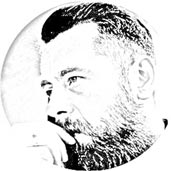 Hi there and welcome to Tilersplace.com
My name is Carl Anders and I have been tiling professionally for over 20 years in both the USA and England.
In that time I have sealed my fair share of grout, natural stone, cement tiles and have learned a thing or two about tile sealers in that time.
Today, I want to pass on my experience with tile sealers onto you. Helping you can make the right and proper decision when selecting a sealant for your next tiling project.
Before You Buy The Best Tile Sealer
When it comes to selecting a tile sealer for any of your tiles, it is very important to remember what kind of result you are expecting from your tile sealer and where those tiles will go.
Every tile sealer is made for a different purpose and will affect the end result.
For example, if you have a natural stone in the shower, you will require the best tile sealer for showers, one that can withstand standing water. Also, have a think about the finish.
Do you want a natural look or an enhanced "wet look" that makes the tile darker, shiny and overall looking like it's been drenched in water. A natural tile like travertine marble will benefit greatly from a wet look tile sealer whilst something like terracotta would be better suited to a natural look.
Taking into account that there is no "best tile sealer" for every single use case, I have selected a range of tile sealers that best suit specific situations. All you need to do is find the one that suits your use and you are good to go.
If you are unsure about which tile sealer will work best for your application, I have provided a tile sealer comparison section below.
Below you will also find the best 3 overall tile sealers that can be applied for most situations and expected results.
Tile sealers can create two distinct looks on your unsealed tiles and both finishes come with their pro's and con's. This section will aim to help you decide on which tile sealer is right for you and your purpose.
Take a look at the image and see the differences between:
• Unsealed (no sealer at all – condition you get the tile)
• Natural Look Tile Sealer
• Wet Look Tile Sealer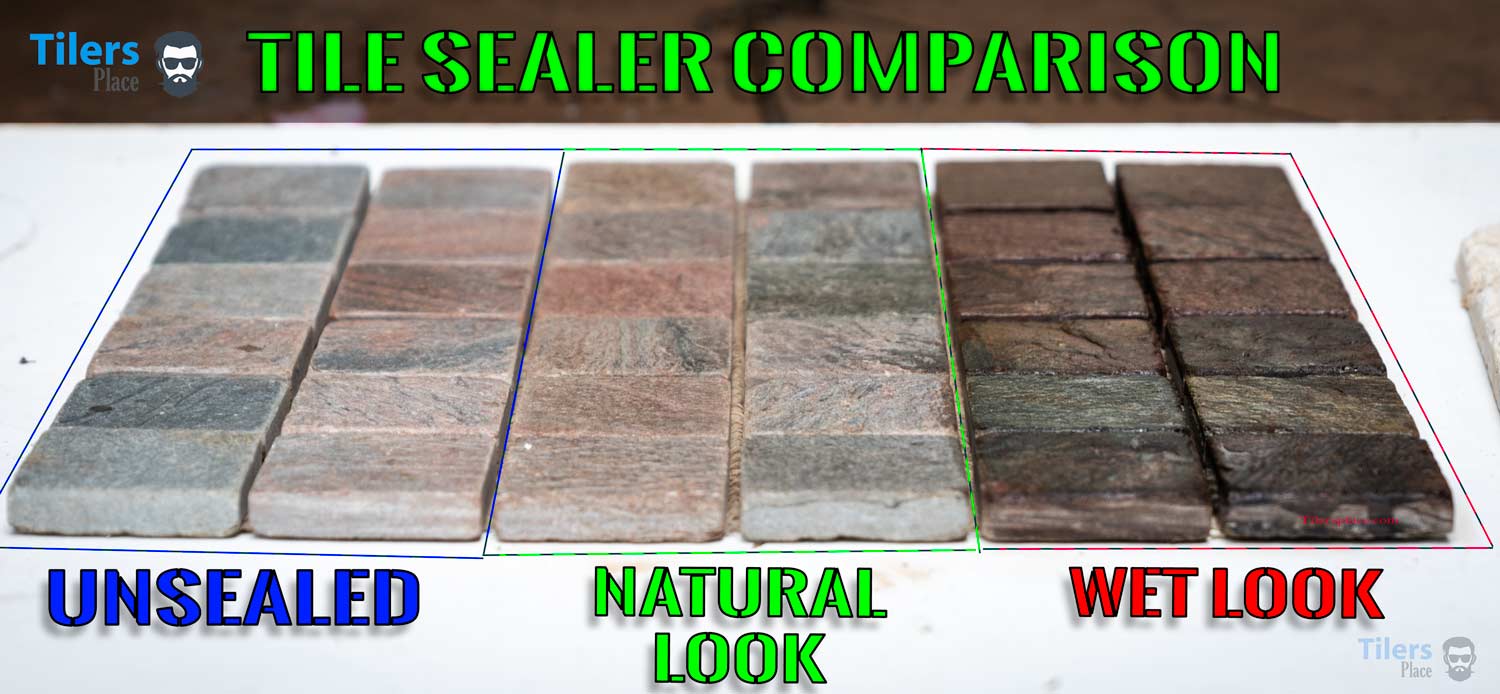 As you can see, the differences between the unsealed and natural look tile sealer are virtually nil – hence the name "natural look tile sealer". It dosen't effect the look of the tile at all, however it does penetrate deep into the tile and form of protective barrier over it.
The wet look tile sealer creates a very striking effect on natural tiles, as you can see in this photo.
As the name suggests, it makes the tile look wet and it brings out the natural beauty of the tile. An added gloss or shiny effect is also added to the tile that further enhances the overall effect.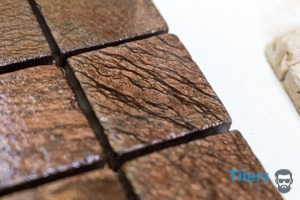 So you've picked out your natural stone tiles but are stuck as to which tile sealer is the right choice for your application. This section will highlight the characteristics of the two main types of tile sealer and help you choose the right one.
Understanding the differences is very important as it will help you avoid making a costly mistake.
Tile Sealer Rule Of Thumb
Use A Wet Look Tile Sealer On Wall Tiles
Use A Natural Look Tile Sealer On Floor Tiles
That's an easy rule of thumb that I go by and it helps educate my clients when they ask which tile sealer I am going to use on their tiles. If you go by this rule of thumb, then you'll be able to choose the right tile sealer every time.
Keep reading if you want to understand the reasoning behind this, alternatively, skip ahead and read my recommendations in the best tile sealer section.
Wet Look Tile Sealer
A wet look tile sealer is solvent based solution that forms a coating over the top of tiles. It's consistency is similar to that of a wood varnish and produces a sharp odor.
Most wet look tile sealers create a moisture barrier that prevents the tiles from breathing, meaning that if water seeps in from beneath the tile (like in outdoor applications) an ugly white haze will appear on the tile. This is because the water has seeped to the top of the tile but is not allowed to escape.

This is nearly impossible to remove – believe me, I've tried.

You can avoid this mostly by sealing all sides of the tile before setting them but I've found it safer not to use it at all in outdoor floor applications.
Also, due to the tile sealer producing a visible layer on top of the tile, it can wear off due to floor traffic. This means areas with heavier traffic will begin to look matte and dull over time because the sealer has worn off. This is why I only use wet look sealers on wall applications where the sealer will not be worn off.

Backsplashes and feature tiles really benefit from wet look tile sealers and that's what I use them on.
Natural Look Tile Sealer
This is the safest option and most protective. A natural tile sealer is more water based and has little to no odors, making it safer to use for sensitive people.
The natural look tile sealer penetrate deep into the pore of the tiles and also protects the surface of the tile from staining and mildew growing on the tile. It's also ideal as a pre-sealer before tiling as it makes cleaning adhesive and grout smears super easy.
Whilst the overall look of a natural look tile sealer may be disappointing to some, the advantages provided really outweigh that.
Since the tile sealer is water-based, you also get more coverage from one bottle – making it more cost effective.
Pro Tile Sealer's Choice
The Best Tile Sealer
Best Overall Choice In Tile Sealants
This tile sealer is ideal for a natural look without any added gloss/sheen and color change in your tiles.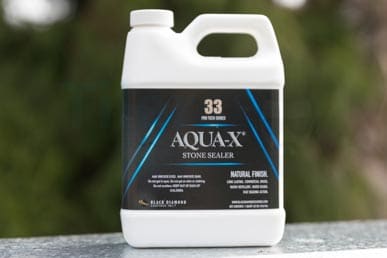 1. Overall Best Tile Sealer:
Aqua-x – Stone Sealer
Black Diamond Coatings have created a great natural tile sealer that can also be used on clay bricks.
It is a water based penetrating sealer that provides many years of protection and a natural finish.
One aspect that really stands out with this sealer is it's very high yield – up to 1000 sq/f per gallon per coat. That is outstanding and really makes this a cost effective solution for sealing large areas.
Application is very easy with either a sprayer or roller and there is no irritating odors. It's one gentlest smelling tile sealers I have ever used.
Pro's
• Very high yield
• Natural look with no extra sheen
• No color change in grout or darker shades
• Suitable for all types of Natural Tile + Grout
• Moisture Barrier helps future cleaning of any stains
• Extremely low odor
• Suitable for Exterior/Interior Surfaces
Con's
• Requires multiple coats for best results
Best Sealer For Damp Areas
This tile sealer is great for porous tiles like travertine, all forms of granite+marble and is a great tile sealer for Cantera/Adoquin.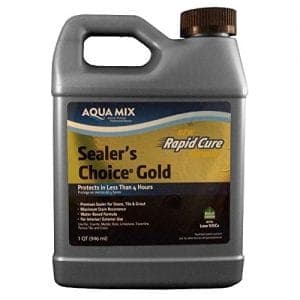 2. Best Damp Area Tile Sealer:
Aqua Mix – Sealer's Choice Gold
Aqua Mix has been proudly producing quality tiling solutions and problem solvers for over thirty years and I have been using their products for nearly as long.
The Sealer's Choice Gold is my go-to tile sealer for most everyday jobs. It provides a natural, non-sheen look to natural stone and tiles that doesn't affect the final finish of the surface.
It is an impregnating sealer also, making it suitable to seal and protect ALL natural stone from oil and water based stains making it ideal for all areas of the home, from food preparation area's to bathrooms and shower floors. It also dries very rapidly and has low odor – thanks to its water-based property.
Pro's
• Natural look with no extra sheen
• No color change in grout or darker shades
• Suitable for all types of Natural Tile + Grout
• Contains Microban® to combat mildew growth
• Penetrates dense, low porosity materials
• Protect's against all stains
• Suitable for Exterior/Interior Surfaces
Con's
• Higher Price Than Common Grout Sealers
• Requires multiple coats for best results
• Will not prevent surface wear or etching from acids or caustic chemicals
Best Tile Sealer To Color Enhance
This tile sealer is designed to bring out details in your chosen tile whilst also enhancing the color. It leaves the desired "wet-look" which makes it popular for travertine tiles.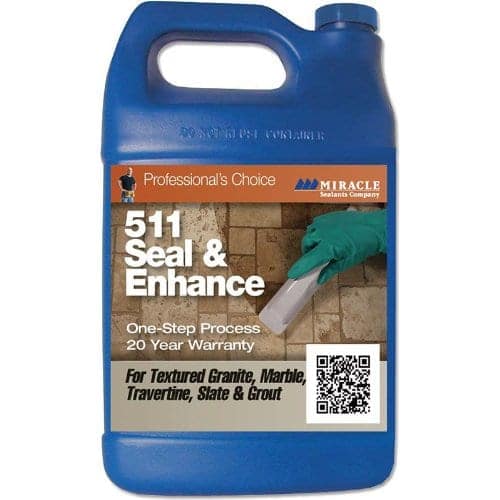 3. Best Enhancing Tile Sealer:
Miracle Sealants – Seal & Enhance Tile SEaler
If you are looking for the best tile sealer to enhance the look of your natural tiles and give it that wet look, then Miracle Sealants Seal & Enhance is for you.
Contrary to all the other tile sealers in this guide, Seal & Enhance Sealer aims to bring out colors by adding a "wet-look" and sheen to them.
This tile sealer is solvent based which makes it a thicker and heavier sealant in comparison to water based solutions – allowing it to work magic on natural stone. It's a great slate tile sealer and it really brings out its color.
This is my favorite to use as a pre-sealer as I know it will protect the precious natural stone from any grout and adhesive stains during installation. After grouting I follow it up with a supplementary coat to really bring out the color.
511 Seal & Enrich is also rated for interior/exterior use and is freeze/thaw resistant.
Pro's
• Heavy penetration and stain resistance
• Adds breath-taking beauty and depth to natural stone
• Long-lasting protection in all conditions
• Easily one of the better color enhancing sealers out there.
Con's
• Solvent-based = Very strong smell
• Can cause hazing if the surface is not fully dry.
• Darkens grout by a shade
• Slower drying time – Longer wait between coats
Best Tile Sealer For Stain Prevention
Stonetech Bulletproof is the tile sealer that tile setters go to when they need the best in stain prevention. It's so good that most tilers won't use anything else!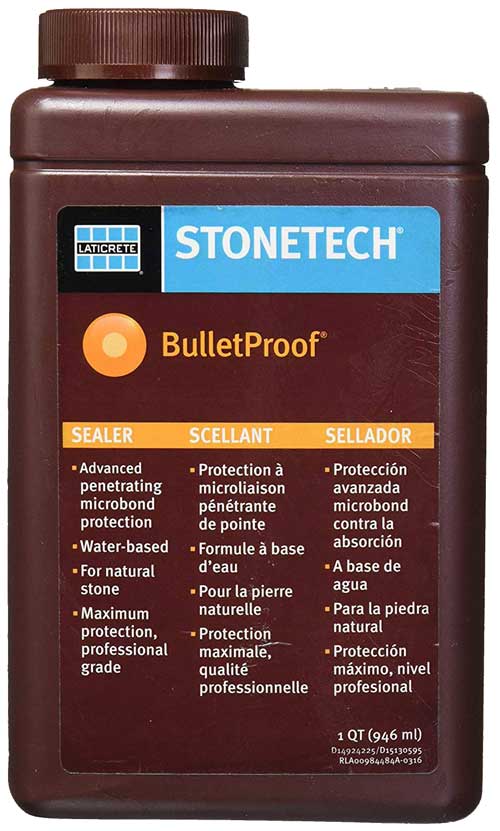 4. Best Stain Resistant Sealer:
Stonetech

– Bulletproof
Want the ultimate peace of mind that your expensive natural tiles will not suffer from staining in high traffic areas?
Laticrete has created the ultimate in stain preventing tile sealers, one that is so good that many tile setters the world over swear by it. Imagine a tile sealer that can withstand every oil & water based stains, including tire marks!
Apart from extreme stain prevention, it is a natural look tile sealer that will not alter the look of your natural tiles. It leaves an almost invisible layer on your surface that beads up stains and stops liquids penetrating it.
Pro's
• Suitable for high traffic areas
• Ideal for Countertops
• Excellent track record
• Backed by tile setters everywhere
Con's
• Higher Price Than Other Tile Sealers
•Won'
This post first appeared on Tilersplace, please read the originial post: here