Ogreshield Easy Knee Pad For Work Review
Finally!
A Knee Pad Built For Comfort!
Introducing Ogre Shield, the new American Knee pad company aiming to provide an knee pad that is truly comfortable and suitable for everyone.
Ogre Shield has thrown conventional knee pad design out of the window with their new line of Easy knee pads. Designed for all forms of work, gardening and outdoors, this new line of knee pads aims to provide a completely new way of protecting your knees.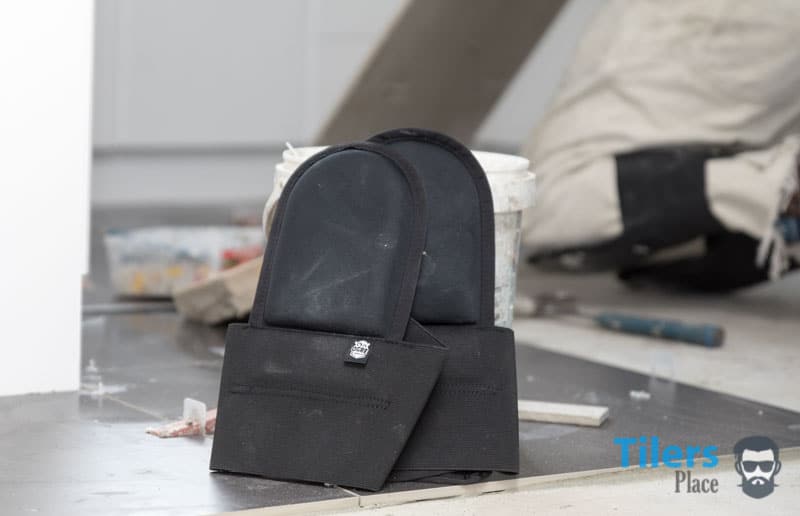 Lighter, more comfortable and featuring a different buckling system over traditional knee pads, Ogre Shield brings a truly unique spin to the knee pad market and aims to provide a better knee pad for everyone.
Today I review the soft and hard shell versions of the Ogre Shield Easy Knee Pad and share my thoughts on the most unique knee pads I have owned.
P.R Gifted Disclosure: Ogre Shield provided me with these pairs of knee pads for evaluative purposes only, all thoughts and opinions are my own.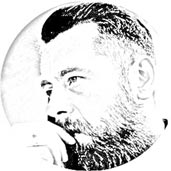 Hi there and welcome to Tilers Place, the only website for detailed and honest knee pad reviews.
My name is Carl and for the past 20 – something years, I have been tiling professionally and doing my best as a weekend handyman.
Over those years I have used and abused my knees to the point of looking at a knee replacement because I never used knee pads. That health scare brought a new awareness to the importance of knee pads and their use.
Since then I have started using knee pads religiously and reviewing as many pairs as I can to help spread awareness and provide you with the best knee pad reviews on the internet.
Ogre shield is a new American company based in Houston Texas. The company was founded with the clear vision of providing people with a truly comfortable knee pad that avoided the usual problems that knee pads have
.
Until Ogre Shield entered the market with their patented design, there was no workers knee pad available that managed to stay up properly and not pinch the sensitive area behind the knees.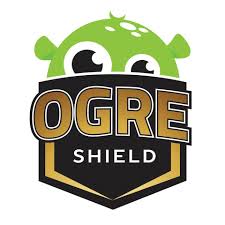 Ogre Shield's founder drew up the original designs, patented it and went to market with the first pair, the soft shell knee pads. In time the hard shell appeared as well to offer a tougher outer shell for those of us working on harsher surfaces.
When you have a moment, please visit their website and learn more about them and their vision!
Ogre Shield Knee Pads – Overview
The Ogre Shield knee pads come in two versions. They are the same knee pad except you get to choose which external surface you prefer according to your requirements and the industry you work in.
You Can Choose From A:
• Soft Shell
• Hard Shell
These knee pads are one size fits all and are aimed for everyone, whether you are working at home, in the garden or a professional and require knee protection.
The two versions of the Ogre Shield Easy Walk knee pads cater for all situations, from kneeling on harsh concrete or rocky surfaces, to working on delicate wooden floors or a slippery roof where you require grip.
The whole entire design of the Easy Walk knee pads revolves around how they fasten around your legs.
Take a look at the photo and you will see how long they are in comparison to traditional knee pads.
This length enables the fastening system to go around your calf muscles instead of the awkward area behind your knee.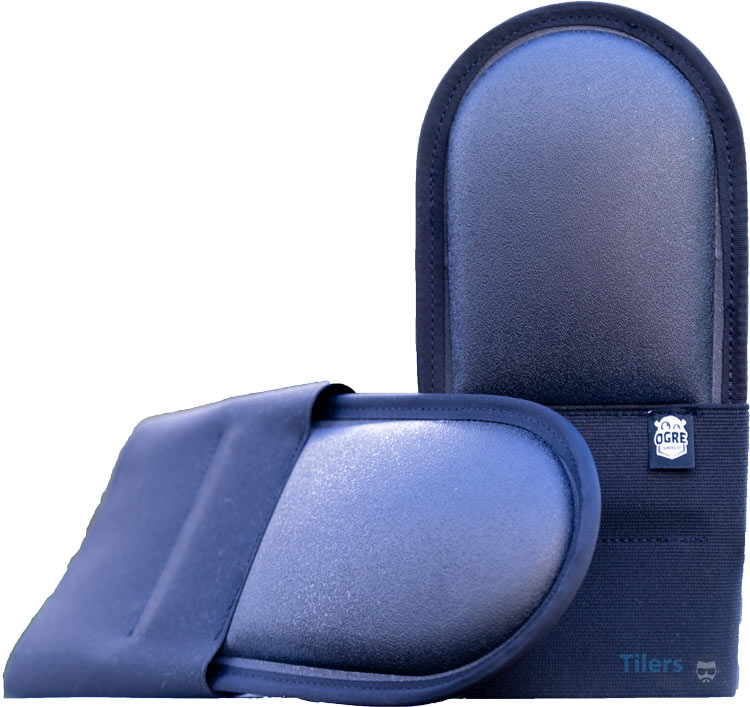 This simple tweak helps solve so many issues that we all have with wearing knee pads. Say goodbye to irritated skin behind the knees and enjoy all day comfort and improved circulation – seriously, I'm not lying.
Suddenly we no longer have pinched and irritated skin from the buckles and a proper snug fit that helps the knee pads stay in place while crawling around or standing up.
The knee pads are also very flat and extremely light weight, they take up no room in a work truck which is a big bonus for me.
The reverse side of the knee pads features an indentation in the foam that provides a good fit for most knees and helps prevent the knee pads from rolling during use.
I like the general understated design of the Easy Walk knee pads, they don't have any obnoxious brand names slapped across the surface, bold colors or thick hunks of plastic that other worker knee pads have.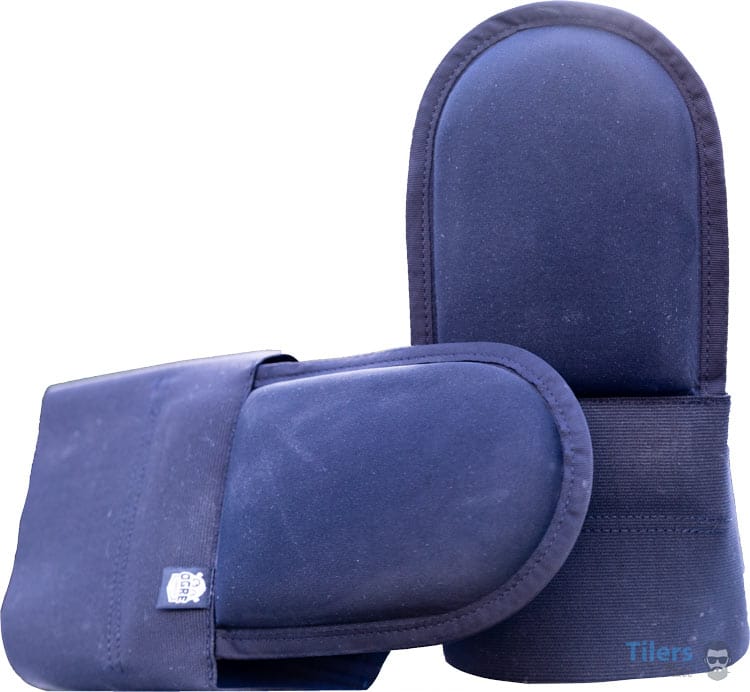 In saying that, you will still get lots of attention from your fellow workers as I bet they have never seen a knee pad like these before!
Be sure to tell them about your knee pair of Ogre Shield knee pads and spread the word, these guys definitely deserve some recognition for their innovative idea.
Buckling System: Wide Band Of Elastic Velcro
Padding Material: Foam
Ogre Shield Knee Pads – Pros + Cons
Pros:
• All-Day Comfort
• ZERO IRRITATION!
• Extremely light
• Do Not Ride Down
• Won't Scratch Delicate Surfaces
• American Made
• Improved Circulation
Cons:
• Could Wrap Around Knee More
• Foam Padding Abit Thin – Gel Padding Could Be Viable Replacement
• Velcro Band Might Be Tight On Bigger Calves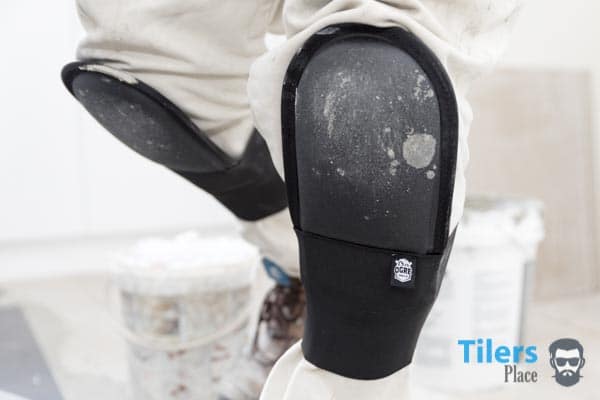 Ogreshield Easy Knee Pads are Recommended For:
• Carpenters
• Plumbers
• Electricians
• Gardeners
• Swimming Pool Contractors
• Flooring Installers
• HVAC Installers
• Outdoor Use
• Tilers – Grouting/Floor Prep
• You!
Ogre Shield Knee Pads – Review Introduction
It's not every day that a knee pair of knee pads comes out.
Sure, the market is saturated already with them but if you look closely, they all follow the exact same design principles.
• Macho Appearance
• Thick foam or gel padding
• Buckles that sit behind the knee (and drive you crazy.)
Even after reviewing countless knee pads and writing the biggest Top 10 Best Knee Pads For Work Review known to man, I was still left feeling that there isn't truly a comfortable knee pad for all day use.
So you can imagine my excitement when Ogre Shield reached out to me and introduced me to their new knee pad. Upon seeing it I was equal parts excited and confused.
"Look at that design-It's so long!" "Where does that velcro band sit?"
I bet you are wondering the same thing and yes I understand, they are definitely unique looking knee pads for sure, but once you understand the reasoning behind the design, everything becomes clear.
In any case, I was eager to get my hands (or knees) on these new knee pads and see for myself how well they do at a full day of tiling.
As you may know, us tilers are kneeling on our knees most of the day, so if you want to find a good pair of knee pads, just ask one of us. We've tried most of em' by now.
Since I got both types to review – the soft and hard shell ones – I decided to bring both pairs of Easy Knee Pads to work and test them out properly.
Since they are mostly the same knee pad apart from the exterior covering, I'll review them as one unit.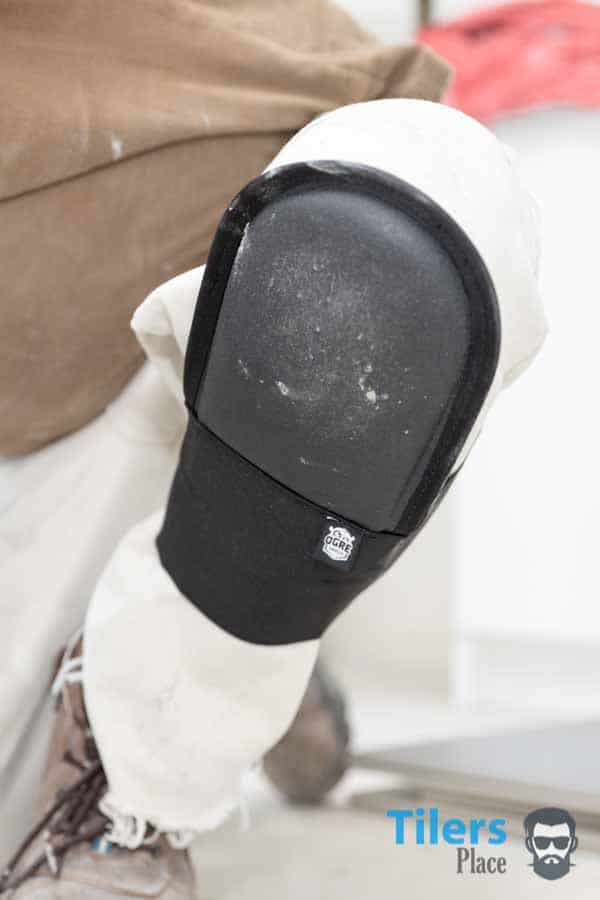 Ogre Shield Easy Knee Pads – Full Review
First Impressions
When the Ogre Shield Easy Knee Pads arrived at my home I was very surprised at how light and compact they are. What they make up for in weight they make up with length. They are easily the longest knee pads I have see with the notable exception of the Pro Knees system of knee pads.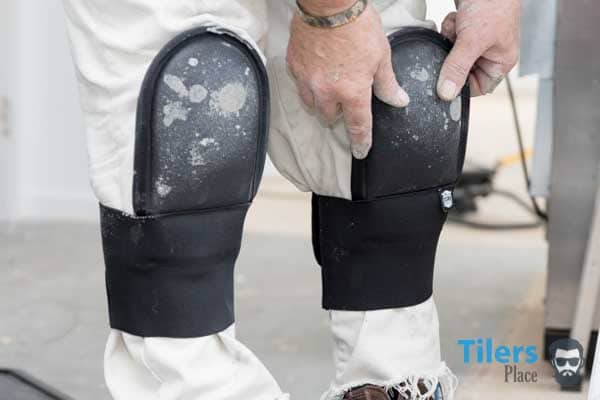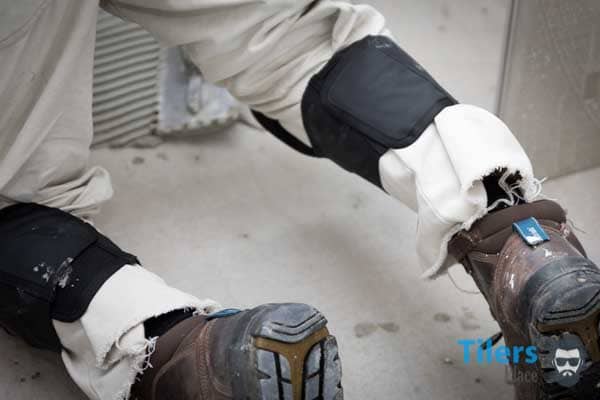 As you now know, these knee pads are all American, from the design to the country of manufacture. Yes, their all American and it's so great to see American products being made at home and contracted out to China like 99% of all knee pads.
Build Quality
Build quality can't be faulted. The stitching was neat and looked strong enough to keep the knee pads together for a long time. The thick velcro band was of a good quality with plenty of stretch and once wrapped around my calf, held extremely well.
One thing that I would like to see is a XL pair for those of us with larger calf muscles as the one size fits all band could be troublesome for some. An easy fix, just offer the same pair of knee pads with a longer length of elastic.
Speaking of the fastening system, it's very easy to wrap around your legs and get them sitting comfortably. Their on and off in moments with no fiddly buckles to adjust or thin straps to position.
There is a reason why their named "Easy Knee Pads" – they live up to the name.
Ogre Shield Easy Knee Pads – Work Review
To truly see what the Easy knee pads are made of, I tried them out on a day I knew would be especially grueling and tough on the knees. I had a lot of floor surface to tile and I knew I'd be on my knees for over 8 hours.
If the Ogre Shield's could survive that, I could easily recommend them to anyone.
So how'd they do?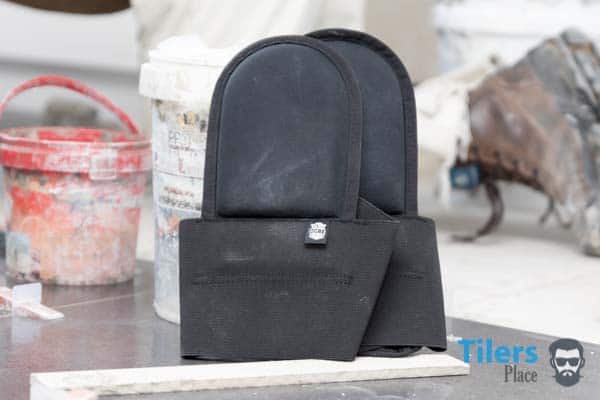 Well, all I can say is stopping reading this review and just go buy some now okay? You'll be doing yourself a big favor.
The funny looking knee pads that are pancake thin took those 8 hours and asked for more, they just kept on going and kept my knees comfortable throughout the whole day.
And you know what's amazing?
Not once did they get irritating, slide down or get in the way. When was the last time you said that about a pair of knee pads?
Oh yeah, that's right – NEVER!
In all honesty I was extremely surprised at how well they put up with the abuse of my knees pushing them into the dirt all day. I got up multiple times to cut tiles and throw hammers at my useless helper and the knee pads just stayed in place. I actually forgot I was wearing them most of the time.
Now that's something I can't say about any other knee pad I've used.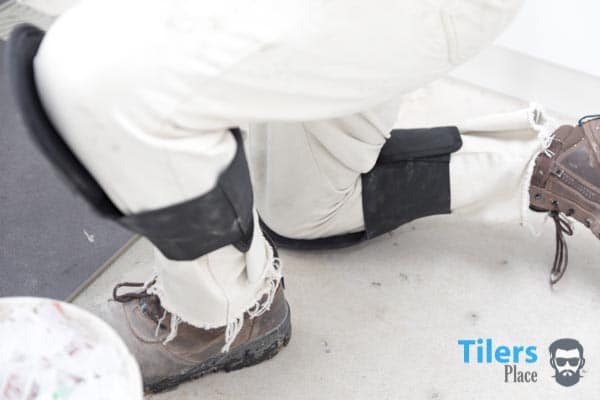 All the twisting and moving around on my knees did highlight another area in which the Easy Knee Pads could improve on however.
The thin design of the knee pads obviously comes with a draw back, the major one being how shallow the depression is that holds your knee in place. Sometimes if I placed my knee at an angle and shifted my weight, the knee pad had a tendency to slide off my knee slightly.
It wasn't a big problem but had me wishing that the padding was slightly thicker and covered more of the knee like traditional knee pads do.
Another thing to take note, and I am sure you may have noticed in my photos, is that the textured surface of the knee pads does catch debris and thinset quite readily on the building site. The same surface that helps keep your knees nice and planted without sliding does come with a drawback. Keep note of that and remember to give them a scrub at the end of the day to keep them looking fresh.
My one's scrubbed up pretty well after that day so their looking noticeably cleaner than you see in my photos. Of course if you will only be using these for home/gardening or are fortunate enough to work in cleaner environments, you don't need to worry.
All in all though, I was seriously impressed with the Easy Knee Pads. They protected my knees all day long, we properly comfortable and didn't get in the way of my work.
Since the day I've reviewed them, they have become my main pair of knee pads for tiling work with the soft shell knee pads coming on for all grouting jobs. With them I don't need to worry about scratching the surface of polished porcelain tiles but still retain the awesome comfort and protection of the Ogre Shield design.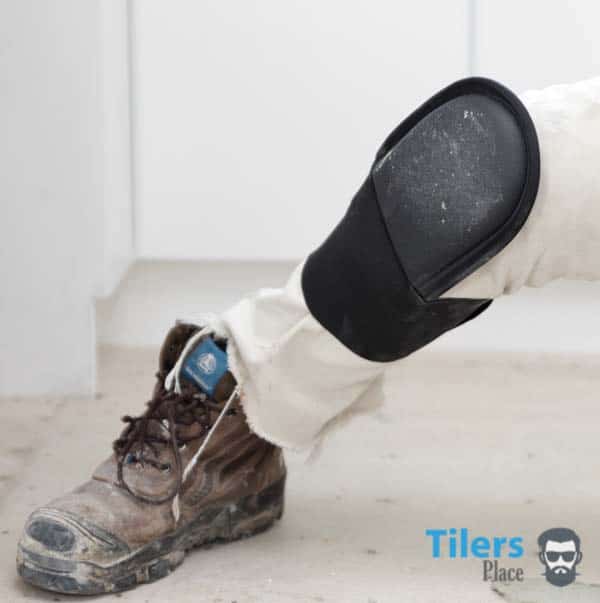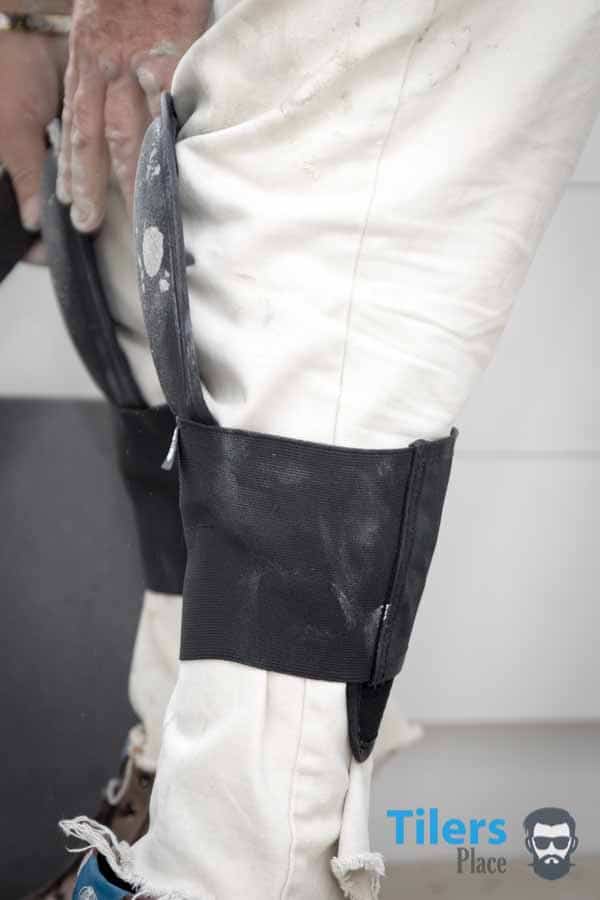 Ogre Shield Knee Pads – Recommended For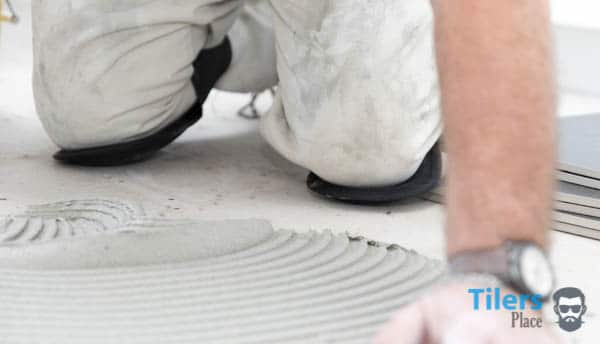 If you are not sure which Ogre Shield Knee Pad is right for you, whether it's the hard or soft shell, I'll try provide some clarity here.
The Hard Shell Knee Pads have a thin layer of tough plastic that is textured. While this texture helps grip on rough surfaces like fibreboard, cement or any unpolished surface, I find them to be quite slippery on tiles and polished wooden floors.
So if you work on finished surfaces like:
• Porcelain tiles – high gloss
• Polished Natural Stone
• Polished Wooden Floors

• Steel Roofs
You might want to consider the soft shell knee pads as they'll provide you with more grip and will not scratch the delicate surface that you're working on.
For general contracting work like plumbing, electrical or the myriad of other services, the hard shell knee pad will work great in most situations. Also general house work like gardening, DIY work or even setting up the tent next time your out camping, these would be your choice.
Once you discover how comfortable and trouble-free these knee pads are, you'll be using them for everything.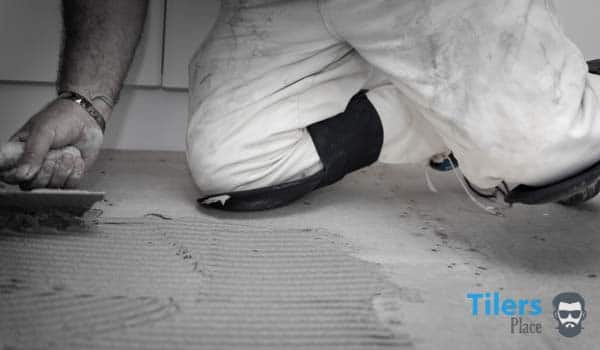 Ogre Shield Knee Pads – Conclusion
Ogre Shield are well and truly onto a good thing here with their new Easy Knee Pads.
The revolutionary design of fastening around the calf effectively eliminates all the common problems that plague all traditional knee pads and offer the market a whole new way of experiencing knee pads.
I thoroughly enjoyed testing out the knee pads and was truly impressed with the high level of comfort and lack of irritation they provided me throughout my work day. I only wish these knee pads came out years ago!
There are a few things that could be improved, maybe a future generation of the Ogre Shield knee pads could include gel padding instead of foam and a wider surface to hug the knee a bit more. An XL version for those with thicker calf muscles could also be an idea to truly encompass everyone that requires knee pads.
In saying that, the pro's far outweigh the cons and these knee pads impressed me so much that they have earned a spot in my Top 10 Best Knee Pad Review, knocking out the Thunderbolt knee pads that were there before.
Many thanks to Ogre Shield for giving me this great opportunity to test your amazing knee pads, I'm looking forward to what other great products you release in the future!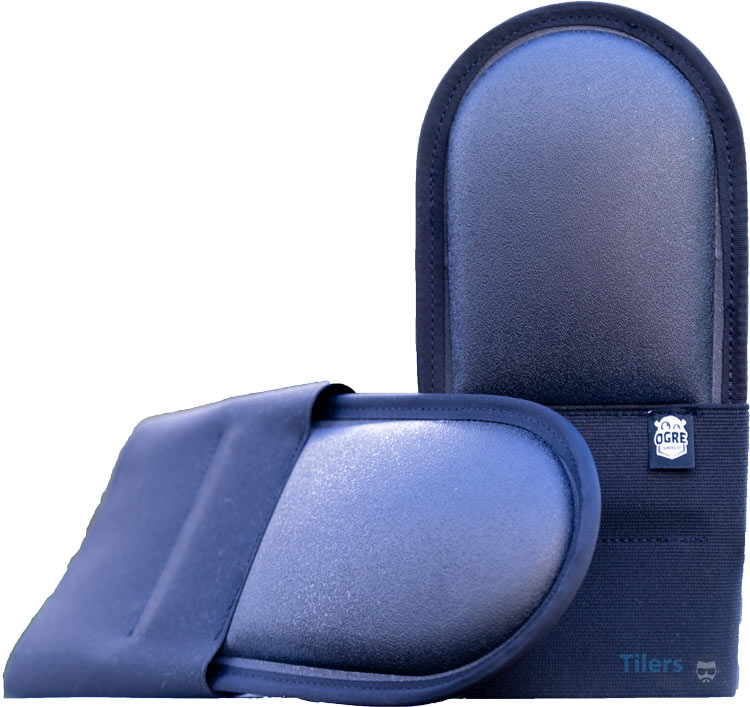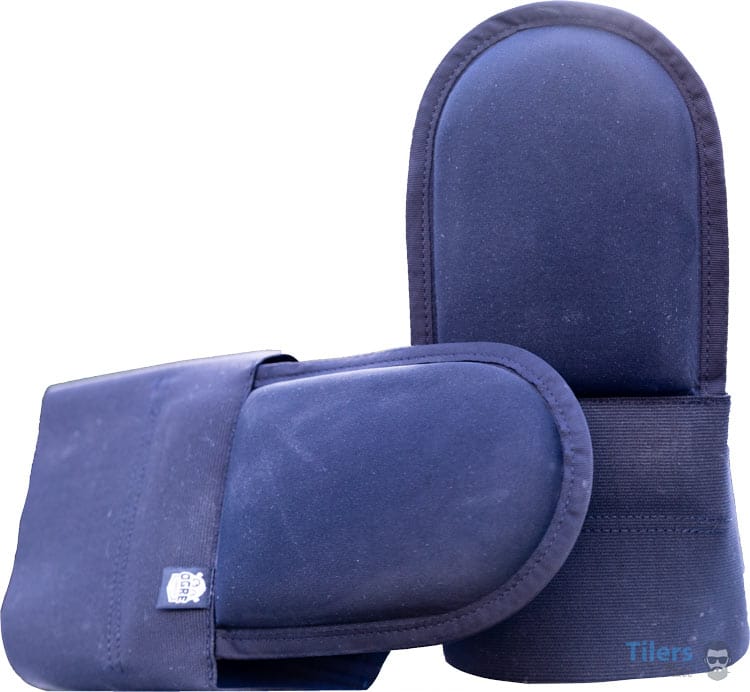 This post first appeared on Tilersplace, please read the originial post: here