Rust is the number one enemy for many homeowners with patio furniture. It can stain your cushions, make chair legs wobbly, and cause table legs and tops to also show cracks. So, what's the answer? What patio furniture won't rust?
In today's article, we'll review five excellent outdoor Furniture materials because they resist rusting or don't rust at all!
Additionally, we'll share some answers to the most common questions so you can make an informed decision.
Let's begin!
5 Patio Furniture Materials That Won't Rust
Whether you live in a humid climate or one plagued with salty air, these materials can stand the test of time without rusting:
Teakwood Made Patio Furniture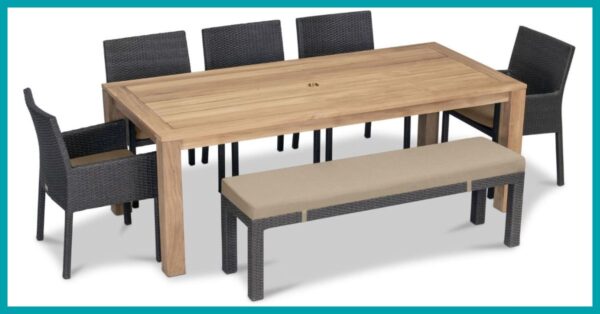 If you want to add a vintage look to your outdoor space, teak furniture is the way to go. Not only does it not rust, but it's almost unaffected by water.
Teakwood's high oil content protects it from natural elements such as constant rain, snow, and even blazing heat. As a result, it's incredibly durable and can last for generations!
Some companies use teakwood to produce shower stools because of its excellent ability to withstand water. Additionally, it doesn't require constant maintenance or extra paint jobs.
Lastly, teakwood doesn't retain heat like steel or wrought iron! Whether it's summer or winter, you won't feel it stinging your skin.
The only drawback to this material is that it can be slightly heavier to move than others. However, this is fine if you're looking for an option that won't warp or crack over time.
Recycled Plastic Outdoor Furniture
One of the many ways to protect the environment and keep the planet green is to use recycled materials such as plastic. This is why many people today invest in Patio Furniture made of recycled plastic.
It's incredibly robust and offers a chic, stylish design without adding to your carbon footprint. For instance, you can get a 5-piece patio dining set that looks made out of elegant wood, but in reality, it's recycled plastic.
Moreover, recycled plastic is resistant to rust, insects, mildew, and saltwater! Plus, you don't have to worry about the color fading over the year.
The way recycled plastic furniture is made ensures that the color is within the item's chemical composition. So, there's no need to repaint it–unless you want to!
One downside to this material is that there are better choices than this material if you live in a climate with high winds. The furniture could easily topple over or hurt someone. So, it's best to keep inside during the windy season.
Aluminum Outdoor Furniture
Because aluminum is a metal, most people avoid it, thinking it'll eventually rust away. However, that's only half true! Aluminum is, in fact, a metal, but it almost doesn't contain any iron. In simpler words, it can't rust.
Additionally, suppose the aluminum furniture is protected with a powdered coating. In that case, it'll increase its resistance to water damage, which is beneficial if you have a pool outside.
Aluminum furniture is also considerably lightweight, yet it won't blow over in the wind because it's sturdy. Lastly, it doesn't require any high maintenance compared to wooden furniture.
Unfortunately, because aluminum naturally absorbs heat, you'll be unable to use your patio outdoor chairs, for example, in the summer. So it's best to buy some cushions to protect you.
Eucalyptus Made Furniture
Eucalyptus is another kind of wood that you can use to give your outdoor recreational area a sophisticated, vintage look. It's one of the most coveted types of wood out there because of the deep red hues within it.
Eucalyptus furniture is exceptionally durable and can last for years without changing it. Most importantly, it's resistant to rot, decay, and, of course, rust.
Like teak, it has a naturally high oil content that protects it from harsh weather. However, it has a few drawbacks that set it behind teakwood.
For instance, if you live in a frigid climate, you must bring the eucalyptus furniture inside. While it can handle the snow, the extreme coldness can make the wood crack if it's not sealed. It can also shrink if you leave it exposed to too much water.
Resin Rattan Wicker Material
Though some people mistakenly refer to rattan as wicker, synthetic resin rattan is the material that makes up the furniture. Wicker, on the other hand, is the weave style.
Purchasing resin wicker patio furniture is easily one of the best investment choices. It's lightweight, doesn't rust or corrode, and is highly durable.
The material is usually woven over aluminum frames, and, as we mentioned earlier, that won't cause any problems with rust. Plus, it adds to the stability of the furniture.
Wicker is also easy to maintain as it doesn't require more than some soapy water to return to its original state.
Remember, though, that not all rattan wicker furniture is good. Some can crack or break easily. So, ensure you opt for high-quality resin wicker made with HDPE (High-Density Polyethylene) rather than PVC. Most of the furniture at big box stores is bad with cheap PVC. They look the same to the eye, so you have to read the product descriptions to ensure it is not PVC and HDPE. If it doesn't say HDPE, you should assume it is PVC.
Frequently Asked Questions
Now that you know what material is best for your outdoor recreational space, let's look at some questions that'll help you figure out what you need!
What metal is best for outdoor patio furniture?
So far, aluminum seems ahead of any other metal in terms of durability and rust resistance. Most metals, like wrought iron or steel, contain iron in their content. Therefore, they're bound to rust in the long run. And even though some materials have a protective coating, aluminum guarantees that you won't have to deal with rust even without that layer.
Does all patio furniture rust?
Absolutely not! As mentioned, teak, rattan, or aluminum patio furniture won't rust or stain your cushions and clothes.
On the other hand, patio furniture made out of steel or wrought iron can rust quickly, especially if it's often left out in the rain.
Should I cover my patio furniture every night?
As long as your outdoor furniture is made of teakwood, aluminum, plastic, or rattan wicker, you don't have to cover it.
Those materials resist the elements and can handle being left out overnight. If you want to keep them clean, you can always throw a tarp over them when they're not in use.
In conclusion, rust is a common problem for patio furniture, but it doesn't have to be. There are a variety of materials that either resist rusting or don't rust at all. Teakwood, for example, is not only rust-proof but also highly durable and able to withstand the elements. Recycled plastic is another option that offers a stylish design while resistant to rust and other elements. Aluminum, though a metal, doesn't rust and is lightweight and low maintenance. Eucalyptus also has rust-resistance properties but may not be suitable for cold climates. These five materials can help you achieve a rust-free outdoor living area for years.