Apparently, I can't get enough of black these days. This new trend keeps popping up everywhere. Usually it's paired with white, which creates that timeless classic look. But you don't have to always use black with white. I wanted to do (yet another) blog post about black, since its so in vogue now, and also for the most part, it can be very very timeless. This is, in part, related to my blog post entitled: 20 Ways to decorate a room using black & white. SO, if you want more ideas on how to use black in your house, I encourage you to take a gander at that post once we are done here.
Is there really more than one black?
Even though I'm a designer, it wasn't until I got married that I realized, wow there are so many different shades of black. I was trying to find new dress pants to match my husband's jacket and it was so hard finding the right shade. I think we ended up buying a whole new suit because it was close to impossible to find the same black since clothing designers change it up each year. So, lets get that out of the way, yes there are many many shades of black. Just like there are many shades of white. The image above gives you a glimpse of a handful of different black paint colors that you could be confronted with at home depot, or any paint store. That's why I always suggest to my clients to get samples before taking the plunge!
How to use black in your Kitchen
This kitchen uses high-gloss black on all the cabinets to create a modern look. It looks really nice paired with the stainless steel appliances and very light book matched stone backsplash. So, black can be very modern folks.
This is my new favorite. Black under-mount Farmhouse sink. Isn't it gorg? It looks really nice with the butcher block counter-top, love the color variation. The dark grout picks up the black color nicely and distributes it through-out the room visually. I think if you wanted to, you could pair this sink with a black faucet as well. Would definitely give it a different look, I think it would be pretty cool.
Hexagon shaped tile is so classic in itself. I think the scale of the floor tile here is perfect. You don't have to use black everywhere. You can use it in just the floor pattern and you will get a lot bang for your buck. They happen to have black cabinets here, but you could still get away with using white or even a color. What's nice is that there are open shelves instead of black
Wall
cabinets. However, I would have done the shelf hardware in a thicker style with a black finish to tie it together and balance it out a bit more. And maybe some pictures with white mattes and black frames leaning against the wall on the top shelf. That would look really nice.
Another black and white pattern on the floor. This is really cool, I love the different hues of black. It softens the look of using black in a kitchen.
What I like about this kitchen is that they didn't use the expected white counter-top with black cabinets. They used a tan color, which surprised me. It also surprised me that I like it. This is one of my least favorite counter-top colors. I think that actually says a lot about using black as a cabinet color. Hate your counters? Maybe black cabinets are the cure!
Okay. I HAD to show this image. I L-O-V-E these cabinets. The mixture of the wood and black is just stunning. I like that they choose a wood type with a lot of movement to it because black can be a great backdrop color to showcase other finishes in your room. So amazing. Moving on, you can do this with your cabinets with two paint colors also. As long as your cabinet style has a wide trim around the drawers and doors, may as well take advantage and show it off.
The black finishes used here are actually matte black. This is also a new trend. Matte black gives that suede like appearance. You need to be careful though, it may also show the dirt more. Sometimes matte surfaces are harder to clean as well, depending on how it is sealed. You don't have to use black on your cabinets. Just using it on your backsplash is WOW enough.
So, you can totally just do an accent wall in your kitchen using black paint. Or black chalkboard paint. I think it's also so cool that they used a black magnetic block for the knives so that they almost appear as if they are just floating on the wall. Maybe in some ways it a little bit scary too? Still, unqiue!
Last but not least, if you absolutely love white kitchens (as do I), you can just use black in the smallest amount to draw attention to a feature, and to add some contrast to the room overall. I love that the trim around the glass panes, and the hardware are black. They left the inside of the cabinet white with wood shelves (to add some warmth to the room I am assuming) but it really draws your eye to this cabinet. Designer trick 101.
Using black in your Living Room
Black on black with a pop of color. All the black used in this Living Room unexpectedly works. I think the large window with lots of natural light helps. The white trim creates a nice transition between the black wall and grey ceiling. It looks like they also accented the room with long grey drapes. Love the emerald color sofa in here. And that artwork, almost looks like the women is inside the room rather than a picture hanging on the wall. I guess the take away is- you can't use too much black?
This is the classic black and white look I was talking about, but I think it's done in a chic way due to the thin black frames on the artwork. I also love the additional of the brown chair and the green plant, it breaks up the space.
Black floor! If you have old hardwoods that are so scratched up they are beyond salvaging, consider painting them black. It may need a quick light sand to make the floor smooth, but once you paint and seal them well, black floors can have a stunning result. Beware- some people complain that black shows too much dirt.
Just adding tall black drapes on a tall window can really ground a space. They also have a bit of black in the creme rug to tie it together. Another way to do black and white in a chic, classic way.
Paint your fireplace and built-ins black! This totally modernizes a room. I think it also depends on the other colors in your room, but love how the aqua color from the chair pops against the black.
I admit, this is a bit odd. But who wouldn't love a black hammock in their living room? I like the creativity of this. Also there are other pops of black in the room.
Use brass accents to lighten up the black and add some glamour to your room. It plays well together.
Black and brown are one of the longest used color combination choices. If you want a dark and dramatic room but don't want your walls to be black, try a deep brown like in the image above. The rest of the furniture can be black, brown or a combination. The gold accents in this space help to lighten things up.
Black trim with cream is a nice combination. It updates this otherwise traditional space. I imagine they may have pulled the black from the cowhide rug and decided to use it as trim color in the room. Also, that painting hanging over the window is a great idea.
Black shiplap. Need I say more? But really, the texture this creates using black as the background color is amazing. Though, Shiplap in any color seems to be alright with me.
Using black in your Bedroom
Just using black in your bed throw, pillows, accessories, etc is plenty. The old saying is true for black: a little goes a long way.
Both this image and the one below use black on the headboard wall. This is nice because 1. the bedding is white, and 2. the artwork and pillows bring a pop of brightness to the room. Makes for a nice, dark place to sleep.
This is an example to show that there IS more than one color of black. Love that the wall is a lighter black with a darker black background to the artwork hanging on the wall. Mixing blacks is a-ok.
Here is your classic white shiplap, using black framed pictures, black bed throw, and some accent furniture. Nice way to sprinkle in a little black accents without over powering the space.
Four-poster beds have always been my fav. Black really modernizes this look. Also, another example of mixing blacks.
Black on the ceiling? This works well because the picture rail on the wall creates a stopping point for the black. This would still work if you had a flat ceiling with plain walls. Keep in mind that a black ceiling will absorb most of the light in the room so you may want to choose a light fixture that is a bit brighter.
Simply choosing a black nightstand can add some chic to your bedroom. This feels very hotel-like.
Just because you use a lot of color in your room, like this drapery pattern, doesn't mean black won't work with it. I love the juxtaposition of these two.
Using black in your Bathroom
A fun patterned tile is a long standing choice for utilizing black and white combinations in the bathroom. I'm not sure if its because white subway tiles with dark grout were a classic back in the day, and so people would find tiles (like penny tiles) to tie it all together. I really don't think you can go wrong with choosing any type of black and white patterned tile for the bathroom floor.
Or..try using a patterned tile as an accent in tub or shower wall. No need to keep the shower curtain closed now!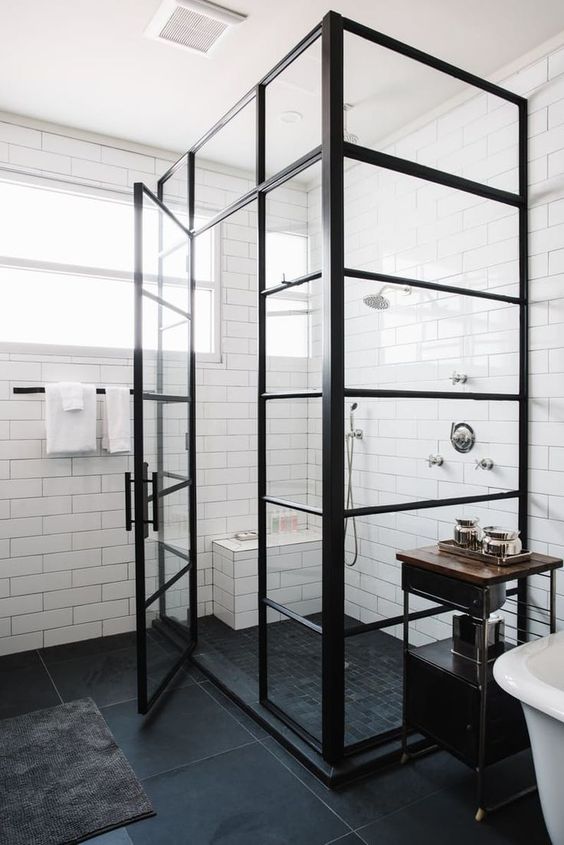 For an updated look, black framed glass shower walls give your bathroom a retail feel. Also love the large black floor tiles with the smaller black mosaic tiles in the shower.
All you need is to paint your door black in your white bathroom and you're solid. You can also matched the black door by painting your sink cabinet black.
Here is a black sink cabinet. They accented with gold hardware. Black and gold are a theme in this blog post, because they really do go so well together.
I thought this was pretty different. Love the black walls that are brought to life by the colorful artwork and rug. It doesn't make this powder room feel too dark or overpowering.
Just want a snippet of black in your bathroom? Try updating your mirrors, light fixture and hardware. They didn't put too much white in here either, which is a nice break from all the white and black bathroom combinations.
This black claw-foot tub is a modern update to the white alternative. I think you could do white or black floor in here and it would go really well with the tub. The white floor would probably make the tub pop even more.
Using black in your Dining Room
Painting black above a wainscot in a more traditional dining room is a great way to make it not feel too stuffy.
Love the texture of the black painted brick. The dark chairs carry the color into the room and give it more life.
This can really be a kitchen or dining room, but painting your hutch or china cabinet black is a great way to update an antique and again, draw attention to what you want to display.
Even if you have an open floor plan, you can still find a wall to paint black. Love the photo collage on this wall also. They painted the smallest wall black but it still makes a big impact.
That concludes this blog post. This one was a bit long winded compared to most on this site, but if you notice I have only been able to write one blog post a week as of late. This summer has proved to be a busy season for us, and we are currently making some pretty big improvements to Mozart street which I will share with you in the next few weeks. So stay tuned!