Good afternoon Everyone!

Another week has gone by, and it's time once again for me, Cy Bear, to update you on what's been happening in the Coldham Cuddlies World.
As the title for this post indicates, the
Baby Slippers
we told you about last week are well under way. with the
White Polar Bear Slippers
now completed.
The
Polar Bears
were joined on
Friday
evening by the first of the pair of
Panda Bear Slippers
ordered at the same time by
SnraCF
- and
Isobel
sent her the photo above to update her on the order's progress. The second slipper is well under way, and we're hoping to get that completed by the end of Sunday evening.
The basic slipper is complete, and production of the second head is under way. It needs the black eye patches and plastic eyes to be attached, the black plush ears as well, and then the pink ribbon sewn on and the elastic threaded through.
All being well, we're hoping that both the
Italy
-bound
Slippers
will be en route early next week, well in time for
Christmas
- which is when
SnraCF
plans on giving them to her
Granddaughters
E
and
A.
Then, it's checking the measurements we've received for the
Isobel's
great-nephews to see how many new pairs of slippers need to be produced - once we've checked our existing stocks to see if, perchance, we may have some already made that could fit the bill. At the same time, we'll be checking to see if the intended recipients want to have them with animal heads on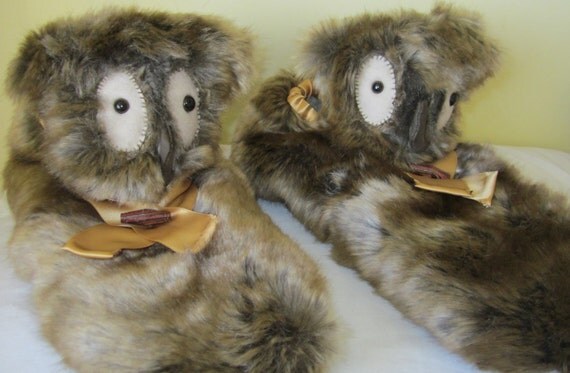 https://www.etsy.com/uk/listing/162884385/owl-novelty-slippers-brown-fleck-faux?ref=shop_home_active_6
or for them to be just conservatively plain and simple!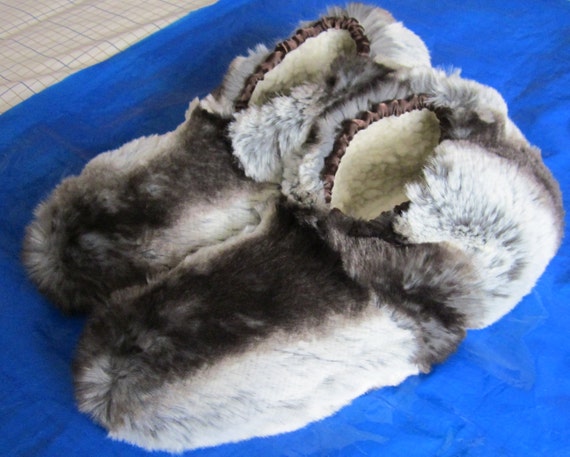 https://www.etsy.com/uk/listing/158936304/unisex-novelty-slippers-badger-stripe?ref=shop_home_active_1
Then, it will be all systems go to see that they're off in time to reach the
Williams Lake
area of
British Columbia, Canada
in time for
Christmas.
To make sure that we don't run out of the insoles - which form the base of the feet for the bigger slippers (
for ladies and gentlemen
) - while in nearby Sutton in Ashfield, our next door town yesterday,
Isobel
stocked up with a new supply of these vital slipper parts. They're made with "memory-foam" and have the different foot sizes printed on one side of each foot template. Please see below:
We get ten pairs at a time, so that we've always got some in stock - and this is the second time that a stock up has been required since we began making slippers in 2012 (
and the first since we arrived in Nottinghamshire).
Isobel
cuts out the pattern size required, and then starts the construction process. Because we're not sure if the sizes given here are for
American
or
European
foot sizes,
Isobel
is going to cut the
Boys'
slippers to the measurements (
from heel to toe
) given us by their
Mother
,
MrsAS
-
Isobel's
niece. That's the way, we went with
SnraCF's
grand daughters' slippers, and they should allow room for growth, because as all prudent grandmothers do, she allowed for such eventualities when she provided the vital statistics for the slippers shown above. (
All our Slippers, so far, have fitted their intended owners to date I hasten to add!!
)
(
As you may recall, being a Beaver Lamb Bear, I always include a lady's - or come to that, a gentleman's - title before their initials when referring to them in a blog post here. I've also never met MrsAS, so it's another reason for a well brought up Bear to do so here!
)
In between times, during the week,
Isobel
was taken by daughter
Clare
, together with
GrandsonE
, to the
Our Lady's Shrine
at
Walsingham
- where
Peter's
ashes are interred. It's almost four years since that happened, and the family have tried to get there at least once a year to pay their respects. Normally it rains, and the
Shrine
(
pronounced a Basilica by Pope Francis last December we discovered when they got there - because of it's importance in the life and history of British Catholics)
is located very close to the
East Anglian
coast of
North Norfolk
. (
That's the round bit on the right side of a map of Great Britain - for those who might not know where Norfolk is in the UK
). It's thus always windy there, and
Wednesday
morning was no different. However everything was accomplished in comfortably cool conditions, and the travellers returned home safely, with the driver (
Clare
) having done a
222 mile
round trip in
7.5
hours, with a short break for a picnic lunch in between.
I'll
end this post for this week, with a photo of the
Chapel of Reconciliation
(
a major focal point of the Basilica)
with surrounding trees in all their full autumnal glory. (
In the 1970's, Peter was on the Committee charged with the building of this central feature of the National Shrine - which is why the authorities at Walsingham were agreeable for his remains to rest there
)
You can just see the back of Clare and GrandsonE - on the right of the photo.
Do have a very good week, everyone. See you all next week - with the latest from the
Slipper Department,
and whatever occurs in the days to come.
Your
Friend
,
Cy Bear.