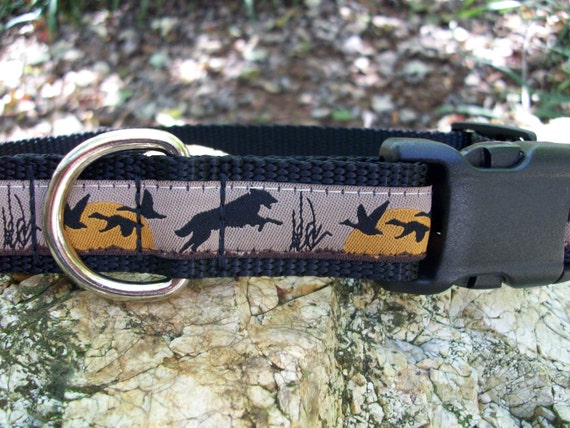 15.00 USD
Wolf and geese silhouettes in the sunset. The dog Collar is beautiful. Great for the outdoor lover. It's made from tan woven ribbon sewn to heavy black nylon webbing. You have your choice of a black plastic side-release buckle or a nickel plated metal Side Release Buckle. The buckle of your choice and metal D-ring are triple stitched with heavy thread onto the collar for strength. At checkout, in the drop down boxes, specify size and buckle from the following available for this deese and wolf dog collar:

-- 1" wide, expandable between 16" to 24" (XL)
-- 1" wide, expandable between 14" to 20" (L)
-- 1" wide, expandable between 12" to 17" (M)

-- Black plastic contoured side release buckle
-- Nickel plated metal contoured side release buckle (+$3.00)

Typically, this collar will be made for you and mailed within 24 business hours of receipt of payment, and never more than 48 business hours from receipt of payment.

It is recommended you measure your dog's neck to make sure the collar will comfortably fit.

My collars can be machine washed and laid flat to dry.

NOTE: It is the customer's responsibility to check their dog's collar often for signs of wear or loosening. As with all collars, those that are worn or torn should be replaced immediately to ensure the safety of your dog.
This post first appeared on Dog Dazzle, please read the originial post: here