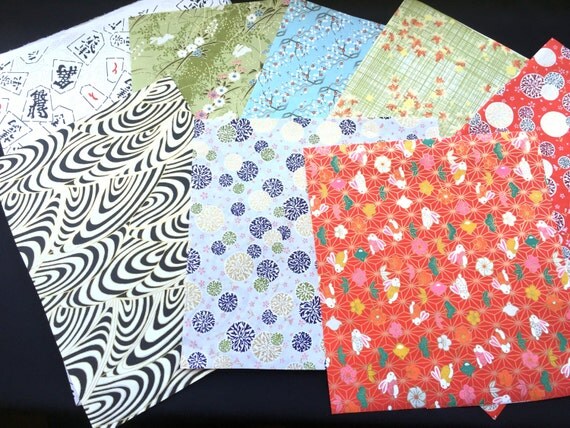 8.00 USD
This Paper is beautiful. There is a lot of gold which adds a touch of elegance to the paper. Please understand that colors may vary due to differences in monitors.




This is a set of paper that includes 8 pieces. These pieces all vary in size but the largest piece measures 88x 33 cm and the smallest is about 21 x 23 cm. The large piece is folded so there are 3 folded lines-we bought it this way.


*********** These are pieces cut from larger pieces. These are from my personal collection from when I was making jewelery using washi paper. So there may be uneven edges or rounded edges etc.

Chiyogami has a long past but today the decorative patterns are silkscreened onto machinemade sheets of paper that is a mix of kozo ( a deciduous tree indigenous to Shikoku and Kyushu Islands in Japan) and sulphite (sulphite is used to keep the price reasonable). To create 1 piece of gorgeous chiyogami, a sheet of paper is silkscreened by hand with each individual color. Between applications of color, the sheets are dried on racks. You can imagine how time consuming and difficult it must be to line up each color in relation to the pattern!

This paper is perfect for scrapbooking, card making, origami, collage or any project you can think of!

**********************************************************
Our Etsy Stores:

Supplies- FromJapanWithLove.etsy.com
Fabric -FabricFromJapan.etsy.com
Vintage- VintageFromJapan.etsy.com
Cute Cat Themed Supplies TheCatStore.etsy.com

We will combine shipping if you buy from any of our stores.