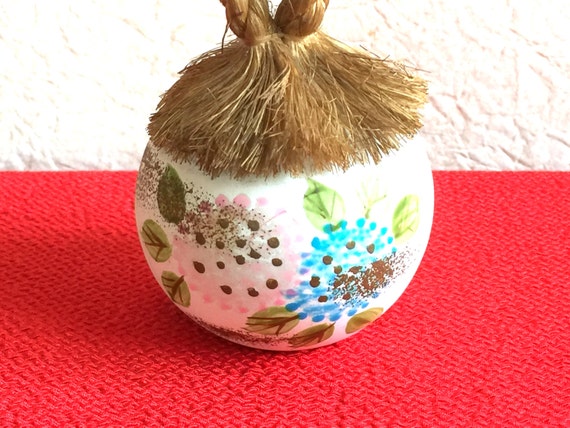 15.00 USD
This is a ceramic Bell called 土鈴 "dorei". 鈴 is "Suzu" which means bell and 土 is "do" which means earth, soil and is part of 粘土 meaning clay. So...this is a clay/ceramic bell. These bells have a ceramic ball inside so the sound is a coarse, rolling sound.

Bells of all kinds, have a long history in Japan. Dorei (ceramic bells) date back to the prehistoric Jomon Era (10,000 B.C.-300 B.C.). These bells were used to scare away evil. At Shinto shrines, large bells drape over entrances, as it is said that ringing them calls gets the attention of the Gods allowing one to acquire positive power and authority, while repelling evil.

This is a "migawari suzu" which is a type of "omamori". Omamori are amulets - they are physical objects that contain the spiritual essence and powers of a deity or buddha . " Migawari omamori" (身代わりお守り,means that the item takes the place of the person...so the bad luck is transferred, in this case, to the bell.

For a fabulous and interesting read on omamori please see http://www.tofugu.com/2014/06/25/omamori-protecting-yourself-in-little-ways/


This bell is from Gansenji Temple in Kyoto. It is popular for Hydrangea. It is called Hydrangea temple.

According to http://www.kyoto-kankou.or.jp/english/info_search/?id=444&r=1464606047.5798

This temple is said to be have been built as requested by Emperor Shomu. Visitors can get an atmosphere of a mountain temple from the scenery of a three storied pagoda that stands quietly, covered with deep green, and a main hall that its preserves ancient colors. At the entrance of the temple gate is a boat-shaped rock, giving the temple its name, which priests are said to have used when washing themselves. Different flowers are in bloom depending on the season and hydrangeas come out in June.

岩船寺 Gansenji Temple

招福 shofuku = lucky charm

鈴 suzu = bell

This bell is about 11 cm high (including rope loop) and about 6 cm wide.

This will be will padded and shipped in a box.