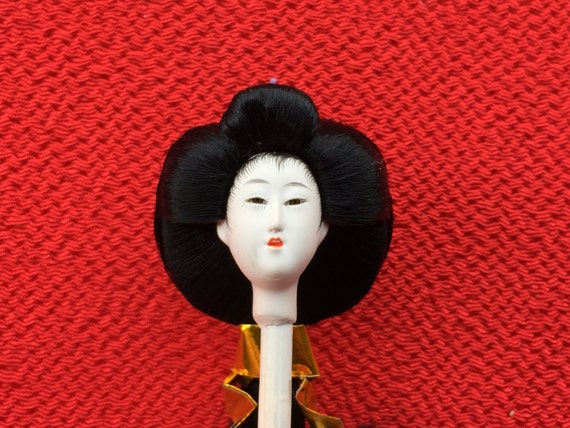 12.00 USD
When we bought these Doll Heads we were told that they had been in storage for some time but they couldn't tell us exactly how long so....these doll heads might not be vintage (20 years be Etsy standards) BUT they are a supply and I think they fit with this shop so we are offering them for sale here.

This one measures about 15 cm long including her hair and about 6.5 cm including the stick and about 8.5 cm around. The details are really amazing! The head is made from clay.

About Hina Matsuri
Platforms with a red hi-mōsen are used to display a set of ornamental dolls (雛人形, hina-ningyō?) representing the Emperor, Empress, attendants, and musicians in traditional court dress of the Heian period. The custom of displaying dolls began during the Heian period. Formerly, people believed the dolls possessed the power to contain bad spirits.


**********************************************************
Our Etsy Stores:

Japanese Style Craft Supplies FromJapanWithLove.etsy.com
Vintage From Japan VintageFromJapan.etsy.com

We will combine shipping if you buy from any of our stores.