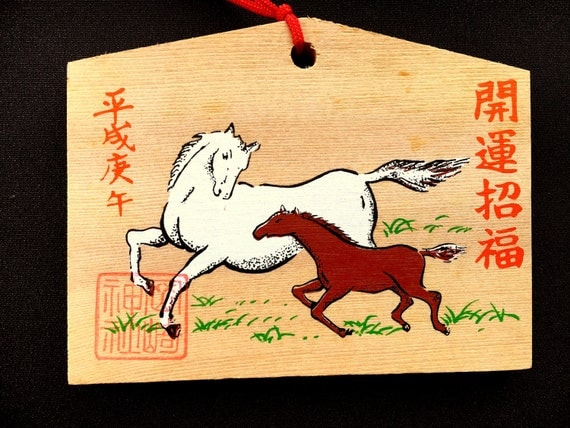 15.00 USD
This is an "Ema". "Ema" are small wooden plaques on which Shinto worshippers write their prayers or wishes. The ema are then left hanging up at the Shrine, where the kami (spirits or gods) receive them. They bear various pictures, often of animals or other Shinto imagery, and many have the word gan'i (願意), meaning "wish", written along the side. In ancient times people would donate horses to the shrines for good favor, over time this was transferred to a wooden plaque with a picture of a horse, and later still to the various wooden plaques sold today for the same purpose.

Ema are sold for various wishes. Common reasons for buying a plaque are for success in work or on exams, marital bliss, to have children, and health. Some shrines specialize in certain types of these plaques, and the larger shrines may offer more than one. Sales of ema help support the shrine financially.


********This Ema is from Okazaki Shrine in Kyoto.

Okazaki Shrine is a Shinto shrine located in eastern central Kyoto.
The shrine was founded in 794 during the construction of Heian-kyô, as one of four shrines representing the compass directions. Okazaki represented the east, and was at that time alternatively known as Higashi-tennô (Emperor of the East).
The shrine is dedicated to Susano-o, Kushinada-hime, and their three daughters and five sons, and is associated with easy childbirth, and with dispelling evil associated with the compass points. Ritual offerings were therefore offered there in 1178, along with prayers for the easy childbirth of the empress. Due to this association with childbirth, the shrine is also associated with rabbit spirits.

http://wiki.samurai-archives.com/index.php?title=Okazaki_Shrine

開運招福 = lucky charm

平成庚午 = year of horse in Heisei period (1990~)

It measures about 8.9 cm x 6.9 cm x 0.6 cm.