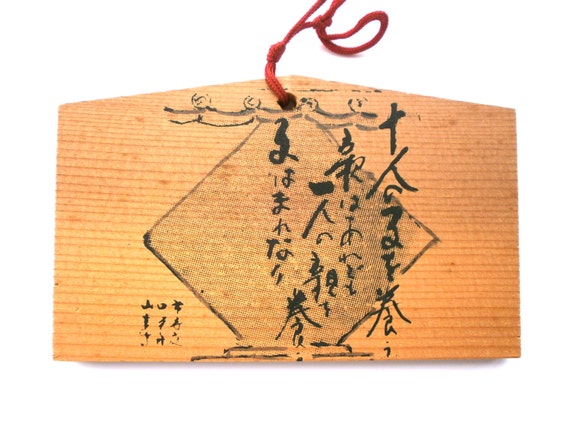 15.00 USD
This is an "Ema". "Ema" are small Wooden Plaques on which Shinto worshippers write their prayers or wishes. The ema are then left hanging up at the shrine, where the kami (spirits or gods) receive them. They bear various pictures, often of animals or other Shinto imagery, and many have the word gan'i (願意), meaning "wish", written along the side. In ancient times people would donate horses to the shrines for good favor, over time this was transferred to a wooden Plaque with a picture of a horse, and later still to the various wooden plaques sold today for the same purpose.

Ema are sold for various wishes. Common reasons for buying a plaque are for success in work or on exams, marital bliss, to have children, and health. Some shrines specialize in certain types of these plaques, and the larger shrines may offer more than one. Sales of ema help support the shrine financially.


********This Ema is from Jyoueiji Temple "Sesshu garden" as another name. Joeiji (常栄寺, Jōeiji) is a Zen temple famous for its garden, Sesshutei. As its name suggests, the garden was built by the well-known monk, painter and garden designer Sesshu. It is a live representation of one of Sesshu's landscape paintings. Completed about 500 years ago, Sesshutei utilizes many vertically upright rocks, a style of rock arrangement distinct of the Muromachi Period (1333 - 1573).

Visitors can enjoy views of Sesshutei from the main temple building, and are welcomed to explore the building's spacious tatami mat rooms. They can then spend some tranquil moments strolling along the circular path that leads around the scenic garden. The precincts of Joeiji encloses several other beautiful Zen temple buildings, as well as a couple of raked pebble Zen gardens.

Poem

Jyunin no ko wo yashinau oya ha aredomo,

There are parents raising 10 kids.

hitori no oya wo yashinau ko ha marenari.

But there are not many kids supporting their parents.

For More information from http://www.japan-guide.com/e/e6103.html

It measures about 13 x 8 x 0.7 cm.