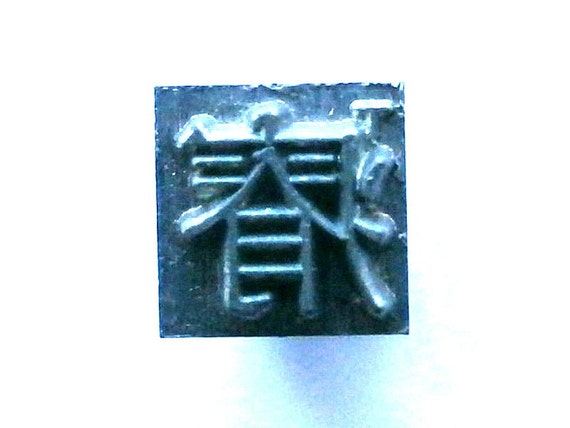 5.00 USD
We were lucky to come across a case of these "katsuji" (Japanese Typewriter "keys"). There are over 2300 of these. They are vintage but have never been used. These would have been the extras in case the ones in the machine broke. Please look at the last picture to see what an old Japanese Typewriter looked like. There were at least 2000 keys so needless to say, this was only used in businesses.

They are from the "昭和" "showa period" . The "showa" period is from 1926-1989 but these are at least 30 years old as Japanese stopped using them once the word processor was invented.

This would be perfect for using as a stamp with ink or for stamping clay etc.

This stamp is the Kanji (Chinese character) for "瘠" "yaseru" = "thin, barren".

It measures 2.3 cm long (long enough to be able to get a nice grip) and 5mm wide. The Chinese character itself is about 5mm wide....so please note how tiny it is. It is made of metal.


The last picture shows just how many of these keys were in the machine. It is not included.

**********************************************************
Our Etsy Shops

For other typewriter keys and etc https://www.etsy.com/shop/FromJapanWithLove?ref=hdr_shop_menu§ion_id=6897532

We will combine shipping if you buy from any of our stores.