In June 2015, I caught a Milwaukee Brewers game in beautiful Miller Park and before I made the trek back to Indianapolis, I picked up an empty Infinity 1 Cabinet. Here's a small photo gallery showing off the two versions of this cabinet.
What is Infinity / "InfiniFy" 1?
First, let's take a look at the flyer for the cabinet.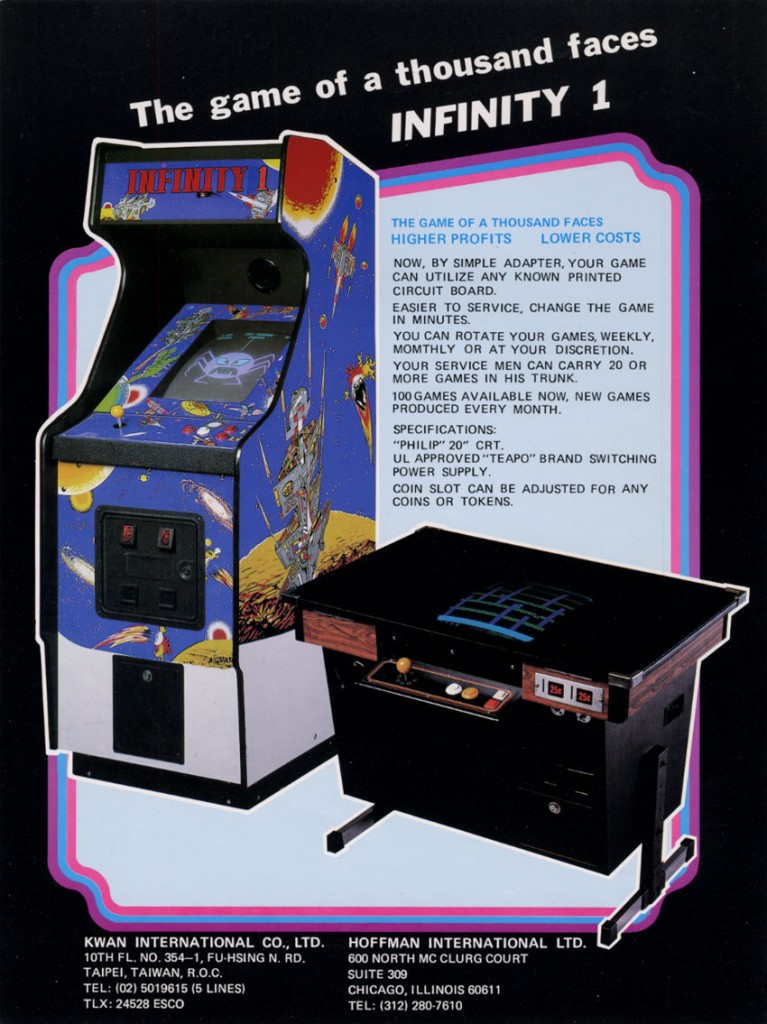 Infinity 1 Flyer from Arcade Flyers
Limited information on this cabinet exists, but thanks to Keith Smith's efforts in curating and publishing information on his Golden Age Arcade Historian website – and eventual book – we know much more about many arcade manufacturers than we ever have in the past. Here is a photo that Keith dug up showing two gentlemen from the 1984 AMOA show in front of both versions of the Infinity 1 cabinet.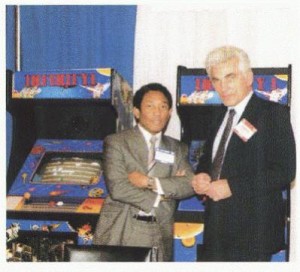 Nova Games of Canada + Hoffman International – Via Golden Age Arcade Historian
It's not known for certain who manufacturer this cabinet, but it would be fascinating to learn more, in particular the thinking behind what appears to be a generic cabinet sold without a game – the intent to use ANY game inside. Here is another interesting piece of information Keith surfaced, the add run by Hoffman International for the Infinity 1 cabinet.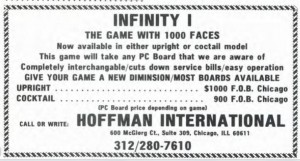 Hoffman International Ad – Via Golden Age Arcade Historian
The tagline used by Hoffman International for this cabinet was "The game with 1,000 faces", with the claim that "This game will take any PC Board that we are aware of". If you know more, please contact me.
Two Versions of the Upright Cabinet
There appears to be at least two upright versions of this cabinet, with similar but varying space themed artwork. In particular, the control panel artwork ranges from a designed pattern to illustrated artwork.
Here is one version, with what appears to be a space ship hurtling towards a planet. This cabinet is also located Indiana, just outside of the Chicago area.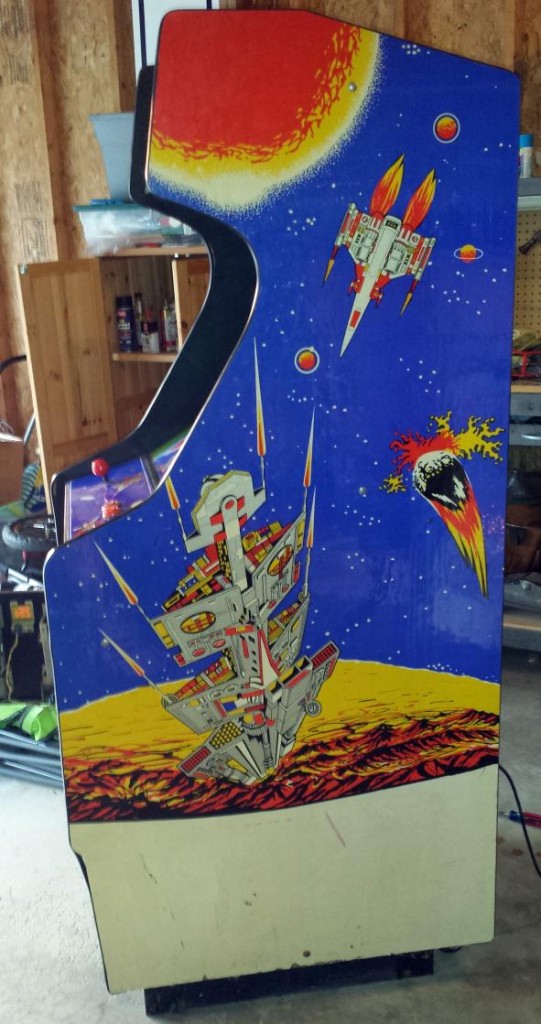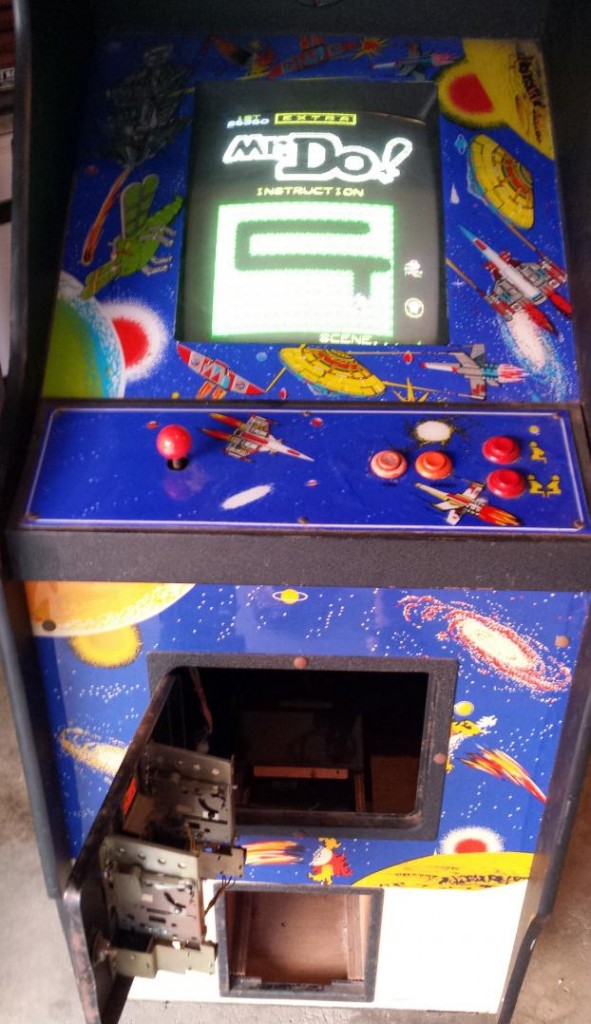 Here is another version with a similar space theme, with a ship blasting off into a firefight with Tie-Fighter-esque ships. The first photo is of a cabinet in western PA that had been converted to a Mr. Do!, and the second is the cabinet I picked up that has a hacked control panel. Note the marquee actually says 'Infinify 1′.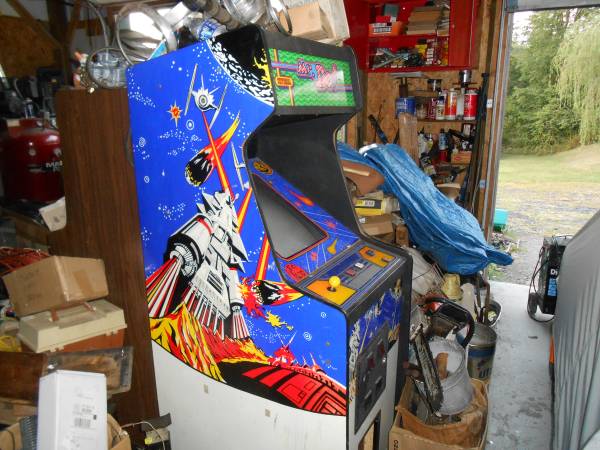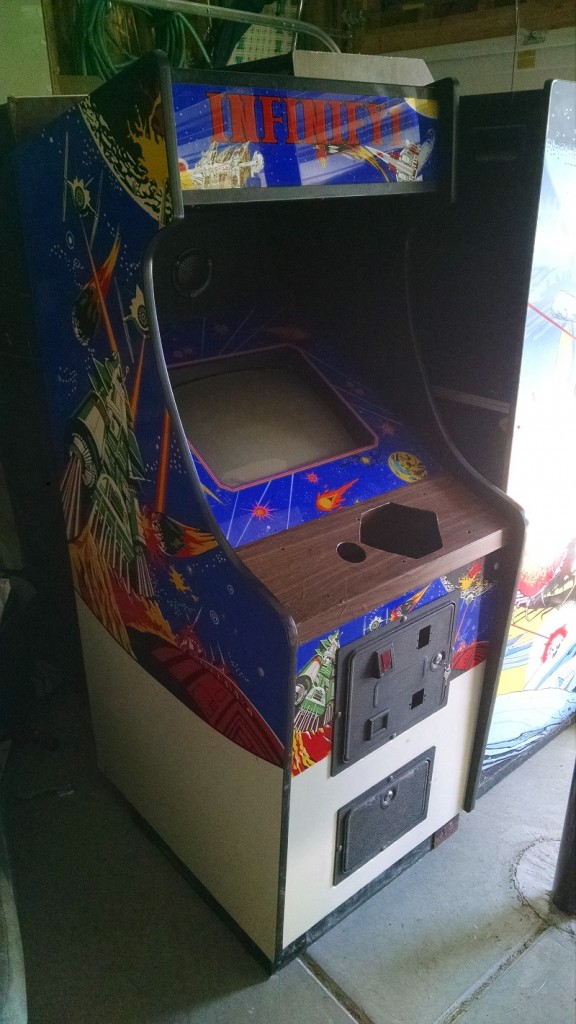 A couple additional photos. The first shows this cabinet converted into a DK Jr., and another photo with an interesting 'New Game' marquee in the New Mexico area.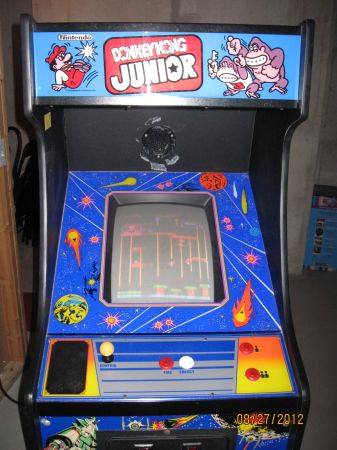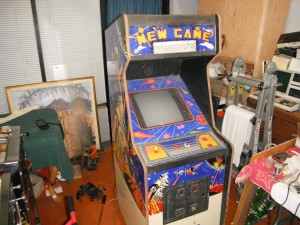 Closing Notes
I think I may be one of one a handful of people that would be interested in this oddball cabinet – but I think the artwork is excellent, significantly more effort and thought into the packaging for this game than others of the era.
My cabinet needs a control panel. In the event that you are reading this and can help me source a new panel, I would pay a premium to have an untouched piece to keep the cabinet original.
Additionally – It would be great to connect with anyone who knows more about the history of this cabinet. Any individual that had ties to Hoffman International, Nova Games of Canada, Kwan International Co. or Artic. Please contact me at any time, I'd love to learn more.