Tonight, let's do a brief review of the condition and pricing for a Pac-man Cabaret for sale in Westchester, NY.
Pac-man Cabaret – A brief introduction
The original Pac-man arcade game came in three flavors from Midway when it was released in late 1980 – Upright (standard), cocktail and cabaret (referred to as mini-myte). Here is an image of the original Pac-man flyer, showing the cabaret on the right.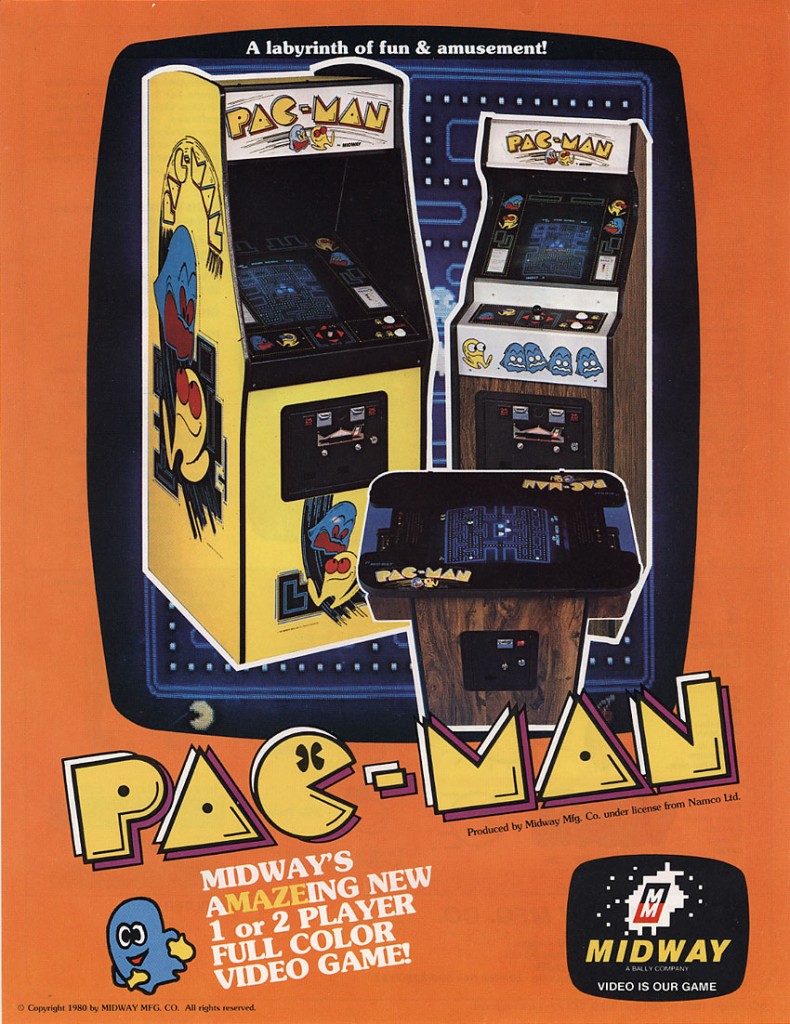 Pac-man Arcade Flyer – Source: Flyer Archive, Arcade Museum
Pac-man Cabaret For Sale – Westchester, NY
Here is a single photo of the front of a cabaret Pac-man that a gentleman is selling in the Westchester, NY area. The asking price on this machine is $550.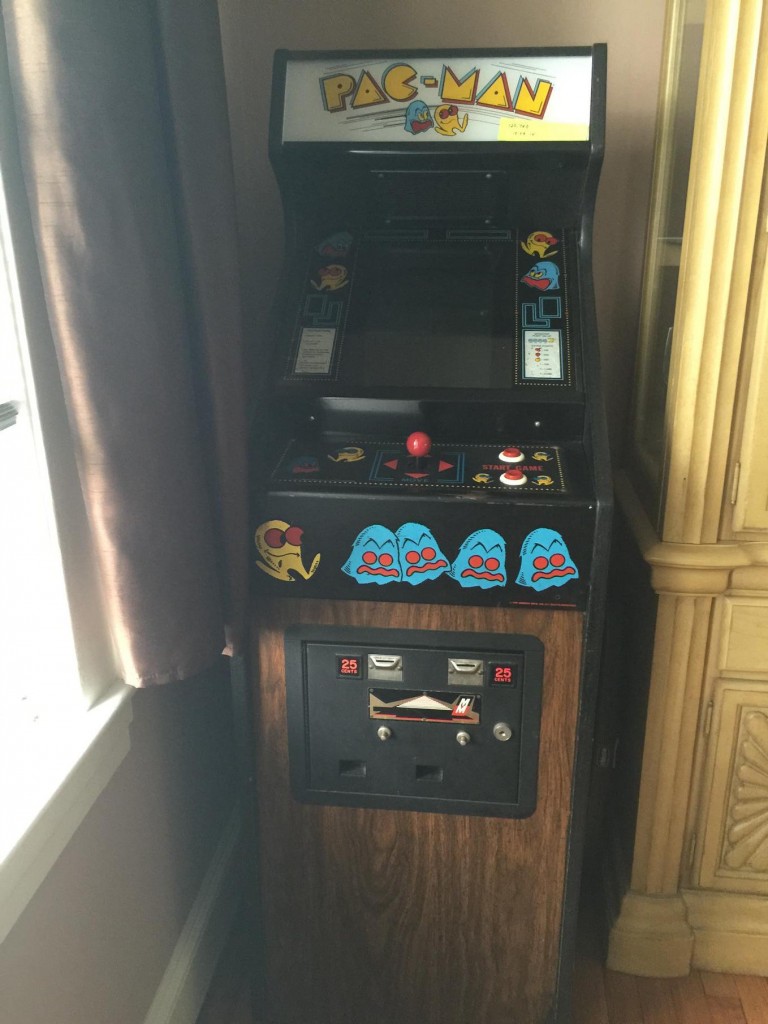 To do a proper valuation, multiple photos of a game are necessary – at a minimum showing the base of the cabinet, the condition of each of the pieces of artwork (sides, front, bezel, overlay and marquee) and any other details where defects are visible.
Although it is difficult to get a sense of the condition from this one, dark photo – a couple of common areas can be seen.
Control Panel Wear – It is common to see a fair amount of wear on the paint below the buttons. This panel has a minimal amount of wear on the radius, and minimal to no wear on the Pac-man / Ghost artwork
Signs of Rust – There appears to be minimal to no rust on the metal. The coin door appears to be in good shape, and even though dark – there doesn't appear to be other rusty spots on the marquee brackets. We could speculate that the game has been cared for, possibly kept away from moisture.
Kickplate Condition – The kickplate (front around the coin door) appears to be in above average condition. Given the popularity of this game, it is common to see damage to this area due to people banging into it, the game having been transported, or the game exposed to moisture
Condition of the Bezel – The bezel artwork may be spider veining. Looking closely at the instruction portions of the bezel in the white, it appears that the glass bezel artwork may be lifting off of the back.
New York has a fair concentration of arcade collectors, $550 seems like an appropriate starting point. The particular game has been for sale for four weeks and has not yet sold. It is common to see this particular machine sell from $350-$500 in above average condition. Fully restored this game might command a few hundred dollars more to the right collector.
What is your game worth?
Visit my arcade game price guide page to learn a bit more about how to value your game. If you are interested to have your free evaluation, please send a request for a free estimate.
Questions or comments – please leave a comment below.