MBLOG di serang Hacker Semua Filemanager Terhapus
Assalamualikum wbr...
Memang belakangan ini Mblog Mobi sering terjadi serangan besar besaran oleh hacker yang belum tau identitasnya. Karena memang Mblog mobi merupakan blog builder yang sangat seo membuat orang lain sampai iri hati. Sehingga ingin sekali merusak program yang telah ada.
Berikut penyampaian Admistrator Mblog Mobi:
Kepada Semua para pengguna Mblog Kami ucapkan maaf seribu maaf atas ketidak nyamanan kali ini, kembali kami telah di serang hack deface dan penghapusan semua file pada filemanager.

Kejadian ini terjadi ketika siang tadi hari sabtu, kisaran sebelum dzuhur.
Sebelumnya kami mendapat salah satu sub domain kami telah di deface dan di ubah tampilannya.
Sayangnya saya tidak sempat mengambil gambar halaman mblog yang telah di deface tersebut.
Namun untuk meyakinkan para member saya beri gambar status saya di media sosial yang menyertakan halaman yang di deface tersebut.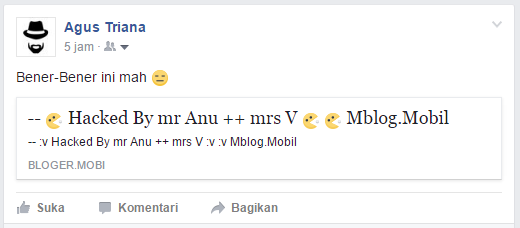 Pada halaman tersebut tertera pelaku berinisial Mr.V atau Mr.Anu saya belum bisa memastikan siapa pelakunya, namun untuk mengantisipasi kejadian terulang kembali maka saya akan meminta bantuan pada kawan saya yang menjadi Cybercrime. Semoga saja kawan saya ini bersedia menerima permohonan bantuan saya sehingga mblog menjadi aman.

Maka dari itu saya ucapkan kepada semua member, kami minta maaf sebesar-besarnya atas hilangnya semua file yang telah anda unggah pada mblog.
Untuk mengantisipasi tidak menjadi keributan yang melebar saya harap agar tidak membuat keributan dan saling menuduh kepada builder lain, biar kami yang urus dan kami usut siapa pelakunya. Terima Kasih
Hal tersebut menarik perhatian yang lebih bagi para user termasuk saya, dan tanggapan merekapun beragam. Dan saya akan berdoa yang terbaik Best of the Best for Mblog Mobi. Semakin membuat kami yakin bahwa mblog mobi pantas menjadi yang diakui dalam dunia Blog. Segala keirian dan kedengkian hanya mersusak diri sih pelaku dan orang lain, membuat dosanya berlipat Ganda.
Wassalamualaikum...wbr