Good afternoon, Friends - Cy Bear checking in with this week's news on these fronts
Blue Rabbit production is now underway - with the decision that the last version of the Toy sent to MsKA last week is acceptable as "cuddly" and with full approval being given for the new soft fleece fabric now being used.
With that go-ahead received, Blue Rabbit 2 is under way - as you can see from the pictures below:
Body and head pieces are on the left, with the white front to the fore. Background right, shows a foot under construction, with the two cheeks sewn - ready to be turned inside out before being attached to the head piece which will carry all the facial and other Rabbit features.
All the other bits and pieces (

said facial features

) that go together to eventually end up as an OAC Blue Rabbit Toy:
From the left: - another view of the incomplete foot piece and the two cheek pieces.
Next, going right: Front: an ear, waiting to be turned right side out: showing the inter-facing attached to one of the pieces.
Along the rear of the above picture: the two leg pieces (

one showing the right side-on the right

) with a completed foot, waiting to be stuffed before being attached to the leg of the next Blue Rabbit Toy (

No.2 in the series

).
You can just see the white cotton-tail - requiring stuffing, once it has been turned right side out.
Just below, in the centre of the photograph, are the two eyes (

which get sewn on to one of the head pieces

), together with the Blue Nose - which awaits stuffing before being attached.
Next to the facial features, is an ear that has been turned inside out, and shows the dark blue fleecy "inner" ear .
Last, but by no means least, are the two arms/hands also needing to be turned inside out, before being stuffed and sewn to the body pieces. (Isobel is still working out how best to attach these - to ensure, a far as possible - that they remain attached to the finished Rabbit Bodies once they are In Service as it were!)
The fluffy, fleece material is subject to intense fraying - so to be as sure as possible that they can withstand some hard wear, Isobel has decided that ALL the many seams involved are/will be over-sewn before the pieces get turned to their respective right sides before the Toy is put together. So far, this has involved two afternoon/evening sessions of intense sewing. But, this version is coming together a lot quicker than have the previous three Blue Rabbits, which - as you will recall - have involved the original OAC Oscar Blue Rabbit - which is still available through our Shop (

https://www.etsy.com/uk/listing/575240082/oscar-rabbit-custom-order-toy-with?ref=shop_home_active_33

).
We've also recently received an unexpected, but truly pleasurable, update about our version of the Puffin Toy who was a Patient in our Stuffed Animal Toy Hospital a couple of years ago. The Current versions can be seen in our shop using this link (

https://www.etsy.com/uk/listing/583130199/puffin-stuffed-toy-kids-room-ornament?ref=shop_home_active_5

). Some time, after the Patient had returned home, the second Puffin Isobel made at the same time - so that the family could choose which version was most similar to the original, damaged Toy who arrived in a pretty poor state, if you recall - (

here's a reminder, in case some of you don't!!

) - found a new home on the opposite side of the United States - in Washington State.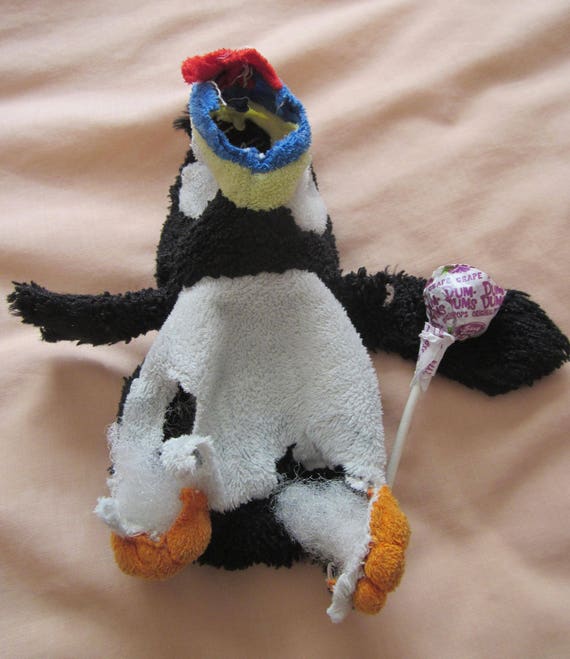 Puffin R as he looked when he arrived as a Patient early in 2016
The latest news (

and picture to prove it

) is that Puffin 2 is still well and entertaining his Best Friend - who recently celebrated his latest birthday (

we're not sure exactly how old MasterM now is: time does go by so fast these days!

). GrannyLS who ordered the Puffin as an Easter present, sent us the photo - together with permission for us to use it here (

just before Easter this year!

). Thank you GrannyLS! We can't help thinking that this might actually have been the first time the two got together: because we'd hazard a guess that Puffin 2 might not be looking quite so smart, had they been together for the period in between his leaving us and this photograph! (

Perhaps, GrannyLS could bring us up to date on that score - when she's had a chance to read this post, of course!

).
On the Oscar 2 Front, we're delighted to tell you that he's arrived safely, and presumably has spent the week-end getting to know what life in Oklahoma is going to be all about. MrSS kindly confirmed the news Isobel had already got (

because we're several hours ahead on the international time scale stakes - and the USPS Tracking system advised us that Oscar had been delivered!

) that Oscar 2's trip had been accomplished, albeit slower than we had hope it would be. That's the problem about international business: once a package has left the UK's jurisdiction, there's nothing left for us on this side of the Atlantic to do but check, watch and hope for speedy, safe deliveries. With the Easter holidays intervening on this occasion, the journey did take about a week longer than we had hoped it would. But, we're all delighted to hear that the traveller has landed safely.
Very shortly after he'd arrived - judging from the fact that the initial introduction appears to have taken place in a car (

maybe after Oscar.2 had been picked up from the USPS sorting office?

), these two photos were taken: looks as though there's been instant rapport established, doesn't it? Thanks MrSS (fond Grandad of MsVS): technology can be terrific - when it works!!
Introduction:
Acceptance!
And, on that note, I think we'll end this week's post. See you all next week folks. Although where on earth last week went, I do not know!
Your Friend - Cy Bear