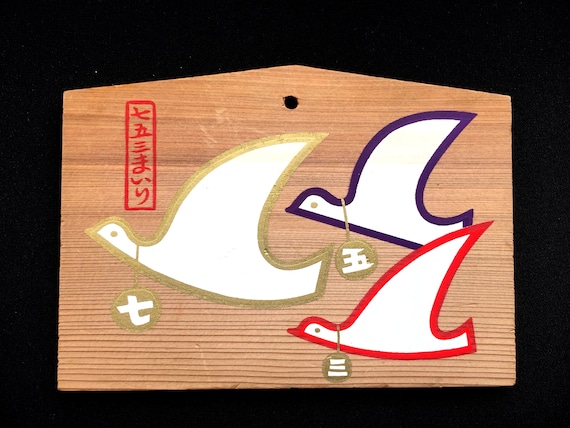 15.00 USD
This is an "Ema". "Ema" are small wooden plaques on which Shinto worshippers write their prayers or wishes. The ema are then left hanging up at the Shrine, where the kami (spirits or gods) receive them. They bear various pictures, often of animals or other Shinto imagery, and many have the word gan'i (願意), meaning "wish", written along the side. In ancient times people would donate horses to the shrines for good favor, over time this was transferred to a wooden plaque with a picture of a horse, and later still to the various wooden plaques sold today for the same purpose.

Ema are sold for various wishes. Common reasons for buying a plaque are for success in work or on exams, marital bliss, to have children, and health. Some shrines specialize in certain types of these plaques, and the larger shrines may offer more than one. Sales of ema help support the shrine financially.


********This Ema is from Atsuta Shrine located in Nagoya, Aichi Prefecture, Japan.

Atsuta Shrine is a Shinto shrine traditionally believed to have been established during the reign of Emperor Keikō (71-130) located in Atsuta-ku, Nagoya, Aichi Prefecture in Japan. The shrine is familiarly known as Atsuta-Sama (Venerable Atsuta) or simply as Miya (the Shrine). Since ancient times, it has been especially revered, ranking with the Great Shrine of Ise.

Shichi-Go-San (七五三, lit. "Seven-Five-Three") is a traditional rite of passage and festival day in Japan for three- and seven-year-old girls and three- and five-year-old boys, held annually on November 15 to celebrate the growth and well-being of young children. As it is not a national holiday, it is generally observed on the nearest weekend.

It measures about 16.8 x 11.7 x 1 cm.