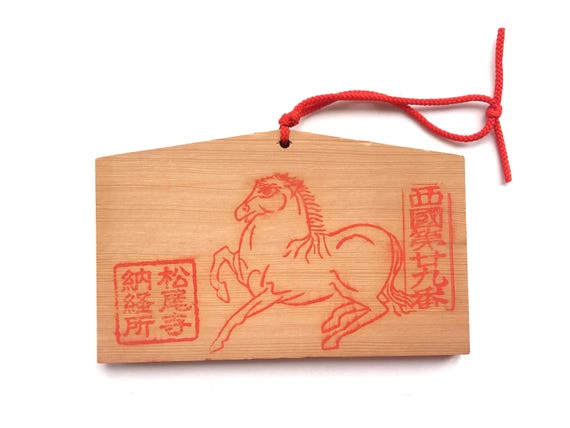 15.00 USD
This is an "Ema". "Ema" are small wooden plaques on which Shinto worshippers write their prayers or wishes. The ema are then left hanging up at the shrine, where the kami (spirits or gods) receive them. They bear various pictures, often of animals or other Shinto imagery, and many have the word gan'i (願意), meaning "wish", written along the side. In ancient times people would donate horses to the shrines for good favor, over time this was transferred to a wooden plaque with a picture of a horse, and later still to the various wooden plaques sold today for the same purpose.

Ema are sold for various wishes. Common reasons for buying a plaque are for success in work or on exams, marital bliss, to have children, and health. Some shrines specialize in certain types of these plaques, and the larger shrines may offer more than one. Sales of ema help support the shrine financially.

********This Ema is from Matsuo Dera Temple in Maizuru city in Kyoto.
Matsunoo-dera Temple; No. 29 pilgrim stamp office of the 33 Temples of Saigoku. There is a Seated Statue of Amida Nyorai, Important Cultural Property.
Matsuno-dera Temple is a Buddhist temple in Maizuru City, Kyoto Prefecture belonging to the Daigo school of the Shingon Sect.
In the middle of the western side, the Maizuru side, of the mountain, Matsunoo-dera Temple (Maizuru City), No. 29 pilgrim stamp office of the 33 Temples of Saigoku was constructed, and in the middle of the eastern side, the Takahama-cho side, Nakayama-dera Temple (Takahama-cho) was constructed.

松尾寺 Matsuo Dera Temple

西國第29番 No. 29 pilgrim stamp office of the 33 Temples of Saigoku

馬頭観音 Bato Kannon (in 1870, age thirty-eight); Seated statue in Mansho-ji Temple, Kochi, Shimoda City

うま(馬)くゆく人を待つを 松尾の福(二十九)の寺
Matsuo Temple (lucky temple) is waiting for person making his/her wishes.

It measures about 14 x 8.7 x 0.8 cm (this is very thick).

There is a horse painted on the wood plaque as lucky symbol.