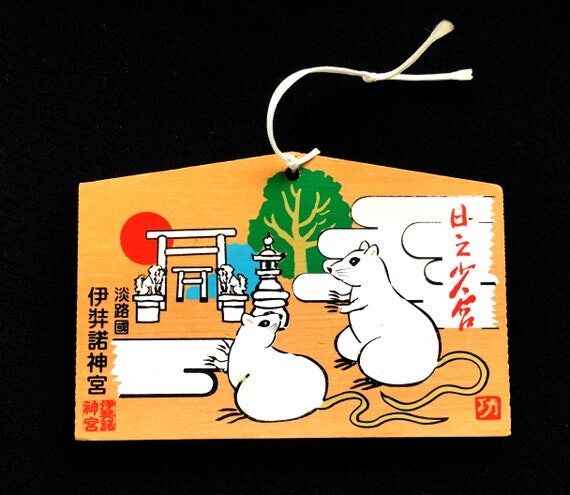 15.00 USD
This is an "Ema". "Ema" are small wooden plaques on which Shinto worshippers write their prayers or wishes. The ema are then left hanging up at the Shrine, where the kami (spirits or gods) receive them. They bear various pictures, often of animals or other Shinto imagery, and many have the word gan'i (願意), meaning "wish", written along the side. In ancient times people would donate horses to the shrines for good favor, over time this was transferred to a wooden plaque with a picture of a horse, and later still to the various wooden plaques sold today for the same purpose.

Ema are sold for various wishes. Common reasons for buying a plaque are for success in work or on exams, marital bliss, to have children, and health. Some shrines specialize in certain types of these plaques, and the larger shrines may offer more than one. Sales of ema help support the shrine financially.


********This Ema is from Izanagi Jingu Shrine. Izanagi Shrine (Izanagi Jingu, 伊弉諾神宮) is a Shinto shrine located in Awaji, Hyōgo Prefecture, Japan. It is dedicated to the kami Izanagi and Izanami. It was formerly an Imperial shrine of the first rank (官幣大社, Kanpei-taisha) under the Modern system of ranked Shinto Shrines. It was the ichinomiya of Awaji province.

According to Website of Awaji Island Kuniumi Association = A guide to Awaji Island (http://www.kuniumi.or.jp/en/01_history.html), This is a story from time out of mind, a time when the world was without form.

It is the kuniumi shinwa, as Japan's very own creation myth is known.

Izanagi-no-mikoto and Izanami-no-mikoto, two divine beings, male and female respectively, were sent down from Heaven to create and populate the lands that mortals would live in. First, they churned the ocean with a "heavenly spear" to generate form out of the formless void.

This action, so the story goes, caused drops of salt water to fall from the spear-tip, and these drops formed the first island, named Onogoro Island.

The divine couple descended from Heaven to this island, and performed the ritual of kuniumi, or "creation of the land," agreeing to take mortal form and live as man and wife. They went on to create a series of islands, and the resulting archipelago was "Oyashima no Kuni": Japan.

It measures about 15cm x 10cm x 0.6cm.