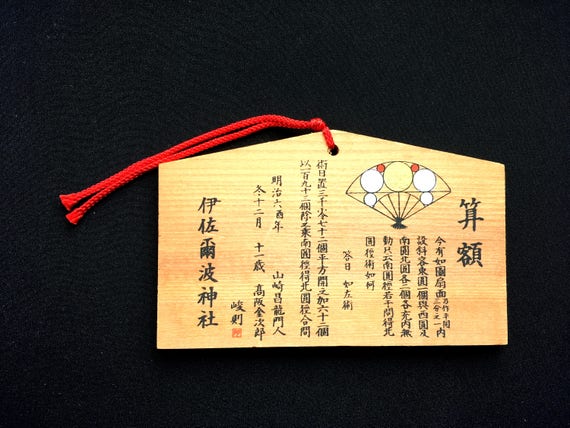 15.00 USD
This is an "Ema". "Ema" are small wooden plaques on which Shinto worshippers write their prayers or wishes. The ema are then left hanging up at the Shrine, where the kami (spirits or gods) receive them. They bear various pictures, often of animals or other Shinto imagery, and many have the word gan'i (願意), meaning "wish", written along the side. In ancient times people would donate horses to the shrines for good favor, over time this was transferred to a wooden plaque with a picture of a horse, and later still to the various wooden plaques sold today for the same purpose.

Ema are sold for various wishes. Common reasons for buying a plaque are for success in work or on exams, marital bliss, to have children, and health. Some shrines specialize in certain types of these plaques, and the larger shrines may offer more than one. Sales of ema help support the shrine financially.


********This Ema is from Isaniwa Shrine in Matsuyama, Ehime prefecture.

Isaniwa Shrine (伊佐爾波神社 Isaniwa jinja) is a Shinto shrine in Matsuyama, Ehime Prefecture, Japan. Enshrined are Emperor Chūai, Empress Jingū, and Emperor Ōjin. A number of its buildings and treasures have been designated Important Cultural Properties.

It is said that the shrine was founded on the site where Emperor Chūai and Empress Jingū bathed at Dōgo Onsen and it is mentioned in Engi shiki. In the fourteenth century the Kōno clan moved the shrine to its present location and it was rebuilt by the Matsudaira clan in the seventeenth century. Isaniwa Jinja was restored in 1970.

In front of it, Sangaku is mentioned on this Ema. Sangaku or San Gaku (算額; lit. translation: calculation tablet) are Japanese geometrical problems or theorems on wooden tablets which were placed as offerings at Shinto shrines or Buddhist temples during the Edo period by members of all social classes.

This sangaku is made by Kinjiro Takasaka who was 11 year old in December, 1873 (Meiji Period 6years).
These are old Kanji characters which are hard to understand for people now.

On the back, it says "pray for good grade at school". There are also places to write down your address and name.

It measures about 15.1cm x 9.3cm x 6mm.