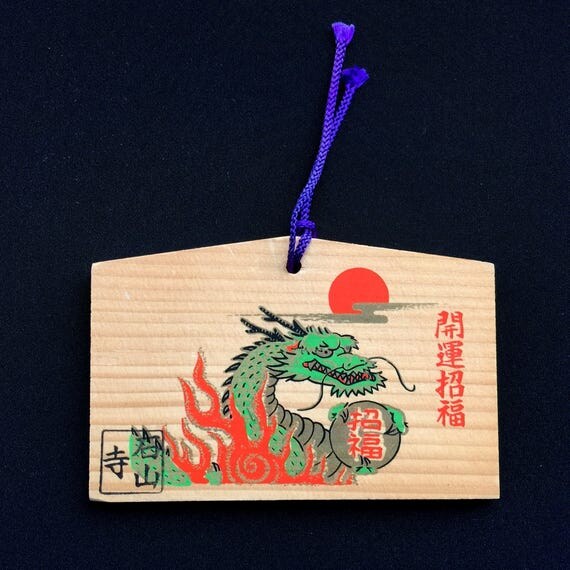 15.00 USD
This is an "Ema". "Ema" are small wooden plaques on which Shinto worshippers write their prayers or wishes. The ema are then left hanging up at the shrine, where the kami (spirits or gods) receive them. They bear various pictures, often of animals or other Shinto imagery, and many have the word gan'i (願意), meaning "wish", written along the side. In ancient times people would donate horses to the shrines for good favor, over time this was transferred to a wooden Plaque with a picture of a horse, and later still to the various wooden plaques sold today for the same purpose.

Ema are sold for various wishes. Common reasons for buying a plaque are for success in work or on exams, marital bliss, to have children, and health. Some shrines specialize in certain types of these plaques, and the larger shrines may offer more than one. Sales of ema help support the shrine financially.

********This Ema is from Ishiyama Dera Temple in Shiga Prefecture. Ishiyama-dera (石山寺, "Stony Mountain Temple") is a Shingon temple in Ōtsu in Japan's Shiga Prefecture. This temple is the thirteenth of the Kansai Kannon Pilgrimage.

It was constructed around 747 CE, and is said to have been founded by Rōben. The temple contains a number of cultural assets. The temple possesses two fragments of manuscripts of the Records of the Grand Historian (Shiji 史記), the first of China's 24 dynastic histories, which are the only known extant fragments that pre-date the Tang dynasty (618–907). According to literature available at the temple complex, the guardian carvings at Sanmon/Todaimon are by Tankei and Unkei. Allegedly, Murasaki Shikibu began writing The Tale of Genji at Ishiyama-dera during a full moon night in August 1004. In commemoration, the temple maintains a Genji room featuring a life-size figure of Lady Murasaki and displays a statue in her honor.

The temple features as "The Autumn Moon at Ishiyama" (石山の秋月 Ishiyama no Shūgetsu) in the Eight Views of Ōmi thematic series in art and literature; examples include ukiyo-e prints by Harunobu in the 18th century and Hiroshige in the 19th century.


It measures about 13.5 x 8.8cm x 6mm. On the front the Kanji on the right means says "kaiun shofuku" which means good luck.