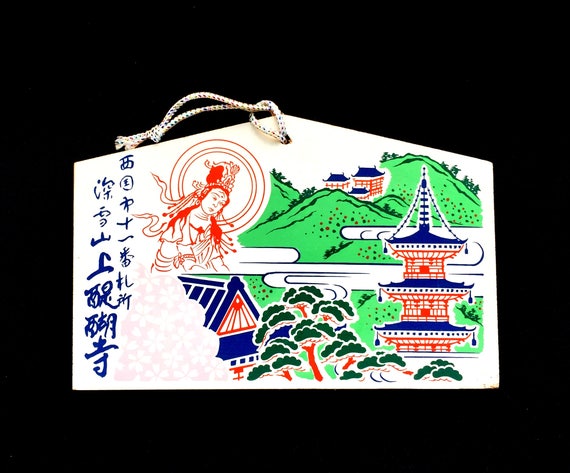 15.00 USD
This is an "Ema". "Ema" are small Wooden Plaques on which Shinto worshippers write their prayers or wishes. The ema are then left hanging up at the shrine, where the kami (spirits or gods) receive them. They bear various pictures, often of animals or other Shinto imagery, and many have the word gan'i (願意), meaning "wish", written along the side. In ancient times people would donate horses to the shrines for good favor, over time this was transferred to a wooden Plaque with a picture of a horse, and later still to the various wooden plaques sold today for the same purpose.

Ema are sold for various wishes. Common reasons for buying a plaque are for success in work or on exams, marital bliss, to have children, and health. Some shrines specialize in certain types of these plaques, and the larger shrines may offer more than one. Sales of ema help support the shrine financially.


********This Ema is from KamiDaigo-ji. KamiDaigo-ji (上醍醐寺) is a Shingon Buddhist temple in Fushimi-ku, Kyoto, Japan. Its main devotion (honzon) is Yakushi. Daigo, literally "ghee", is used figuratively to mean "crème de la crème" and is a metaphor of the most profound part of Buddhist thoughts.

On the back, there are 10 tips for being healthy.

①少肉多菜 little meat lot of vegetable
②少塩多酢 little salt lot of vinegar
③少糖多果 little sugar lot of fruit
④少食多噛 little eating lot of chewing
⑤少衣多浴 little clothes lot of tanning
⑥少言多行 little words lot of action
⑦少欲多施 little take lot of giving
⑧少憂多眠 little staying night lot of asleep
⑨少車多歩 little taking drives lot of walking
⑩少憤多笑 little angry lot of laughing

It measures about 17.5cm x 11.3cm x 1cm.