Pursuing an MBA is a shrewd move for anyone looking to earn a competitive salary right out of School. Though attending a renowned school can up the price tag of earning an MBA, it may also increase the overall return on investment. According to an article in U.S. News & World Report, "… graduates of top-tier business schools usually earn higher starting salaries than their peers who went to lower-ranked schools."
It's not jut the opportunity to have a lucrative job right out of school that makes a high starting salary appealing. An enviable starting salary could mean more earning potential down the line. However, a top-tier school may seem out of reach for low-income applicants. After all, how can you enjoy the return on investment if you can't afford to invest in the first place?
Luckily, many prestigious business schools offer resources for students from different socioeconomic backgrounds. Below, we've outlined the resources available for low-income applicants at five of New York City metro's best business schools.
How NYC Business Schools Help the Underprivileged
Columbia Business School
Columbia Business School offers need-based awards to many students, which may result in anywhere from $7,500 to $30,000 in tuition support. Nearly half of applicants receive need-based scholarships, which are automatically renewed at the start of the second year. Columbia students can also apply for private and federal loans. To create incentive for students to choose careers in public and nonprofit fields, the school offers a Loan Assistance Program for students who utilize their education to pursue these paths. Students are eligible to apply for this program for up to five years after graduation. Depending on the extent of students' debt, they may receive anywhere from $2,000 to $10,000 of annual support. Columbia students may also receive merit-based scholarships, such as the Columbia Fellows Program, which may cover full or partial tuition and is granted to applicants with an outstanding track record in leadership and creativity.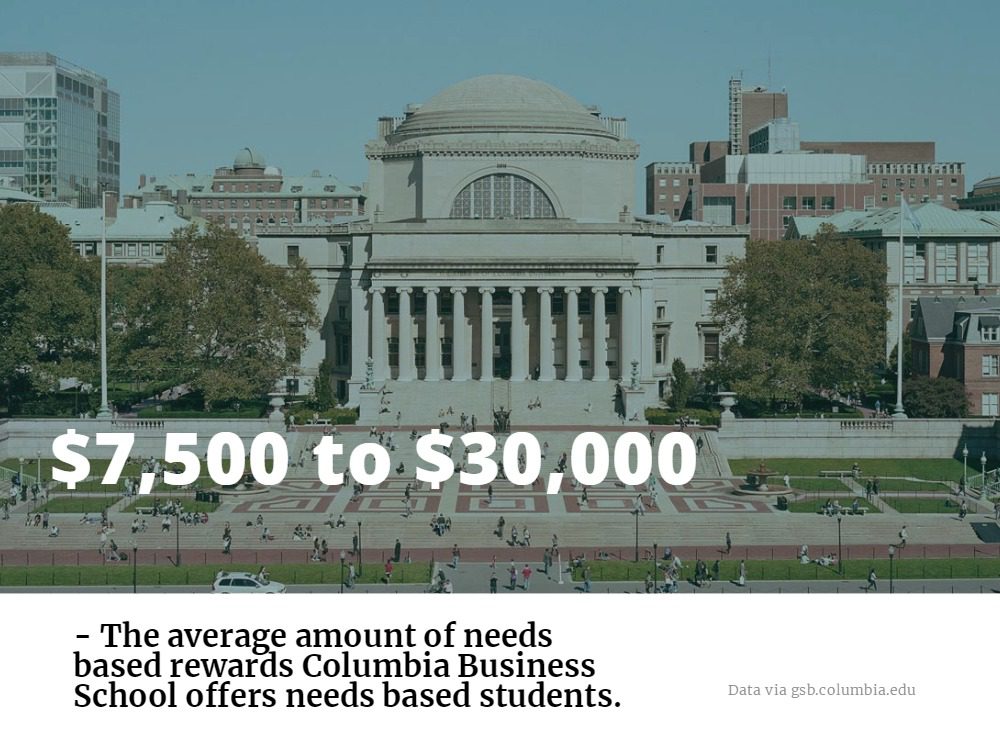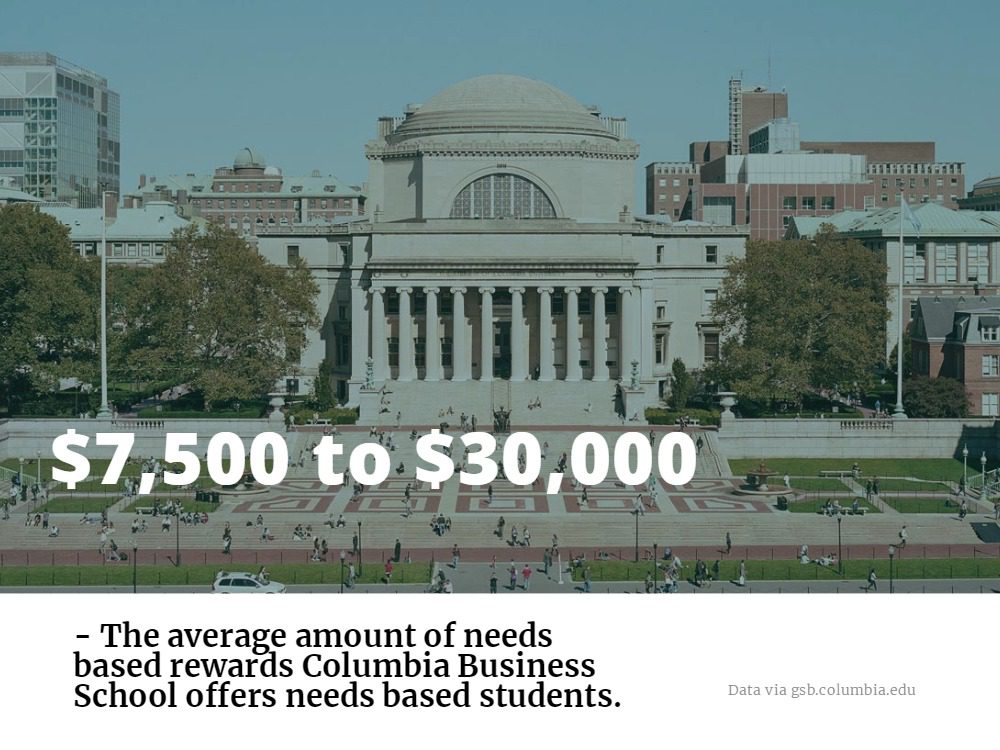 Stern School of Business—New York University
NYU's Stern School of Business offers a variety of scholarships for high-achieving applicants. According to the school's website, nearly a quarter of students who enter the full-time MBA program receive a merit-based scholarship. There are also additional merit-based opportunities for students coming from different backgrounds and perspectives. Scholarships like the Advancing Women in Business Scholarship and the Forte Fellowship are particularly geared toward female-identifying students, to support women in business. The ROMBA Fellowship aims to help LGBTQ students succeed in business education. The Consortium Fellowship exists to increase the number of minorities such as Hispanic Americans, Native Americans, and African Americans in business school as well.
Gabelli School of Business—Fordham University
At the Fordham University Gabelli School of Business, graduate students may be eligible for federal financial aid, merit scholarships, or a variety of graduate assistantships. Awards based on academic excellence range from $10,000 to full tuition. Exceptional students may be eligible for awards like the Dean's Premier Scholarship, which includes a $20,000 living stipend, and may include a stipend toward one of Fordham's global programs. Students can also apply for a plethora of need/merit-based scholarships, like the Hitachi Diversity and Inclusion Scholarship, which seeks to help underrepresented minorities finance their education.
Rutgers Business School, Newark and New Brunswick
The Financial Times ranked Rutgers Business School among the top 50 MBA programs for return on investment in 2017, citing a 130 percent increase in salary for students within three years of completing their degree. Moreover, the school's website states that, "More than 80 percent of Rutgers students receive some form of financial aid." Moreover, at $31,011 per year (not including fees), this program is far more affordable than many other prestigious schools. Students can apply for federal or private loans, grants, and an array of scholarships. In addition to the awards offered by the Rutgers Business School Graduate Scholarship Fund, the Rutgers website lists 30 fellowships, scholarships, and partnerships. The Ralph Bunche Fellowships, for example, provide tuition remission, and a $15,000 living stipend to minority students from disadvantaged socioeconomic backgrounds.
SC Johnson Graduate School of Management—Cornell University
Around 30 percent of entering the SC Johnson Graduate School of Management students receive some level of scholarship support. Scholarships like the National Society of Hispanic MBA's (NSHMBA) and the TOIGO Fellowship specifically seek to help underrepresented minorities. The MD MBA Dual Degree Program and Lee Family Scholarship supports students on the rigorous path to receive their MD/MBA. Additionally, Cornell's Park Leadership Fellows Program awards full tuition to up to 25 MBA applicants annually. The award is granted based on personal and professional achievements, academic performance, social contributions, and leadership. Students can also apply for federal and private loans.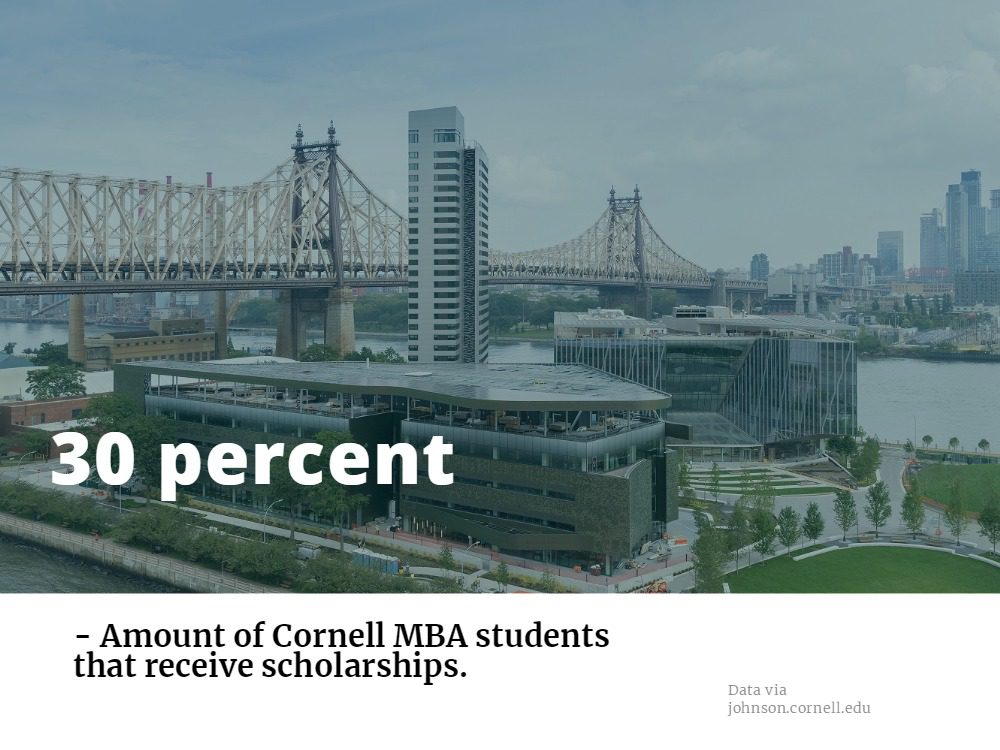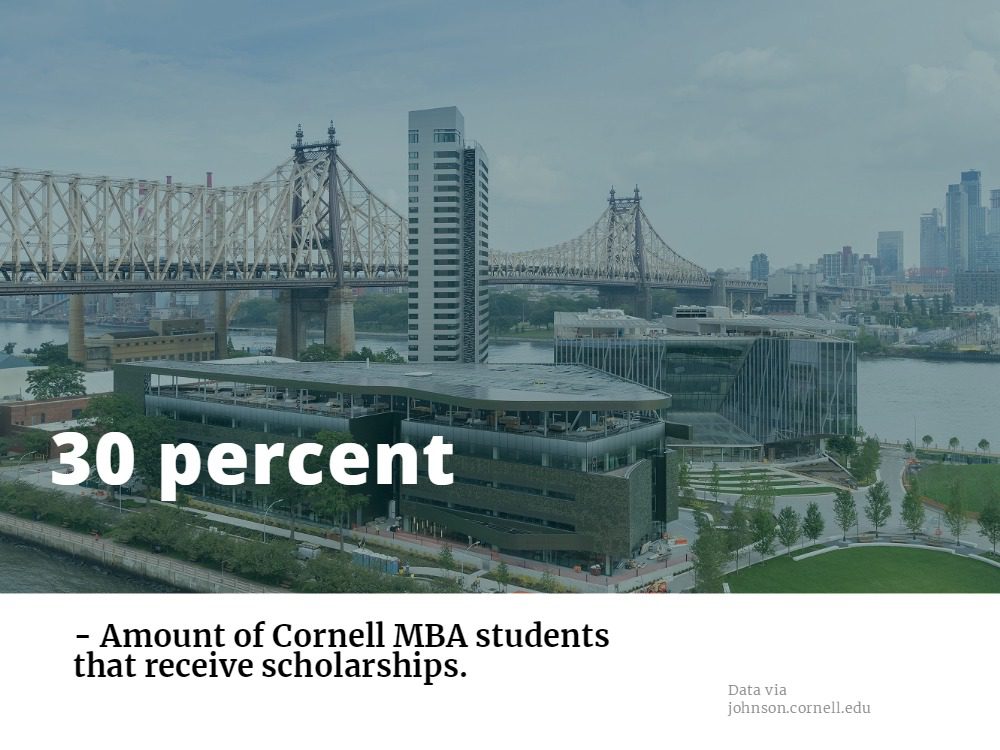 The post How NYC Business Schools Help the Underprivileged Applicants appeared first on MetroMBA.