It doesn't take a stable genius

to figure out that New York City is the world's most highly sought-after 22.82 mi² strip of land to pursue an MBA.
As is the case with most prime real estate, the stakes are high and the competition fierce. For many prospective Business schoolers, the decision to step into the gauntlet is one made with a healthy sort of trepidation.
Hefty price tags and cutthroat admissions present real barriers for prospective students and deter more than a few. Still, many equate the New York MBA experience to a dream scenario—or a Gordon Gecko-style fantasy, replete with the promise of a staggering salary, an attractive range of employment opportunities, and prime placement in a city of constant progress.
How does the dream stack up to reality? Schools weigh in on 2017 trends for graduates, many of whom report satisfaction with employment offers. Let's take a look at how MBA graduates are getting the most of their newly minted degrees!
2018 New York City MBA Trends
Columbia Business School
According to the school's most recent MBA employment report, less than 2 percent of Columbia Business School graduates reported salary as the primary reason for accepting an offer. While the honestly of that polling answer pool is debatable, Columbia School of Business is the king pin of starting salaries on our list, with median salary of $125,000. Of the graduating class, 93.2 percent of students accepted employment offers within three months. Approximately 28 of 1,019 total students stepped aside to create their own companies. Per the standard with many of the NY-area schools, the largest portion of graduates selected financial services (34.4 percent) as their field of choice, followed closely by consulting (33.1 percent) and media and technology (15.6 percent). Companies such as McKinsey & Company, Amazon, Goldman, Sachs & Co., and Morgan Stanley welcomed a majority of Columbia's finest.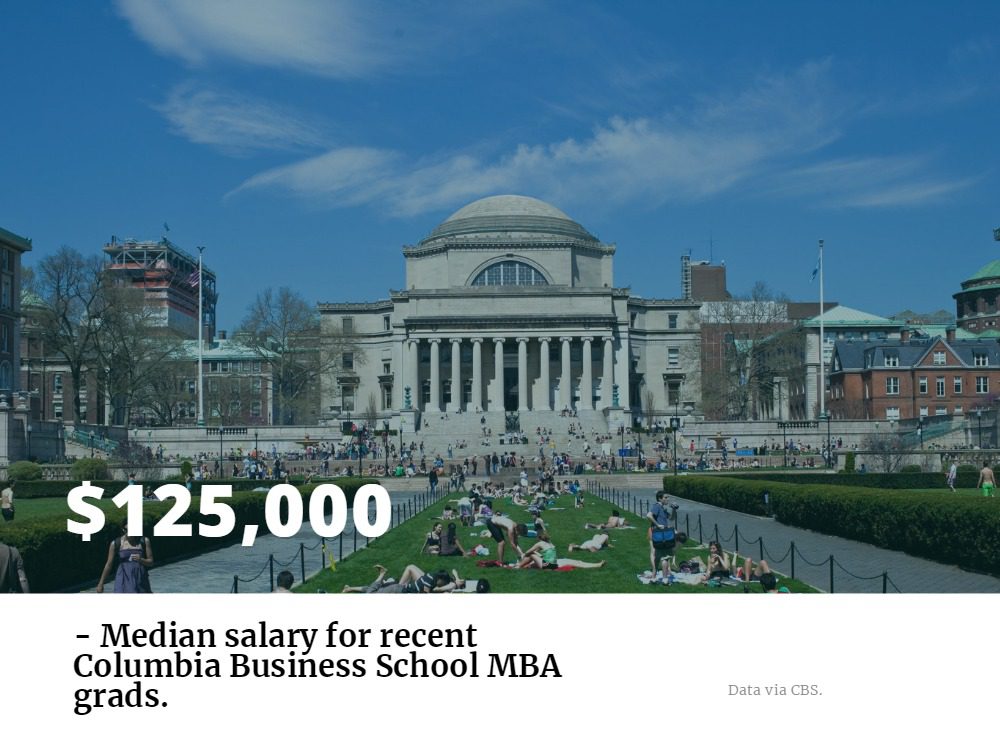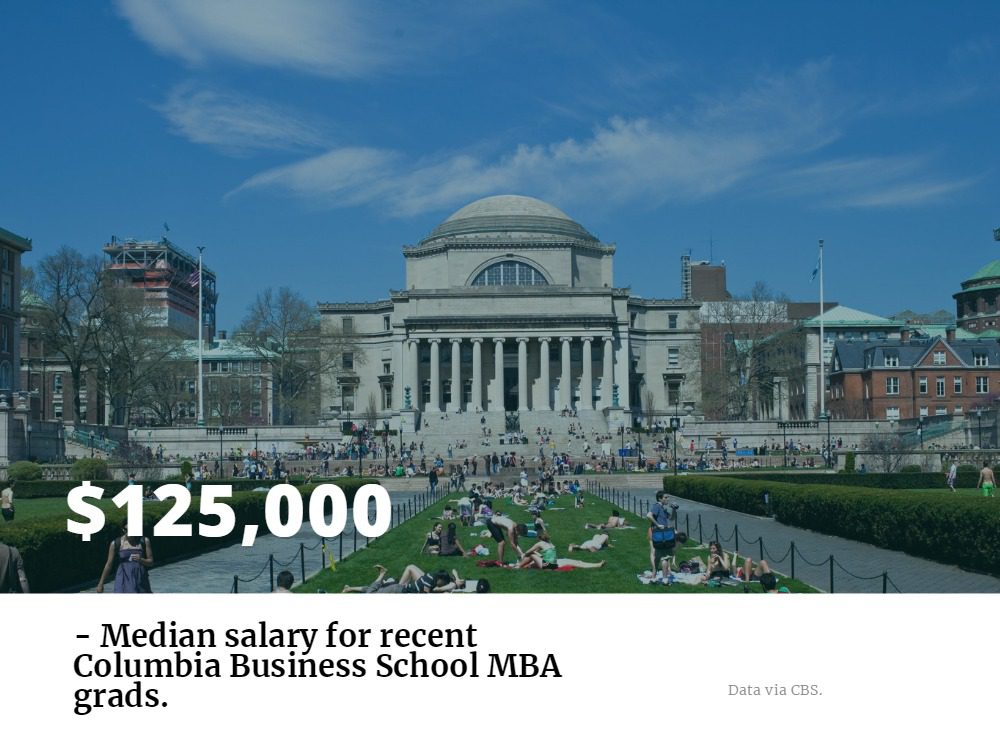 The boastful salary expectations, unsurprisingly, are tempered a bit by the costs of the CBS MBA program. The current estimated budget for Columbia MBAs comes in at $107,749 in the first year, of which includes over $21,000 for room and board. Tuition in isolation, however, costs $71,544 for the first year. Looking at a degree at any New York City school, never mind an Ivy League institution, means cost of living has to be taken in heavy consideration, which can vary greatly from borough to borough.
Fordham University's Gabelli School of Business
About 88 percent of students in the Fordham Gabelli School of Business graduating class accepted employment offers within six months after graduation. Starting salary rates were below Columbia's, at an average of $84,593, with an average signing bonus of $15,536 and additional compensation of $14,510. That average salary figure is an approximate 13 percent drop from the previous year's reported averages.
Out of the many fields MBA students typically chose this year, Fordham students favored less predictable fields: just under 50 percent went into financial services, while 11 percent earning employment in consumer products, technology, and media, respectively. Unlike MBA graduates from many other NYC schools, however, only 5 percent of Gabelli students went into consulting, signifying a deeper trend of tech continuing its encroachment on MBA talent.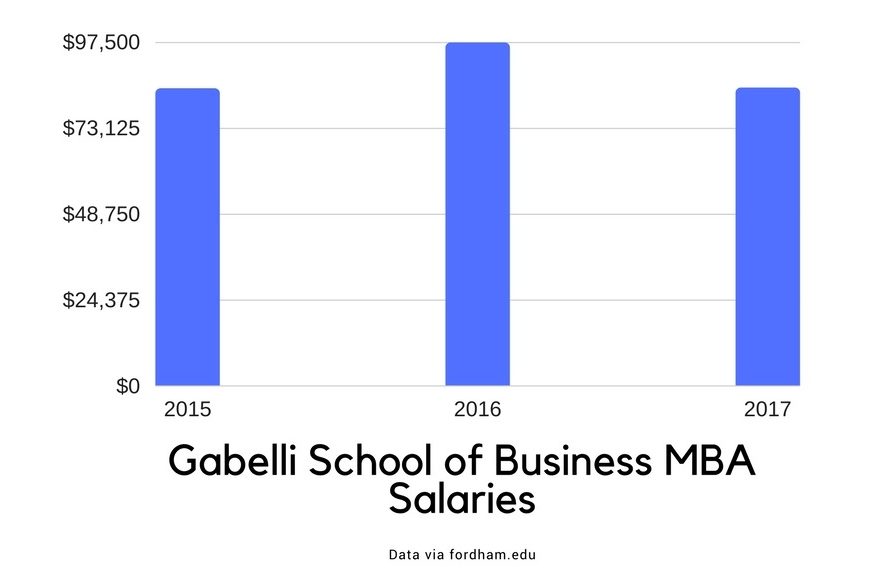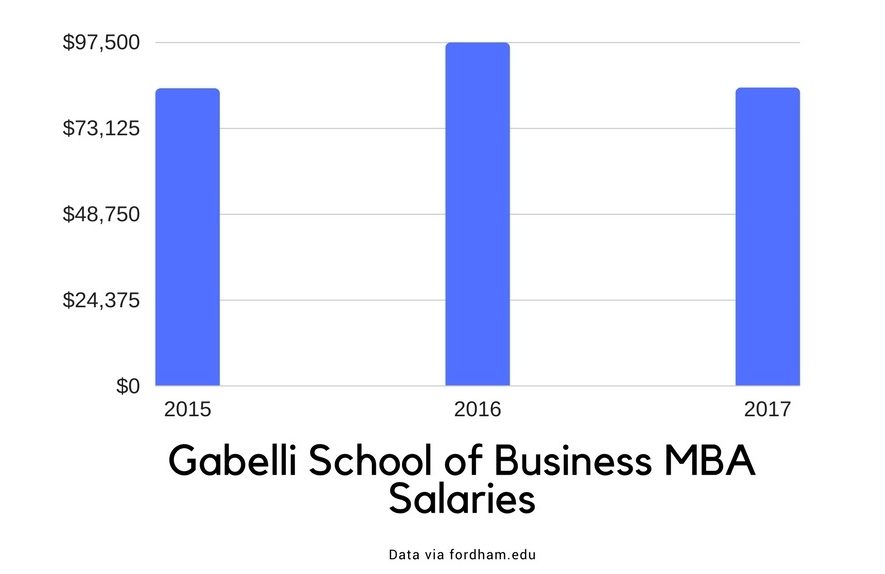 Compared to many other schools on this list, Gabelli's distinct advantage is cost. The first year of the MBA program currently costs $49,645: more than 30 percent less than the cost of the Columbia full-time MBA tuition.
NYU Stern School of Business
This may shock you, but, NYU Stern MBA students are doing pretty well, with an average starting salary of $121,146 in placement of some of the most prestigious institutions in finance (32.4 percent), consulting (26 percent), technology (16.8 percent), real estate (3.5 percent), and retail (3.2 percent). Around 83 percent of those students landed jobs in the Northeast U.S., while nearly 10 percent of graduates found positions in Asia, Europe, and South America. Nearly half of all job offers were the result of an internship facilitated by NYU.
Like the trend at Gabelli, NYU grads jumping into tech has been steadily climbing over the past few years, rising from just 6 percent of employed grads from the Class of 2014, to 17 percent for the most recent class. The incremental increase coincides with the school's recently added Tech MBA.
Stevens Institute of Technology School of Business
In a metro brimming with very successful business schools, the Stevens Institute of Technology School of Business separates itself with an incredible employment placement rate of 94.9 percent; the best placement among all business schools in the country, according to U.S. News & World Report.
The Stevens MBA faculty claim to provide "exceptional career services much earlier than other universities." 90 percent were employed in the industry of their choice. Starting salaries fell between $88,805—$125,000. Companies such as Goldman Sachs, Protiviti, PwC ,and Prudential offered employment opportunities for these students.
Cornell University's SC Johnson Graduate School of Management
About 93 percent of students from Cornell's Ithaca and NYC campuses received employment offers within six months of graduation. The average base salary was $125,578, which was an increase from previous years "driven by salary growth in consulting and finance." Chosen fields for students were finance (38 percent), consulting (26 percent), and general management (21 percent). Out of the 122 companies that sought 2017 graduate students, the top recruiters were Citi Group, Amazon, Deloitte Consulting LLP, Ernst & Young, and McKinsey & Company.
Even Cornell MBA students in an internship were earning some of the best salaries in the country, pulling in a reported $8,764 per month. Those figures out over a 12-month rate are more than triple the average intern salary, according to Glassdoor data.
The post 2018 Trends: New York City's MBA Future appeared first on MetroMBA.