The wide-waisted, narrow-legged washed denim that were so 80s and even the flaired and bootcut Jeans that are so definitively 90s seem to have faded into oblivion ever since fashion fell hard for Skinny Jeans. These pair hugs and clings on to your legs and pushes up your buttocks that it really is the perfect pair that fits the naturally slender shaped woman's body.
Now, despite the popularity of skinny jeans since more than a decade ago until today, many women still fear it. There is a right pair of skinnies out there for you, you just got to go out and find it. So, whether you are finding a way to wear these trendy jeans to flatter your figure or, simply to romp up your fashion sense, below are some outfit ideas to dress up your skinnies like you've never seen before!
1. The Street-Smart Skinnies
Walk the streets of your town in style by pairing your skinny jeans with a ribbed blouse, either cropped or long, depending on your confidence level and body shape. Put on your ankle boots and messenger bag. You're all set to explore around!
2. The Smart Casual Way. Pair with a tank top or sheer inner blouse. Cover up with a three-fourths elbow-gartered blazer, no need to button down. You may also choose to use a calf-length cardigan. Put on your pointed pumps and accessorize with a clutch.
3. The Evening Glam Denims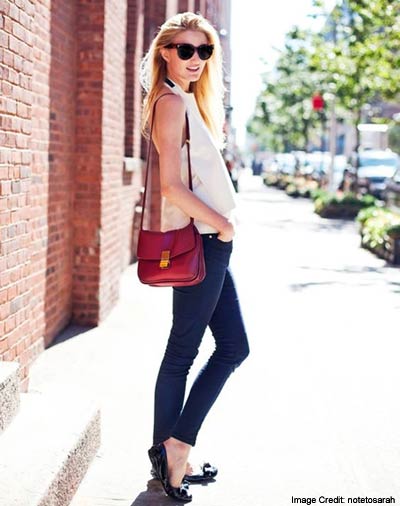 If you're planning to use your skinny jeans to a movie night or a late night out at the bar, remember that evening affairs call for showing off some skin. Pair with tops that are assymetrically cut, haltered or ribbed. You may also choose to go for plunging neck lines with double-layered hems. Use with your heels or pointed ankle-boots.
4. The Bad Girl Skinnies. Put on your plain inner shirt. Throw in your leather jacket. Pair up with a pair of ankle boots that's the same color as your jacket. Get your sunglasses on and you're all set to rock!
5. The Skinny on a Lady
Use a laser cut, off-the-shoulder blouse with your jeans. Put on your level wedges. Half-braid your hair. Wear with a saddle bag or a tote handbag.
6. Laid Back Skinnies. Take an oversized tee. Let one shoulder drop. Tie to your waist or your back. Pair with your knee-high boots and blaze away with a backpack on.
7. The Sunday Styled Shopper
Stay comfy on a Sunday with your sweatshirt on and a pair of trainers to match. Pair with a large tote, shopper bag or messenger bag.
You May Also Like – Marc Jacob's Versatile Handbags Collection for Fall/Winter
Conclusion
Feel free to love your skinny jeans over and over again, 7 days (and nights) a week with these 7 ideas to keep your style trendy, fab and sleek. Denims are truly never out of style, and this time, it's the skinnies that are proving it.
Like this post? There's more. Get tons of beauty tips, tutorials, and news on the thebeautyinsiders Facebook & Twitter page. Like us on Facebook – we'll see you there!
The post Know How to Effortlessly Style Skinny Jeans Look and Still Look Trendy appeared first on .