Whether it is your first time to get pregnant or, your third trip to delivery, some things about Pregnancy will never change. While pregnancies may differ from one child in the womb to another, some facts remain the same. That includes gaining a considerable amount of weight! Too much weight gain can be bad for you and your baby too, and the pounds you gain may become stuck with you years after your child is born.
Combine healthy eating with these five prenatal exercises that you should keep doing to keep your muscles toned and your body fit throughout your pregnancy. You don't have to be afraid to perform these exercises as these are perfectly safe but, if you are going through a fragile pregnancy, you should first consult with your GYN.
1. Walking
The treadmill may not be the place for you and your baby to get your heartbeat up. Take in the inviting sights and fresh air of the outdoors. The best times for you to walk are very early in the morning and early evenings as your skin becomes more photosensitive during pregnancy.
2. Arm Raises: Stand with your feet together and do simple arm raises. Raise both arms up then to your sides. Alternate your left and right arms as if you are reaching for something over your head while simultaneously raising your opposite toe. Stretch out your arms and circle it forward then back.
Read Also: Pregnancy Stretch Mark Cream
3. Leg Raises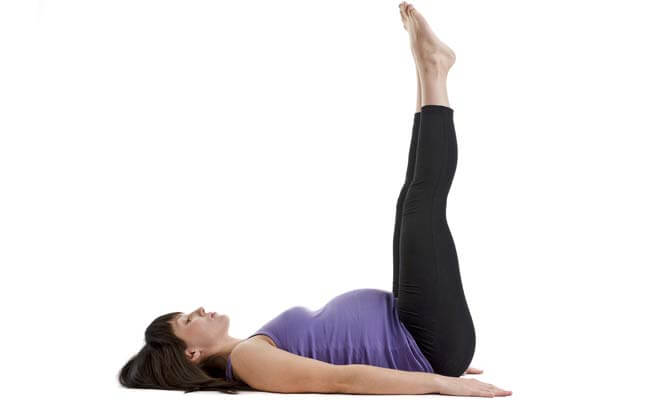 Lie with your back flat against the floor. With your hands under your hips for support, raise both your legs and toes up then down without letting your toes touch the floor. Do this repeatedly for as long as you can. Then, roll over to one side. Raise both legs up while keeping them together then, move down without letting your legs touch the floor. Roll over to the other side and do the same.
4. Squats: With your hands on your hips, stand with your legs and toes slightly apart and facing forward. Bend your knees and go as low as you can then go back to starting position then go down again. Do this repeatedly for as long as you can endure. For added handicap, raise your arms forward as you bend your legs then drop it loose to your sides when you stand straight. Use dumbbells if preferred.
You May Also Like: 20 Minutes to a Better Body: Fast Weight Loss Exercise Sessions
5. Use Dumbbells and Ankle Weights
Perform dumbbell exercises. If you haven't used these before, you can start with shoulder press, arms raised, bench press and kickback. Use ankle weights to firm up your glutes and buttocks.
Conclusion
Pregnancy may weigh down on pregnant moms but, you should be glad you're putting on weight rather than losing pounds because that will surely be worse for your baby. Perform these five prenatal exercises or variations thereof as often as you can and you will be able to stay fit and fab for the whole nine months and beyond.
Like this post? There's more. Get tons of beauty tips, tutorials, and news on the thebeautyinsiders Facebook & Twitter page. Like us on Facebook – we'll see you there!
The post Pregnancy Exercises: Prenatal Exercises to Stay Fit During Pregnancy appeared first on .