Living in Ottawa during the winter months can either be pleasant or weary, depending on what we make of it.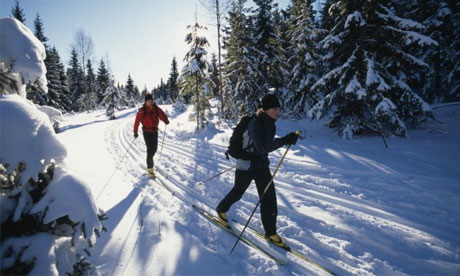 What can we do to make our Ottawa winters enjoyable, while exercising and taking part in some fun outdoor activities? How about incorporating Fartlek?


What is Fartlek, you may ask?

Fartlek, which means "speed play" in Swedish, is a cardiovascular
Training
method that focuses on endurance.
Typically used by runners, the Fartlek method of training is implemented during the preparatory portion of their season. The reason they use this method is because it's extremely flexible, and also develops basic cardiovascular endurance.
Fartlek can be done anywhere, at any time, and all year round. It is the combination of many cardiovascular training methods, like long slow distance training, interval training,
Pace
and tempo training, hill training, fast burst training at various distances and lengths, training in parks, streets, beaches, etc. It can also be applied to any form of cardiovascular activity, such as swimming, cycling, skating, cross-country skiing, etc.
An example of a cycling training program using the Fartlek method is as follows:
4 min fast pace
2 min easy pace
2 min hill climb
2 min fast pace
30 sec all-out pace
4 min easy pace
10 min moderate pace
10 min easy pace
.
Remember, Fartlek training is just a change in time, tempo, distance and terrain. Mix these four elements up, and you'll have yourself a custom made Fartlek training program. Where better to practice Fartlek, than in Ottawa, were outdoor winter activities are virtually endless.
Take advantage of the Rideau Canal and skate on the world's largest skating rink. Go snow shoeing, or cross-country skiing and explore the beauty of Ottawa's endless snow trails. While you're out there enjoying the winter, don't forget to incorporate some Fartlek. It's easy, never boring, and you can create a great workout right on the spot.


Klavora, P. (2004). Foundations Of Exercise Science: Studying Human Movement And Health. Toronto: Sports Books Publisher.