Motor units are the functional units of a muscle. The percentage of Motor Units activated at a given time will determine the amount of force (power) that muscle produces. The force generated by a muscle needs to match the needs of the activity. For example, you do not want to recruit maximum motor units while washing the dishes or picking up a small child. However, you do want maximal motor unit recruitment when sprinting to the finish line or catching a bus.
When you lift fast, you recruit greater motor units with each repetition. According to Strength Coach Chad Waterbury, maximum motor unit recruitment is only sustainable for the first 15 seconds of a movement. Your smallest motor units are recruited first, followed by your larger motor units. However, you can recruit your larger motor units if the weight is heavy enough and the speed is fast enough. Since we can't really know what "fast enough" or "heavy enough" means without being strapped to all these complicated devices and machines, the best thing is to lift the heaviest weight as fast as possible.
Now, with bodyweight training "heavy" gets replaced by "difficult." The key is to consistently move onto different variations of a movement when that movement becomes too easy. But most trainees don't know what too easy means. They go after unecessary repetition numbers and wonder why they're not getting stronger or bigger. Well, high rep movements do in a way help improve strength levels, but not as well as moderate repetitions. High repetitions do nothing for strength levels.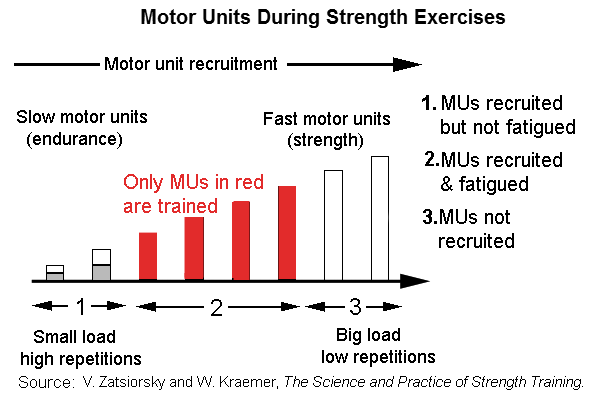 Image by Combat-Aging
Move Faster and Stronger
We can use Waterbury's 15 second theory in our bodyweight training as well. Here's how you do it:
Take basic movements such as a pushups and pullups, and see how many repetitions you can do in 15 seconds. I can do 15 pushups and 5 pullups in 15 seconds each.
Design a routine where you are doing circuits of pushups and pullups. Lets assume you decide to perform 3 rounds of 15 pushups and 5 pullups. The entire workout should take you a minute and a half, theoretically.
Since each round is slower than the one before, the workout may end up taking 2-4 minutes, depending on your recovery time.
Your goal is going to be to move faster each time you perform the workout. With bodyweight training, it is not the load that matters, but the illusion of load. As you get more and more tired, your body thinks you are Lifting Heavier Weights, and so taking as little rest between sets is another important aspect.
The Wrap-Up
Lets assume that your workout time was 3 minutes. Keep hammering at the workout until you've dropped down to accomplishing the workout in under 2 minutes. Once you've accomplished this feat, switch to more difficult variations, and test your 15 seconds max for that exercise.
This approach to program design accomplishes a few things:
It gives you a 15-second time frame for recruiting as many muscle fibers as possible. Remember, anything after 15 seconds and you're recruiting your smaller fibers as opposed to your fast-twitch, larger fibers which are essential for improvements in speed, power, and strength.
When you work to drop your total workout time and improve your work capacity and recovery, you get faster. Your sets will end up lasting less than 15 seconds, which give you a greater benefit when it comes to recruiting maximal muscle fibers.
Muscle fiber recruitment also depends on the necessity of the activity. Once you've become faster, it's time to move onto another, difficult variation. Difficult variations are the bodyweight version of lifting heavier weights.