A few months back, Scott Sonnon and Ryan Murdock came out with a free workout – the same workout they used to train the Isreali Special Forces.
However, for many individuals, this workout was too difficult. So, Scott Sonnon has come out with an easier version of the Program.
Scott Sonnon
Download The MP4 <— Right Click and save to disk (hold Ctrl and click on Mac)
Check out the basic version of the Tacfit Challenge:
During the 3-day launch phase, the price was discounted at $97. Here's what one of the customers said about the price:
"Are you guys insane? After the promo material and emails, I thought this program was going to be $399 and out of my grasp. When I saw it was only $97, I said, "They're insane!" and then whipped out my credit card. I can't believe your price point! Also, the follow-along training vids are exactly what people like me need. I need to see someone do it and follow along. You guys keep putting out awesome material, and I like knowing you always over-deliver on excellence."
So Gregory Zobel from Texas Tech thought this program was $399. It's $197 now, which is still lower that what I believe it should be. Coach Sonnan and Murdock are trying their hardest to keep the price low so that it is available to as many people as possible.
But hey, they still have to get paid. So if the price is what's bothering you, then I think you're approaching this the wrong way. Coach ScottSonnon has been using this same training system with elite Commando units for many years.
He knows it works, and that is why he's put together a civilian version for everyday people to use and achieve the same level of strength, flexibility, and leanness as elite military forces.
Anyone who wants to get into better shape can benefit from the TacFit Program. Scott Sonnon and Ryan Murdock have put together something that is 100% useful content and 0% fluff.
The eBook is actually a very small part of the product. The real program is all in the videos. The basic package will get you very detailed exercise descriptions and follow-along workout videos that make you feel as though ScottSonnon is right there with you training you.
The upgrade, Deluxe package will get you those same videos in a format that you can upload onto your iPhone. This way, you can literally take theTacFit program everyone and anywhere you travel.
8 Reasons Why You should Purchase TacFit Commando:
The 119 Page Mission Brief Program Manual gets right to the point and gives you the exact program you are to do. Combine that with the Commando Mission Calendar, and you'll know exactly which workouts to follow based on your fitness level.
Each exercise comes with 3 levels of sophistication. Sophistication simply means difficulty. So, as a beginner you start off with the easiest version of a movement, and make gradual changes to that movement as you get stronger.
The Video Library gives you highly detailed instructions of every single exercise in the program, including the sophistication of each movement. This, by far, is the best part of the package.
You do not need any equipment for this program at all. Many other bodyweight programs claim the same thing, but then you realize you still needpullup bars, stability balls, and resistance bands. Not so in this program.
The No-Intensity and Low-Intensity days allow you to prevent injury and speed up recovery. This is a huge problem with most fitness programs, as they may be high intensity, but too much high intensity leads to quick burn out and thus, lack of results. InTacFit Commando, you are shown exactly how to prevent injury and burn out after your moderate and high intensity days.
Part of the recovery package is a Video Series that shows you the recovery methods of Special Ops forces. This is GOLD. This information alone should cost a few hundred bucks (but it doesn't. It's part of the package!)
This one's a surprise. Other Ryan Murdock's programs, such as Bodyweight Blueprint for Fat Loss, and Bodyweight Exercise Revolution did not include cardio workouts. This one does. But it's not boring, steady state cardio.TacFit Commando uses unique Energy Systems Training which will help you burn off stubborn fat, and is 10 times more fun than steady state cardio.
This one's part of the Deluxe Package. It's a diet plan that is easy to follow and based on the recommendations of the elite Commando units. If it works for the military, it'll work for you.
Top 6 Questions People ask about TacFit
Can you Gain Muscle on TacFit Commando?
Depends on what you mean by muscle. If you want to go from 155 to 165, then yes, you'll be able to pack on a decent amount of functional muscle, given that you eat more.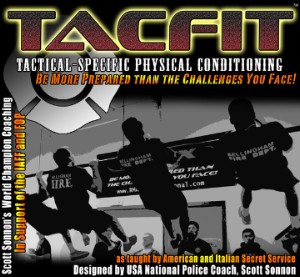 However, if you're talking about bodybuilder-type mass, then no. If you're goal is to break 200lbs, then you're looking in the wrong place.
It is possible to pack on muscle with bodyweight training. My friend Mike Thiga just created a program that helps you do just that. Check out his program here.
What Kind of Physique Can I expect to Achieve with TacFit Commando?
Here's a few pics of some of the people that Coach Sonnon trains:
As I mentioned before, Tacfit Commando won't turn you into a bodybuilder. But you will be leaner, stronger and fitter.
What are Civilians saying about TacFit Commando?
Its a bit too early to gather testimonials from civilians who've used TacFit Commando, as the launch was less than a week ago.
If you don't trust my word on the program, then check out some of these testimonials:
25 Year Navy SEAL Veteran Gives TACFIT Commando the Seal Of Approval!
"In a sea of "functional training", TACFIT Commando stands out in its simplicity and its intricacy. Every detail is focused on maximizing battlefield performance and Scott Sonnon excels in his ability to describe the execution and importance of the movements. As a bodyweight training system, it means that warriors can hone true combat fitness anywhere — giving TACFIT Commando "real world" relevance. As a 25 year Navy SEAL veteran and lifelong student of human performance, I am truly excited about this program."
— Tom Schibler, Navy SEAL Officer, CDR, retired 2006
Training Just Got A Whole Lot More Exciting For These Federal Agents!
"The entire office is pumped up. Changing and saving lives with this program—it was awesome."
— Dave Sxxxxx, United States Customs Border Protection
Office of Air and Aviation
Army Combatives School Recognizes Scott's TACFIT Principles As Cutting Edge!
"Coach Sonnon is truly an original. As a pioneer in both the application of the newest sports science and as a connection and filter to the best techniques of the past, he has made an immeasurable contribution to our program of instruction here at the Army combatives school. By combining an intimate knowledge of biomechanically efficient movement, the physiological capabilities and weaknesses of the human body, and both fighting and fitness, he is helping to revolutionize the modern combatives world."
— Matt Larsen, NCOIC U.S. Army Combatives;
Author: US Army FM3-21.150
Is TacFit for Women?
I don't see why women can't use TacFit. It's a bodyweight training program, so even women who are afraid of lifting weights can use the program.
However, if what you're asking is if there is any separate training program for women to use.
From what I know, no, there isn't. But does there need to be? This is a program for everyone and for various fitness levels.
Is TacFit Commando Worht the Price?
We went over this. I personally believe that TacFit Commando is still a bargain, even at the $197 price.
TacFit Commando vs. Turbulence Training
There are numerous other bodyweight only programs out there. One of these is Turbulence Training, and home fitness program developed by Craig Ballantyne.
The first difference between the two is that Turbulence Training still requires you to use pullup bars and stability balls.
TacFit Commando is a program that requires no equipment. None. Zero. Just download the program and you're good to go.
Overall, TacFit Commando is a bargain, and something that you need to grab….today!
There's a ton of info about the program at the TacFit website, however Scott Sonnon covers a few questions you may have about the program:
If you grab a copy of the TacFit Commando workout today, I'll give you 2 incredible bonuses:
Eric Wong's 10X10 Bodyweight Circuits

The Israeli TacFit Commando Special Forces Challenge Workout
To get these bonuses, simply order you copy of TacFit Commando using the link below, and then forward your receipt number to [email protected]
Once I've confirmed your order, I will send you your free bonuses VIA email.
What are you Waiting For! Experience this incredible Commando program first hand! Click here to Grab Your Copy Today!
RELATED ARTICLES:
TacFit Exercises: Take the TacFit Workout Challenge
Last day to get TACFIT Commando at 51% off
TacFit: Ryan Murdock's Bodyweight Workout
Scott Sonnon Teaches TacFit Commando
Tacfit Package – What Are You Waiting For?
What is TacFit?