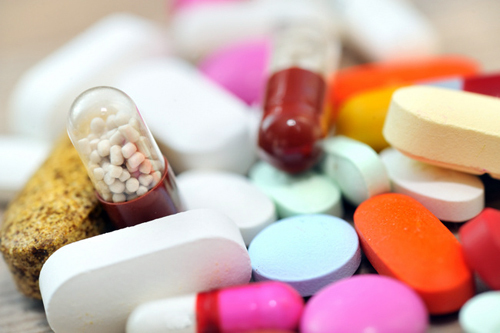 Check with your doctor to see if the Medications he prescribes for you are likely to have any adverse effects on erectile function.
If you worry that your equipment might let you down just when the mood for romance sets in, you should be alert to some of the little known threats that are typically found in the family medicine cabinet. A number of common prescription Drugs can sabotage your sex life by making it difficult, if not impossible, to get and keep an erection.
Because such drugs have been prescribed by your doctor to treat a medical problem of some sort, you can't simply stop taking these medications. However, by working with your doctor it's entirely possible that a kinder, gentler alternative can be found that treats the medical problem without interfering with your love life.
Side Effects of Rx Drugs
In treating the maladies for which they were prescribed, these problematic medications may interfere with hormonal production, blood flow, or the nervous system in such a way that hampers erectile function or perhaps lowers your sex drive. While these effects are not permanent, they are likely to play havoc with your sex life for as long as you continue to use them.
According to WebMD.com, the list of drugs with possible adverse effects on erectile function runs the gamut from widely used antihistamines taken to combat annoying allergic reactions to chemotherapeutic agents that fight cancer. As previously noted, alternatives with less adverse effects on erectile function are often available, but only your doctor can determine which alternatives might be appropriate for you and your specific health problems.
Antidepressants
Depression itself can cause Erection Problems, because men who are not feeling good about themselves and life in general usually are less interested in sex, and if that interest isn't there, it's difficult to get and keep an erection. Exacerbating the problem for men with depression is the fact that many drugs prescribed to treat depression may make it even more difficult to achieve an erection.
Among the antidepressants most widely blamed for erection problems are those medications that fall under the heading of selective serotonin reuptake inhibitors, or SSRIs. Included in this group are such popular antidepressants as Celexa (citalopram), Lexapro (escitalopram), Paxil and Pexeva (paroxetine), Prozac (fluoxetine), and Zoloft (sertraline).
SSRIs treat depression by increasing brain levels of serotonin, a neurotransmitter believed to have a positive effect on emotion, mood, and sleep. However, high brain levels of serotonin can alter the levels of other neurotransmitters, some of which play a key role in sexual desire. And without sexual desire, there's little impetus to get an erection.
In the December 2010 issue of "Current Psychiatry," Deepak Prabhakar, M.D., and Richard Balon, M.D., both associated with the Department of Psychiatry and Behavioral Sciences at Wayne State University, offer a detailed examination of SSRIs and sexual dysfunction. They point out that while SSRIs are among the best tolerated of the antidepressants, their acceptance by patients is limited by their adverse effects on sexual function.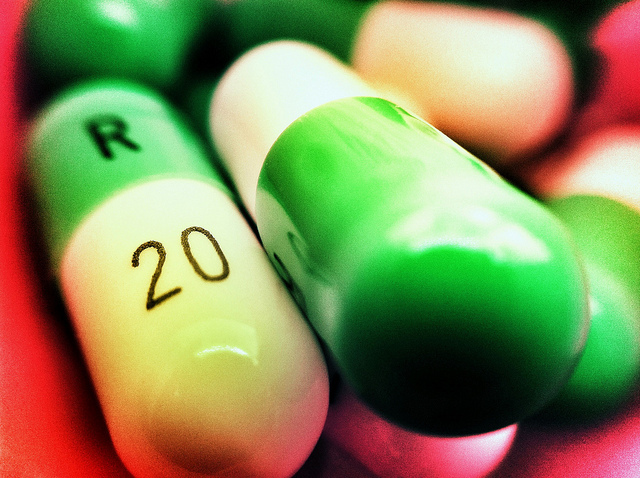 Prozac and its generic equivalent, fluoxetine, are SSRIs, a type of antidepressant that is known to cause erection problems for some.
Antihistamines
Antihistamines are widely used to combat allergic reactions, but less widely known is the likelihood that certain drugs in this category can cause Erectile Dysfunction. While the precise mechanism is not clear, it has been suggested that these drugs can temporarily alter the way men's nervous systems react to stimulus around the penis. The antihistamines most widely associated with erection problems include dimenhydrinate (Dramamine), diphenhydramine (Benadryl), hydroxyzine (Vistaril), meclizine (Anivert), and promethazine (Phenergan).
Antihypertensives
Antihypertensives are medications prescribed to treat high blood pressure, a risk factor for a variety of serious illnesses, including cardiovascular disease. While these drugs are very effective in keeping blood pressure within a healthy range, some of them cause erection problems. Among the blood pressure drugs most widely associated with adverse effects on erectile function are diuretics, such as hydrochlorothiazide, and beta-blockers, such as atenolol.
Brand-name diuretics in the hydrochlorothiazide family include Esidrix, Hydrodiuril, and Microzide. Hydrochlorothiazide is also used in combination with other compounds such as amiloride hydrochloride (Moduretic), spironolactone (Aldactazide), and triamterene (Dyazide and Maxzide).
Active ingredients in beta-blockers include acebutolol (Sectral), atenolol (Tenormin), betaxolol (Kerlone), bisoprolol fumarate (Zebeta), carteolol hydrochloride (Cartrol), metoprolol tartrate (Lopressor), metoprolol succinate (Toprol-XL), nadolol (Corgard), penbutolol sulfate (Levatol), pindolol (Visken), propranolol hydrochloride (Inderal), solatol hydrochloride (Betapace), and timolol maleate (Blocadren). Ziac, a combination beta-blocker and diuretic, can also make it more difficult for men to get and keep an erection.
For further insights into the relationship between thiazide-based diuretics and erectile dysfunction, you might want to check out an article that appeared in the October 2013 issue of the "Journal of the American College of Cardiology." The article's authors focus on the association between increased uric acid levels caused by the use of thiazide-based diuretics and erectile dysfunction.
NSAIDs
Non-steroidal anti-inflammatory drugs, or NSAIDs, many of which are available over the counter, are among the most widely used drugs to combat the pain of arthritis and other pain caused by inflammation, such as gout. The NSAIDs most often associated with erection problems are those that contain naproxen, such as Anaprox, Napralen, and Naprosyn, and those with indomethacin (Indocin).
Histamine H-2 Receptor Agonists
Troubled with acid reflux? Histamine H-2 receptor agonists, also known as H-2 receptor blockers, are among the most popular drugs to reduce the secretion of gastric acids into the stomach. These drugs are available in both prescription strength and OTC formulations. Compounds that appear to cause erection problems for some men include cimetidine (Tagamet), nizatidine (Axid), and ranitidine (Zantac).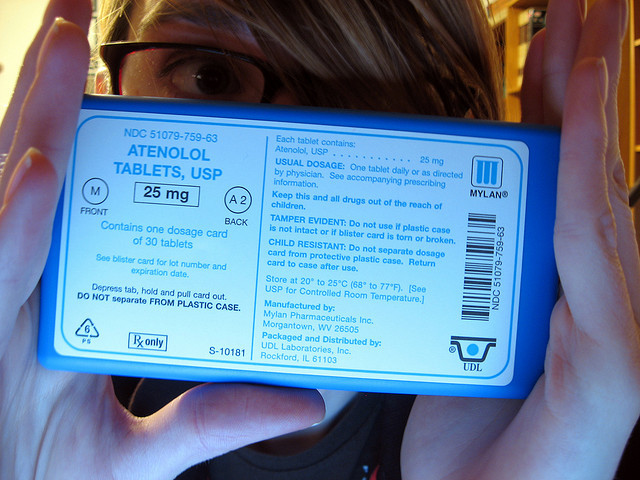 Atenolol, a beta-blocker taken to reduce high blood pressure, is known to have caused erection problems for some.
Muscle Relaxants
Certain muscle relaxants, prescribed to relieve the discomfort of muscle pain and spasms, have been linked to erectile dysfunction in at least some of the men taking these medications. Among the muscle relaxants that have been known to cause erection problems are cyclobenzaprine (Flexeril) and orphenadrine (Norflex).
Parkinson's Disease Medications
Another class of prescription drugs known to cause erection problems in some men are the medications prescribed to control the symptoms of Parkinson's disease. Such drugs include benztropine (Cogentin), biperiden (Akineton), bromocriptine (Parlodel), levodopa (Sinemet), procyclidine (Kemadrin), and trihexyphenidyl (Artane).
Other Medications
Other prescription drugs that have been associated with erection problems include the antiarrhythmic drug disopyramide (Norpace) and the prostate cancer medications flutamide (Eulexin) and leuprolide (Lupron). Chemotherapy drugs that have been blamed for erectile dysfunction in some patients include busulfan (Myleran) and cyclophosphamide (Cytoxan).
If you'd like to read additional articles about erectile dysfunction and its causes, as well as related health topics, we invite you to check out our blog.
Photo credits: banmaixanh14287, freedomsfences, Madeleine Burleson
Don Amerman is a freelance author who writes extensively about a wide array of nutrition and health-related topics.