These Lemon Scallops are so delicious served over greens as a simple salad.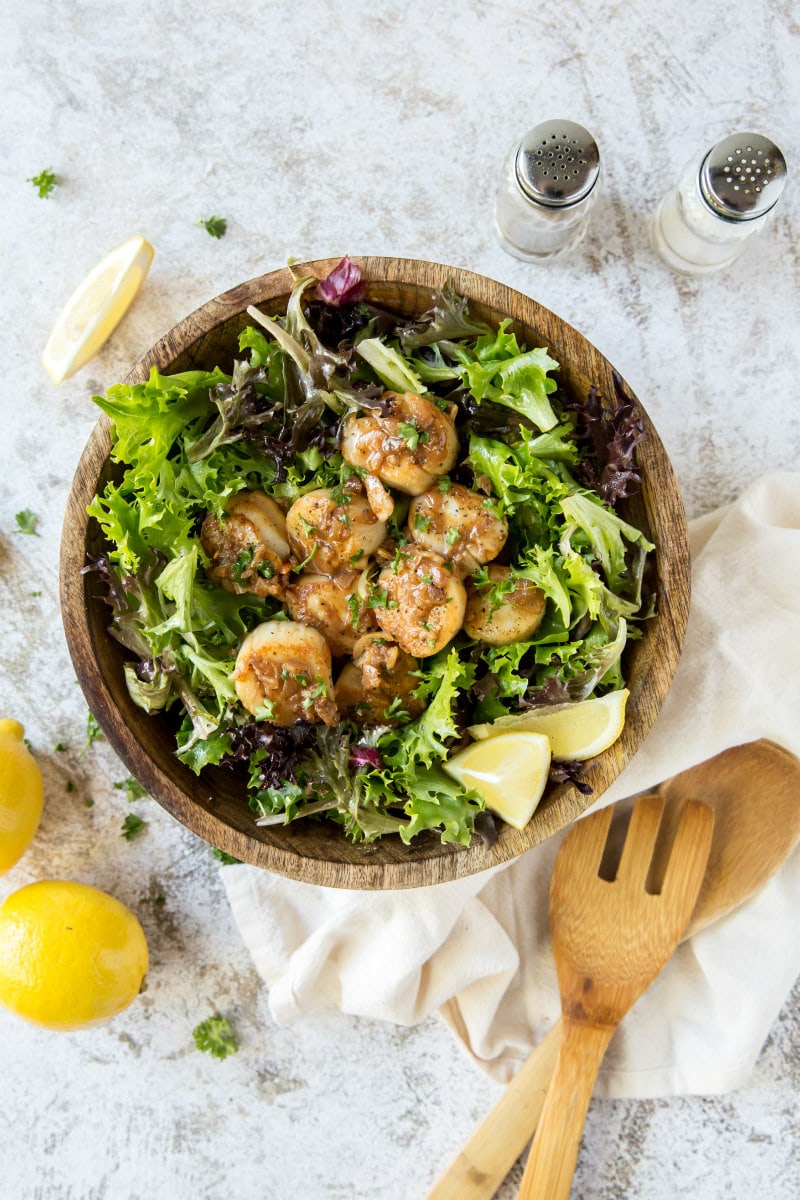 If you are looking for something perfectly light and easy-to-make after the heavy holiday season, this is a good salad to try. The Scallops are quickly pan-fried and combined with some great flavors. No dressing is needed since the pan drippings are added to the greens too.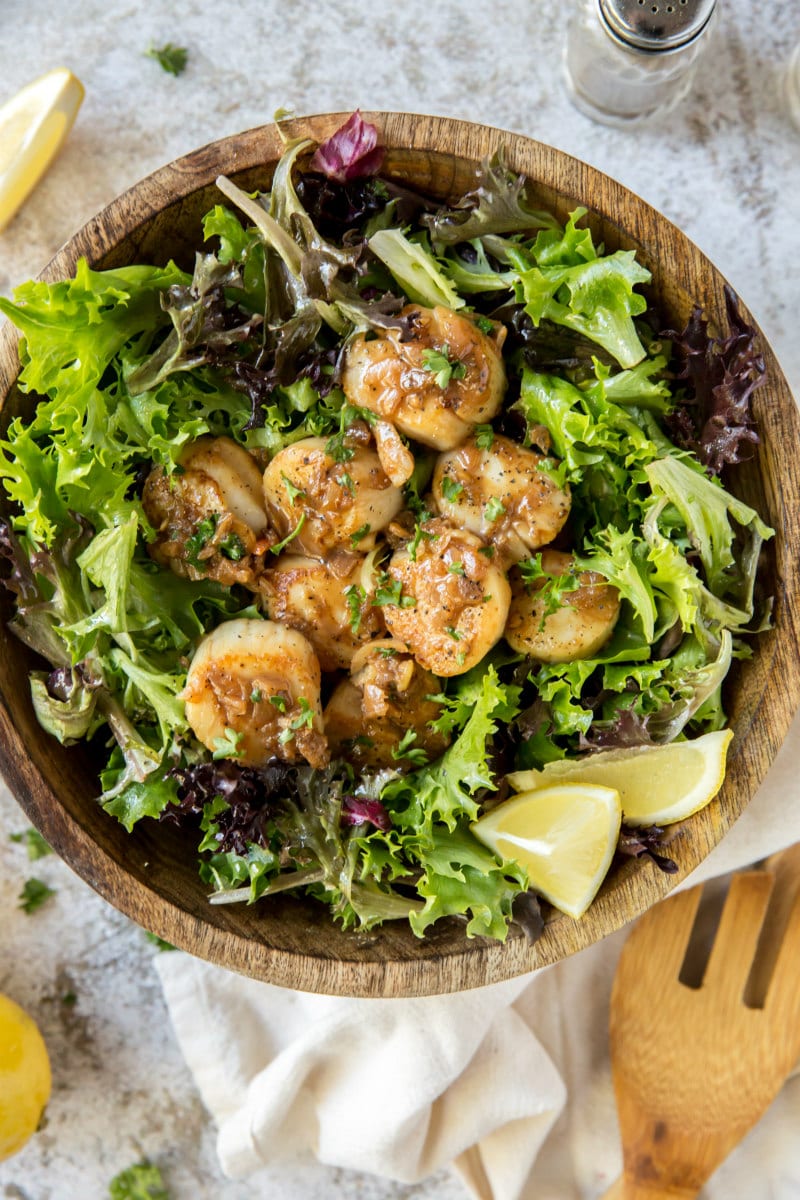 How to make Lemon Scallops
In this recipe, fresh scallops are salt, peppered and sauteed in a little bit of olive oil. The scallops are then removed from the pan. Then butter, shallots, garlic, wine and Lemon juice are cooked together in the pan. The scallops are then returned to the pan to soak up all of those wonderful flavors. To turn it into salad, place the warm scallops on top of the greens. All of the pan juices are drizzled on top!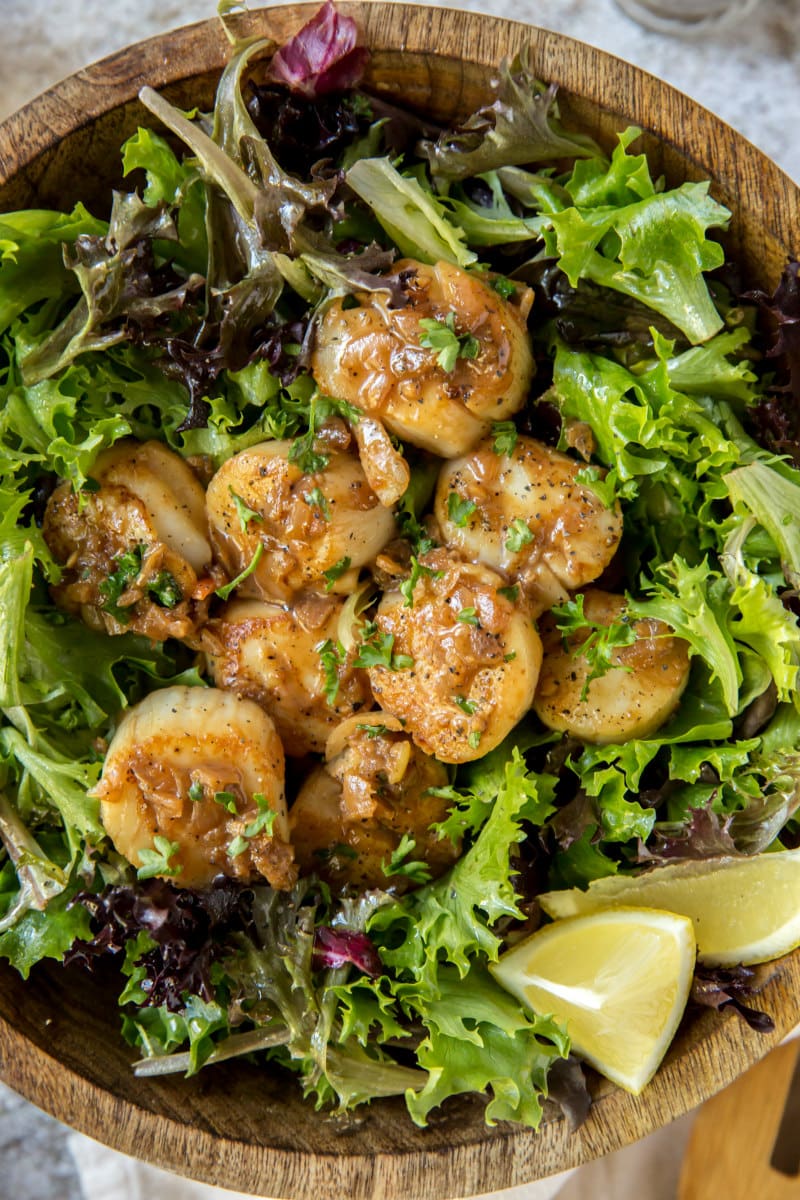 How to cook scallops:
Look for scallops in your market's fresh seafood department. Remove the side muscles from the scallops (if they are there). You'll know because there would be a little tag of muscle tissue on the side of the scallop that secures it to the shell. Sometimes it's still on the scallop. It will feel a bit firm and its fibers run opposite the rest of the scallop. Just pinch it with your thumb and first finger and pull it away and discard.
Oil in the pan should be sizzling hot (flick a drop of water on the oil and it should sizzle). Cook them in a single layer, and they should only need a couple of minutes of cooking per side. They should be golden brown, and the side of the scallops should be opaque. They should be firm to touch, but still soft. Over-cooked scallops will be tough and chewy.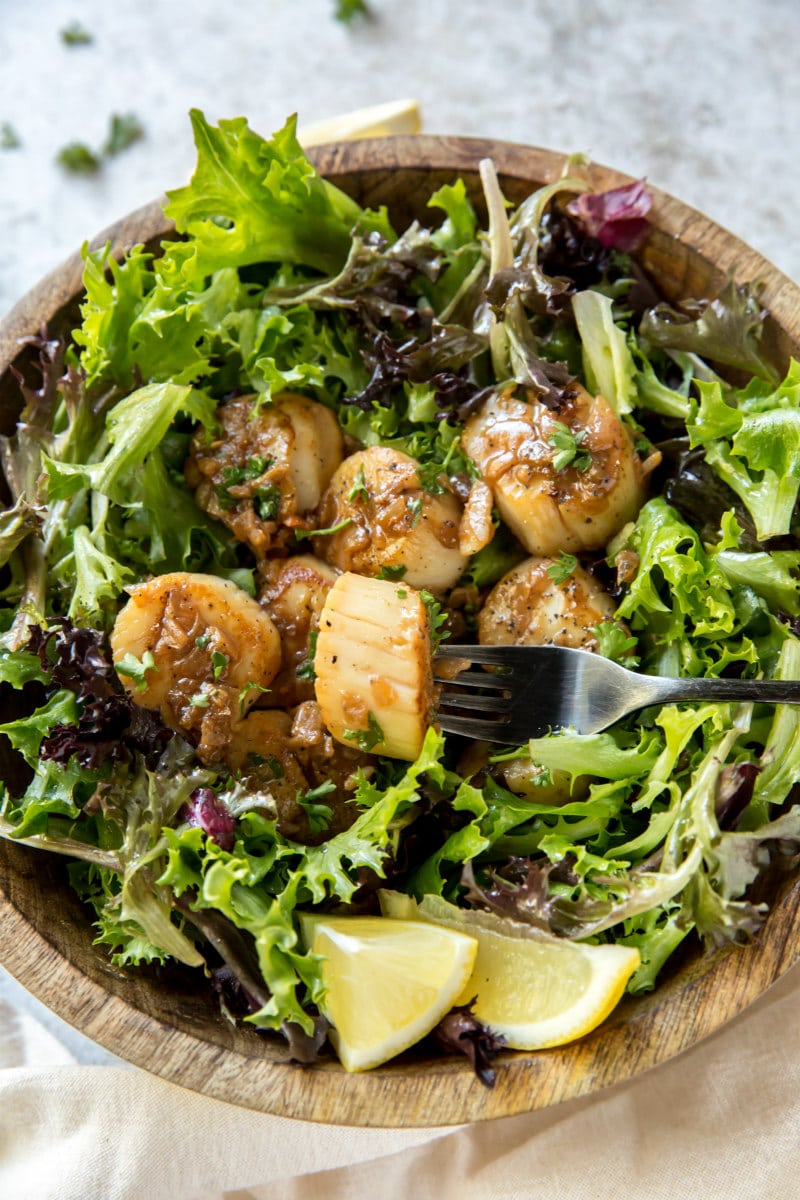 These may be served over greens, as shown. They're also delicious served over Cauliflower Rice. If you're following the WW diet plan, this is a good, low-point recipe to make. Point values are included at the top of this post. It's a nice, light lunch or dinner for those of you who aren't following any kind of plan. Enjoy!
Here are a few more lemon seafood recipes you might like to try:
Spicy Lemon Shrimp Salad
Lemon- Oregano Salmon with Roasted Tomatoes
Baked Fish with Lemon Cream Sauce
Lemon Caper Calamari Steaks
Salmon with Lemon and Basil
Lemon Crumb Fillet of Sole
Seared Scallops with Lemon Orzo
Lemon Garlic Shrimp Pasta
Lemon Scallops over Greens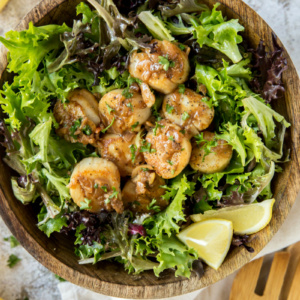 A simple salad topped with sauteed lemon scallops!
2 teaspoons olive oil
1½ pounds sea scallops
1/2 teaspoon salt
1/4 teaspoon black pepper
2 teaspoons butter
3 tablespoons minced shallots
1/2 teaspoon minced garlic
1/4 cup dry white wine
1 tablespoon freshly squeezed lemon juice
2 tablespoons finely chopped fresh parsley
3 cups mixed greens
Heat the oil in a large nonstick skillet over high heat. Sprinkle the scallops with salt and pepper. Add the scallops to the pan, and sauté 2 minutes on each side. Remove cooked scallops from the pan, and keep warm.

Melt the butter in the pan. Add the shallots and garlic; sauté 30 seconds. Add the wine and lemon juice; cook 1 minute. Return the scallops to the pan; toss to coat. Remove from heat; sprinkle with parsley. Place the greens in a bowl. Serve the sauteed scallops over the mixed greens. Drizzle the pan juices over.
The post Lemon Scallops over Greens appeared first on Recipe Girl®.