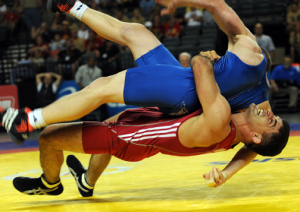 Am I An Athlete? Are You An Athlete? [pic from flickr, US Army]
I am not an athlete. I train hard, I do my best in events to get in the top 10% of my age group, but I am not a "competitor" who has a shot at winning in anything. I am Athletic (actually, way more athletic now in my 40s than I was in high school). But am I an athlete? No.
You are an athlete if you
Are paid a salary to participate in athletic events.
Are in high school or college and play on a team that has try-outs and low performers don't make the team, and you or your team competes against others and you keep score and have a record of win/loss.
Are out of school and participate in unpaid athletic competitions where you compete against high-caliber adults and you actually have a shot at winning your division. Maybe you sometimes get 3rd, maybe sometimes you get 7th, but placing is something you can taste.
You are probably not an athlete if
You used to meet the above criteria but it's been over a year (and you aren't injured and in rehabilitation). Best you can say is that you used to be an athlete or that you are planning on returning to being an athlete in the future.
You "do" the athletic activity vigorously but don't compete at least twice a year.
You work out, look great, are strong and lean, and know a ton about fitness and/or athletic activities but you haven't placed in the top 3 in any related event this year.
You compete but you and everyone around you knows that you have no shot at being in the top 3 of your division.
You call yourself an "athlete" and people laugh.
Don't get me wrong – there's NOTHING wrong with not being an athlete. But there is something wrong with pretending you are something you are not.
Thoughts?