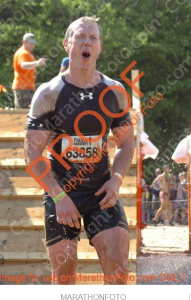 Me, at the Spartan, "hitting the wall"
It was September 21, 2013. I was about 6 hours into the Spartan World Championship Beast, in Killington VT.
I was bonking.
No, not the fun kind. Here I mean bonking as in "hitting the wall", an unfortunate experience many endurance athletes experience.
What was going on? I'd done this event twice before. Each was a slightly different (easier) course and I had completed in about 5 hours. But here I was at hour 6, not nearing the finish line, and I had no energy, no focus, and felt like quitting.
At first I thought this was due to a poor training plan. After all, I hadn't trained for a 7+ hour event.
Months later I realized, after experimenting, that a big culprit was my pre-event nutrition and my intra-event nutrition. In both cases, I had no plan. I spent the months leading up to the event thinking only about training. Not about how my nutrition before and during would matter.
In retrospect, that was dumb. I "knew" all about Carb Loading. At least, I had read about it a ton. And talked to marathoners who swore by it. But I never thought I needed it.
Fast forward to the September 20, 2014 Spartan World Championships. I had successfully Carb-loaded and had a great event. Here's what I learned…
What Is Carb Loading?
Let's get some definitions out.
Carb Loading = carbo loading = carbohydrate loading = CHO loading = glycogen loading. All these terms mean the same thing.
Carb loading is the act of pre-loading your muscles with more carbohydrate stores (glycogen) than they normally carry so that you have more to draw from during long-term exercise bouts. Muscles primarily use carbs for energy. So storing more energy in the muscles leading up to an event will increase the time before you "hit the wall". Several protocols for carb loading include a period of depleting your muscle glycogen (driving it to levels sub-normal so that during the loading phase you get even more oversaturation).
The exact chemo-bio mechanisms are more complicated than this, but that definition should suffice for our purposes.
Generally, carb loading is most effective when the event is over about 2 hours (some studies put the cut-off at 90 minutes). This is because that's about how long it takes for "normal" levels of muscle (and liver) glycogen to be consumed. The type and intensity of activity affects this but let's go with the 2-hr mark. Depending on a wide range of factors, carb loading could increase your stores (and thus your time before bonking) by 30% to 50%. That's about 45 more minutes and can make a huge difference in an event.
It's important to note that carb loading is episodic, not routine. Meaning, it's something you do leading up to an event rather than a normal way of eating.
What Carb Loading Is Not
Carb loading is
not about what you do during the event (although you can certainly "hit the wall" if you don't get your intra-event nutrition and hydration right)
not about your post-workout nutrition
not about bulking cycles
not about a low-carb vs high carb diet
not to be confused with "carb back-loading" [a longer-term diet where you eat most of your carbs later in the day]
not for everyone; as you'll see below, there are some things you need to test to see how you will react
Despite gym-talk, you don't do carb loading before an intense lifting session, powerlifting meet, or other short endurance training episode.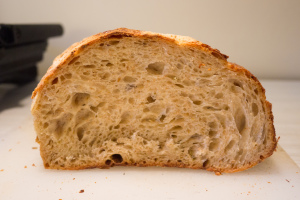 How and when to carb load [image from flickr, alto garcia]
When Should I Do Carb Loading?
Carb loading is designed for endurance activities. The longer the event, the more important it is to consider carb loading. For me, I am only going to consider it for events that I expect will take longer than 2 hours if there will be no intra-event nutrition or longer than 3 hours if its the kind of thing where I can eat/digest during the event. Your results may vary.
I should take a quick editorial time out here and talk about the focus of this site for a moment. For the most part, I'm not an "endurance athlete". Heck, I don't think I'm an athlete at all. But I am athletic and I do my best to beat my previous performances over time. This technique of carb loading necessarily focuses on endurance events and the only endurance events I do these days are obstacle courses. That training involves running but my passion is lifting. Obstacle races combine them well for me. If you are a competitive "pure" endurance athlete, then you may have needs beyond my knowledge to advise you on.
Carb Loading Protocols
There are several protocols, or methods, for carb loading that have evolved over the years. I'll list them in the chronological order in which they gained popularity:
Multi-day depletion + Multi-day loading

Basic protocol: 6 days before an event, exercise "to exhaustion" and then spend 3 days on a very low carb diet; then exercise to exhaustion again and move to a very high carb diet for the 3 days just before the event.

No depletion + Multi-day loading

Basic protocol: Same as above but skip the low carb stage.

No depletion + 1 day loading

Basic protocol: Skip the low-carb stage and then just eat a ton of carbs starting the morning before the event.

Short depletion + 2 days loading

Basic protocol: Two days before the event, do a short but intense workout (like a tabata interval run) and then move to high carb for the next two days.
And not surprisingly, there are variations within the variations.
Next Week
Next week we'll cover these protocols in more detail, what types of carbs are best, and some of the science behind it. Then the week after I'll share some special topics and my exact protocol for obstacle races (including intra-event nutrition) but that last article will just be for All Access Pass members.
There's still time for you to submit questions…