Staring at a computer screen for eight hours a day is hard on your eyes. Whether you are haunted by a searing headache that feels like a hot poker is stabbing you in the occipital lobe, a pair of corneas that are so dry and gritty that you wonder if you've been bobbing for apples in sand, or eyes so red that your boss keeps sending you for drug testing, computer-related Eye Strain is a pain in the posterior. Thankfully, you don't have to resign yourself to a life plagued by eye strain and pupil pain.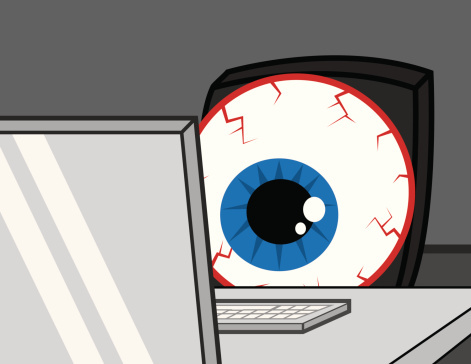 By following a few simple steps, you can prevent eye strain and protect your ocular health.
1. Toss the tube.
Archaic tube-style monitors, also known as CRTs, play a major role in annoying your peepers. If possible, kiss your CRT "goodbye" and replace it with a flat-screen LCD monitor. LCD screens have less flicker and glare–leading culprits in the creation of eye strain.
If you have to stick with the tube, make sure you select the highest refresh rate as possible and equip it with an anti-glare screen.
2. Play with the display.
It is likely that one of the first things you did when you got your computer was personalize your display settings. While, your hot pink background and deep purple font may reflect your personality, they are also contributing to your raging headaches and scorching eye sockets.
When selecting your display settings, opt for retina-friendly choices instead of going for dramatic flair. The brightness of your monitor should match that of your surroundings. If your computer acts like a light in the room, it is too bright. Choose a lower color temperature in order to reduce eye strain-causing blue light. Turn up the contrast. Choose a text size that is easy to read. And opt for black text on a white background.
3. Be blinky.
You are not in a staring contest with your computer, so remember to blink. It is said that the average person blinks approximately 20 times each minute, but only 7 times when they are parked in front of their computer. As a result, your eyes dry up and begin to feel like someone has been scrubbing them with steel wool. Remember to blink frequently. You can also rehydrate your eyes with artificial tear eye drops.
4. Protect your 20/20 with 20-20-20.
Break out your egg timer and set it for twenty minutes. A great way to prevent strained eye muscles is to engage in the 20-20-20 rule–every twenty minutes you stare at an object that is roughly 20 feet away for a period of 20 seconds.
5. Roll those eyes.
A great accompaniment for the 20-20-20 exercise is the eye roll. Yes, the action that got you in trouble with parents and teachers will now save you from eye strain. Be bold and roll your eyes up to your eyebrows and then in a large circular motion. Do this once every hour and your eyes will thank you.
6. Get your hands involved.
Under ordinary circumstances, it is a good idea to keep your hands away from your eyes. Unless, of course, you are "palming" them to avoid eye strain. What is palming? It is a great way to give your eyes a break from the pupil-piercing light emitted by your computer screen.
Simply cover your eyes with the palms of your hands–without actually putting any pressure on the eye area. Rest the heel of your hand on your cheek bone and place the fingers of your right hand over those of your left hand across your forehead. Let your eyes soak up the darkness for three minutes and repeat this several times each day.
Eye strain is not the only negative by-product of working life. If you suffer from job-related aches and pains, check out these surprising causes of fatigue.
7. Massage your eyes.
Your eyes work hard. Surely they deserve a massage as much as your neck or your shoulders do. Using the ring finger on each hand, simply make small circular motions, stopping at various points along your orbital bone and brow. This motion is also great for relieving sinus pain.
8. Go gunnar.
No one knows the woes of computer-related eye strain better than dedicated gamers. Gunnar glasses, while designed with the devout gamer in mind, can benefit anyone who spends a great deal of time glued to a computer screen. Their yellow hued lenses combat the blue light emitted by your monitor, greatly reducing eye strain. They also increase clarity and contrast and come in both prescription or non-prescription forms.
9. Seek a pro.
No one knows eyes and the implications of eye strain better than a professional eye care provider. Making sure that your eyes are checked annually will go a long way to protecting your vision for years to come.
By following a few easy strain-preventing tips you can bid adieu to bloodshot, achy, sandpapery eyes and the related throbbing headaches. You only have one set of eyes and they need to last you a lifetime, so treat them well. Your baby blues will thank you. If you're still feeling tired, you can always try to beat afternoon fatigue with nutrition.
What do you do to avoid developing eye strain?
Kimberley Laws is a freelance writer and avid blogger who spends hours in front of her laptop each day. You can follow her offbeat observations at The Embiggens Project and Searching for Barry Weiss.