Ah. Vacation. You've been counting down the days with the eagerness of a inmate anticipating his release from prison, and, at last, it is here. Freedom from the 9 to 5 drudgery, ghastly weather, and mind-numbingly dull routine. You've got all sorts of exciting adventures planned, amazing things to see, and–of course–delicious food to eat. But, you've overlooked one important thing. A fitness plan.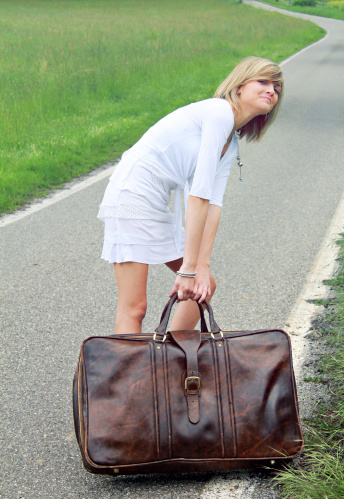 Yes, lugging that suitcase will keep you trim, but there are easier ways to do it.
All of that delicious food will likely contain a hefty heap of calories and fat–and the last thing that you want to do is return home with a mountainous midriff. Thankfully, there are a few easy ways to Stay Fit on your vacation without sacrificing an ounce of fun.
Get Active at the Airport
Will you be traveling to destinations afar? If so, you will likely have plenty of time to kill at the Airport. Instead of passing the hours awkwardly perched in an uncomfortable chair, get up and move around. In the New York Times' "For Healthier Flying Pack a Pair of Walking Shoes," Exercise Physiologist, Dr. Christopher Berger, states "travel does not mean de-conditioning. You're stuck in a terminal for three hours, boo hoo, but you have a climate-controlled place where you can literally walk for miles at some airports if you want."
So, take a saunter to a distant terminal, check out an airport gym–yes, they do exist–or simply do some squats and lunges. And whatever you do, don't give in and take the moving sidewalk.
Sightsee in your Skechers
Guided tours are great, but, sometimes, the best way to truly experience a new place or culture is to throw on your running shoes and explore on foot. If you jog at home, keep up the habit and find a great place to run in your new surroundings. And, if walking is more your style, forgo taxis and buses and opt, instead, to get to and fro under your own steam. In an "Expert Interview with Sagan Morrow on Diet and Health," the health guru and nutritionist admits that she does not plan for formal exercise when she is traveling because she always does a ton of walking when visiting new places." And this approach may just work for you.
Fine-tune your Front Crawl
Does your cruise ship, resort, or hotel offer amenities like a swimming pool, private beach, or gym? If so, you are in the perfect position to maintain your fitness regime. As "How to get a Good Workout in the Hotel Pool" reminds us, swimming is easy on the joints while offering resistance to your muscles and requires no equipment other than a bathing suit." So, why not perfect your backstroke or challenge the kids to a game of Marco Polo? If swimming is not your thing you could start a game of beach volleyball or hit the exercise equipment for an hour or two. Not only will you enjoy benefits to your health, but you will have fun doing it.
Furnish your own Fitness Room
By adding a few lightweight exercise items to your suitcase you can turn your suite, cabin, or–if you're extremely fortunate–luxury penthouse into your own private gym. Yes, all you need is a jump rope, some resistance bands, your favorite workout DVDs, some handgrips, and a heart rate monitor and you are all set to burn some calories and stretch your muscles in the privacy of your own room.
You can also perform a full-body workout without using any tools at all. Shape's "The Ultimate Hotel Room Workout" offers full instructions to a number of moves including squats, crunches, and cardio bursts.
So, go ahead. Enjoy your adventures, take in the sights, and approach that mile-long buffet with nary a worry. You've got a plan that will send those calories packing and keep your waist fit and trim. Happy travels.
How do you stay fit while on vacation?
Kimberley Laws is a freelance writer, avid blogger, and enthusiastic traveller who refuses to stay anywhere that does not have a pool. You can follow her at The Embiggens Project and Searching for Barry Weiss.