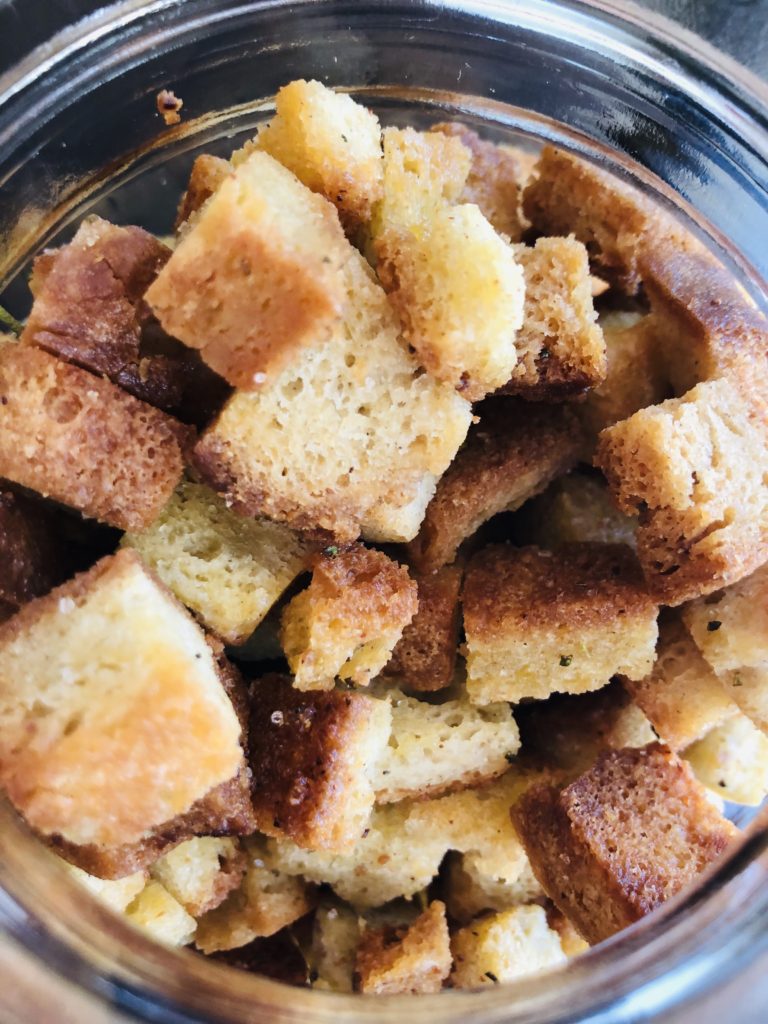 Make your salad more exciting with gluten-free croutons! You heard me right! This is my super-easy no-fail recipe for making croutons. Using leftover store-bought gluten-free bread, or stale homemade bread, and some salt and spices, you can make a delicious crunchy addition to any salad. You can do it!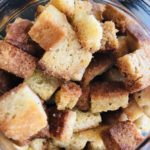 Print
Gluten-Free Croutons
Using leftover store-bought gluten-free bread, you can make delicious crunchy croutons!
Ingredients
1

loaf

gluten-free bread

or more or less

olive oil

garlic salt

optional: any other herbs or spices you like: rosemary, thyme, cayenne, etc.
Instructions
Preheat oven to 375 degrees.

Take slices of whatever gluten-free bread you have in your frig or freezer or counter. It can be stale pieces, end pieces and all other pieces.

Cut the bread into cubes. If you like your croutons bigger go bigger, smaller go smaller.

Put cubes in a bowl and toss with olive oil until lightly coated.

Sprinkle garlic salt (or other herbs and spices) all over the cubes and mix (you can taste one to see if the seasoning is how you like it).

Bake in over or toaster oven or oven at 375 until golden to medium brown and crunchy (about 20 minutes). Take out earlier if you like them less crunchy and longer if you like them crunchier.

Let cool and serve. Store in an airtight container to maintain crispness.