Our
Skin
is an important part of our body that stays healthy if it is protected well from different factors like sunlight, harsh weather conditions. Most of us try to protect the skin by applying home remedies etc. but still, we face various skin problems due to various reasons. There are a number of skin problems such as wrinkles, zits, uneven skin, discoloration etc. if you are facing one of such problems you can come to the Marmm Klinik for Skin Treatment in Indore. Aging is the most considerable and important factors when it comes to various skin problems.
Let us know about some clear and generally observed signs that show we are aging.
Signs of Aging
Aging is an important factor that is responsible for various skin disorders. As we get older, we observe a number of signs of aging like:
Line and wrinkles are distinctly observed as a natural process of aging. However, young people may also have wrinkled due to certain factors.
Due to differences in melanin in the different part of skin, the uneven tone of the skin is observed in the form of patches.
Due to the natural process of aging, the skin loses its elasticity and is observed as loose skin.
Due to aging, open pores are observed on the face, chest, upper arms and face.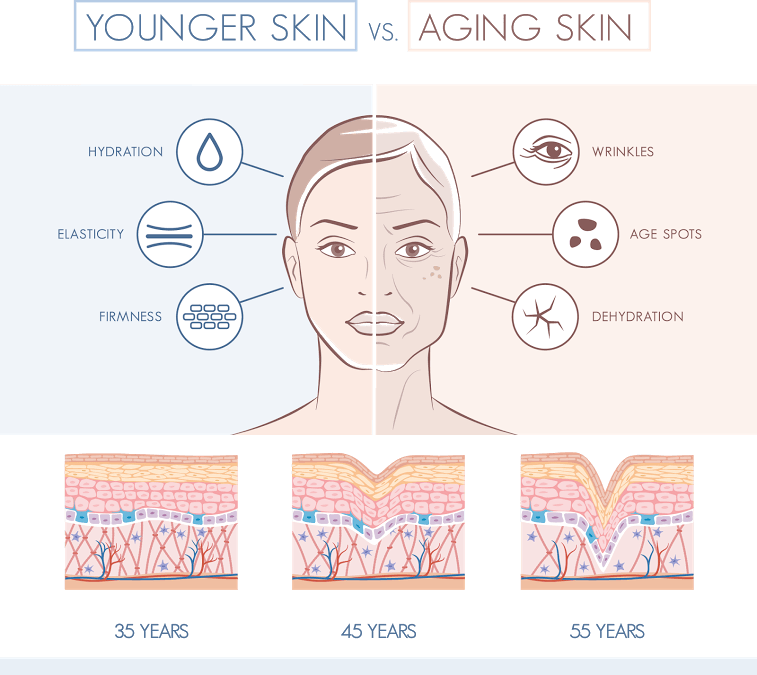 Is It Possible To Slow Down the Process of Aging?

At the Marmm Klinik, our experts work awesomely to bring your younger look again with our amazing anti-ageing treatment. You may come to restore your look again and eliminate the feeling that you are getting older day by day. The advanced treatments we have are able to fight the signs of aging by slowing down the process of aging. There are several treatments applied by the clinic like peeling, laser, Botox, skin pigmentation treatment etc. to give you a smooth, lighter, and well-toned skin without any signs of aging. Some of the anti-ageing treatments applied by us are given below:
Botox: An Amazing Anti Aging Treatment

Botox is an FDA-approved drug that is prescribed in the form of injections for improving the ageing signs of the skin. It is a painless and risk-free procedure if you are dealing with a well-trained and certified doctor. Botox treatment is helpful for treating signs of aging when it is applied at the affected areas because it makes the process of aging slow. The results you get after the treatment are durable for a long time.
This treatment is used to remove the dead skin from the outermost layer of the skin. After the procedure, you get a fresh and wrinkle free skin. This treatment is a powerful method to deal with all of the signs of aging.
Come and Let Us Decide The Best Treatment For You
There are various anti-ageing treatments but only a skin expert can decide what the best is for you. Therefore, you are welcome to the Marmm Klinik for fighting with the ageing process. We are able to apply suitable treatments for you to provide you a shiny, glowing, fresh and healthy look for a long time.