Taapsee Pannu kick-started her Bollywood career with Chashme Baddoor in the year 2013. The actress has delivered many power-packed performances one after the other but that's not the only reason we love her. Apart from being counted as a versatile actor, she has always been known for her fitness. She follows a rigorous training routine along with a strict healthy diet. Recently, Taapsee took to Instagram to give her fans a peek at her 'natural fat burning drink' recipe.
ALSO READ: Honey Cinnamon Combination- A Magical Remedy For Multiple Problems
After playing an octogenarian sharpshooter in 'Saand Ki Aankh', the actor's next in the pipeline is titled Rashmi Rocket in which she plays a sprinter. Taapsee will be playing the role of an athlete and has taken every step of the training in her stride. She has been undergoing extensive training sessions and maintaining a strict diet regime. The versatile actress is focussing not just on shedding weight for the role of a speedrunner but is conscious of gaining muscular strength and resistance.
View this post on Instagram
ALSO READ: 5 Fat Burning Exercises That You Can Do At Home
Taapsee Pannu's Fitness Secret
As far as her food intake is concerned, Taapsee revealed some of the details of her current plan. Through her latest social media post, we learn that the actress swears by a 'fat-burning' powerhouse drink. Taking to Instagram, Tapsee wrote, "My exotic sunset drink! Coz when Munmun Ganeriwal plans my meals no meal on the menu can be just an ordinary one. This fat-burning powerhouse of a drink has raw, unfiltered Apple Cider Vinegar with the mother. Along with it are fenugreek (methi), turmeric, and ginger. Turmeric & ginger are powerful inflammation-fighting agents so instead of going for pills, it helps to combat the pain and inflammation in muscles caused by my tough athletic training. Talk about being natural and exotic!"
View this post on Instagram
ALSO READ: 6 Apple Cider Vinegar Recipes To Lose Weight Fast
The actress can be seen drinking from a glass as she stands at a beach, with the sunset giving Taapsee the perfect golden hour glow. She has tagged the award-winning nutritionist Munmun Ganeriwal in her post crediting her for the 'exotic sunset drink.' Let's have a quick look at this fat Burning Drink Recipe-
ALSO READ: Jeera Water Benefits & Easy Recipe For Weight Loss
INGREDIENTS
2 tsp Methi (Fenugreek)
200 ml Water
15 ml Apple Cider Vinegar (ACV) with mother
5 ml Ginger juice
1 tsp Haldi powder (Turmeric)
7.5 ml Honey (optional)
ALSO READ: Immune Boosting Superfoods To Fight Off The Coronavirus (COVID-19)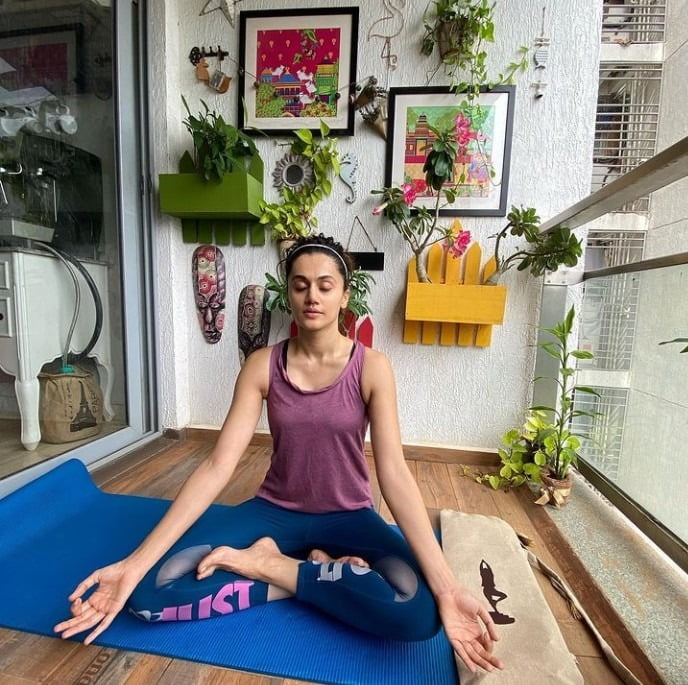 FAT BURNING DRINK RECIPE
Soak 2tsps methi (fenugreek) daana overnight in 200ml water.
In the morning, add 15ml ACV (apple cider vinegar) with mother to the fenugreek water.
Add 5 ml ginger juice.
Now add 1 tsp haldi powder.
You may add 7.5 ml honey too!
Your potent decoction with a mixture of many natural ingredients is ready! Her drink contains fenugreek, turmeric, ginger and honey, all of which can be easily found in our Indian kitchens. These natural ingredients are great for boosting immunity and help in weight loss. So, Taapsee is fully set to give her all to ace as a speedrunner on the screen.
Isn't it an easy and simple way to maintain a fit body naturally?
The post Fat Burning Drink Recipe- Taapsee Pannu's Fitness Secret appeared first on Be Fit And Fine.