To encourage the yogic practice, the International Yoga Day was proposed by Prime Minister Narendra Modi in his speech at the United Nations General Assembly (UNGA) on September 27, 2014. It is observed on June 21 every year to spread awareness about the importance and effects of yoga on the health of the people. Yoga is the perfect exercise for one's mind, body and soul, it not only helps you achieve your physical but also your mental and spiritual goals if done with consistency. Bollywood stars, whose profession demands them to be in shape all the time leave no stone unturned to stay fit, and most of them attribute this to Yoga. On International Yoga Day 2020, Bollywood celebrities have flooded Instagram with pictures and videos from their yoga work-out diaries.
June 21, 2020, marks the sixth international yoga day! Scroll down and find out your favourite Bollywood celebs who have not only been practising but also preaching yoga to their fans through the medium of social media.
ALSO READ: Weight Reducing Yoga- 5 Breathing Exercises For Weight Loss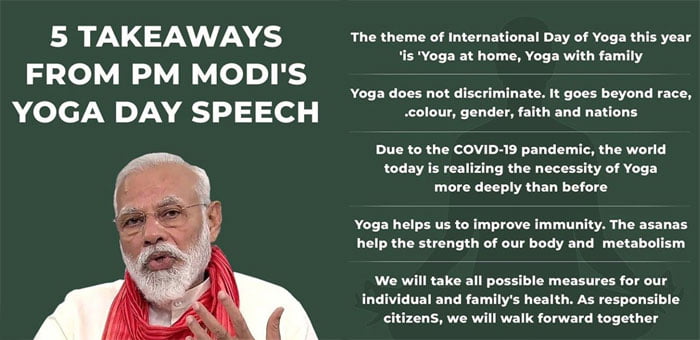 Yoga Day 2020: Shilpa Shetty Kundra
Shilpa Shetty, the epitome of fitness, is counted amongst one of the fittest actresses of the Bollywood. Chanting a Sanskrit shloka 'Asto Ma Sadgamaya,' she shared a video post where she is seen performing yoga.
View this post on Instagram

Asato Maa Sad-Gamaya | Tamaso Maa Jyotir-Gamaya | Mrityor Maa Amritam Gamaya | Om Shanti Shanti Shanti hi || Meaning: • Keep me not in the Phenomenal World of Unreality, but make me go towards the Reality of Eternal Self, • Keep me not in the Ignorant State of Darkness, but make me go towards the Light of Spiritual Knowledge, • Keep me not in the World of Mortality, but make me go towards the World of Immortality of Self-Realization, • Om, Peace, Peace, Peace. Wishing you all a very Happy International Yoga Day. Today I've shared a personal ritual with you all. I've been chanting the Shanti Mantra after every yoga session, because it helps me tell the Universe, our guiding force in nature… that I surrender to the will of nature. I accept that I don't know it all and I want to be drawn towards a better existence. I understand how limited my knowledge is of my own being and ask to be connected to all elements of nature in the way that humans were meant to be. Today, I pledge to work on bettering myself every day, so I can be of service to all in this lifetime, how I was intended to be. When this acceptance comes from within, you start realizing the deeper meaning of life. Shared the mantra here along with its meaning. Hoping we can all adopt and follow it as a way of life. With Gratitude Shilpa Shetty Kundra . . #InternationalYogaDay #SwasthRahoMastRaho #YogaSeHiHoga #YogisOfInstagram #StayHealthyStayHappy #WorkoutAtHome #YogaAtHome
View this post on Instagram

Today is extra special… it's International Yoga Day and Father's Day too! I truly believe, the family that eats, prays, and practices yoga together… stays together. So, we had Daddy and son Viaan-Raj spending a little extra time together… sharing a little snippet from our 'Yoga with Family' session. Here's to the unsung hero of the house, who is often the home-jester and the rock of Gibraltar for all of us… who quietly makes everything right, cheers us on, and is the wind beneath our wings. Fathers truly are our first heroes, just like you are @rajkundra9. Thank you for always being such a hands-on father to Viaan and now Samisha. I feel extremely proud that they have the perfect role model to look up to. Happy Father's Day, my love . . . . . #HappyFathersDay #dad #father #fatherson #sonday #family #yogawithfamily #yogisofinstagram #Gratitude
Malaika Arora
We all are very much aware of the reason behind Malaika Arora's fitness— yoga of course! On International Yoga Day 2020, Malaika Arora shared a video, featuring her speaking about yoga and confessed that for her it is a way of life and she loves doing it.
View this post on Instagram

People who know me, they know that everyday is International Yoga Day for me. Not a lot of you know this but yoga helped me through some of the toughest moments of my life – Both personally and professionally. And I'm not talking about just yoga asanas, I'm taking about leading my life in a way that I focus on the positives, be grateful for the life I have, the people I have in my life and work every single day to get better at it. Yoga has taught me all this. This International Yoga Day, you should not just take up yoga as a workout form but as a lifestyle. As long as you have yourself, your loved ones, you have the power to overcome any obstacle. Today being Sunday, give yourself a little love. Practice yoga, cook for your family, spend the evening in conversations and just dwell in all the positivity. I wish everybody a happy international yoga day! Love, light and happiness, Malaika Arora @sarvayogastudios @thedivayoga #mylifemyyoga #fitindiamovement #yogawithsarva
Kareena Kapoor Khan
The Bebo of Bollywood who is known for following a super healthy and desi diet, her go-to workout style is even more holistic. Yoga is one of her favourite go-to regimes and she has been doing it for the past 10 years.
View this post on Instagram

More stretching, less stressing Stay flexible, stay fit and stay fab! . @mcmary.kom @rahulkl and @duteechand, it's your turn to #StretchLikeACat with @pumaindia #InternationalYogaDay
ALSO READ: Kareena Kapoor & Priyanka Chopra Diet Plan To Stay In Shape
Karisma Kapoor
Karisma Kapoor found an interesting way to celebrate International Yoga Day 2020! The actress shared a picture of herself where she can be seen doing a yoga pose upside down while holding ropes attached to the roof of the room.
View this post on Instagram

Let's look at things from a different perspective… #happyinternationalyogaday #stayfit #staypositive #stayyou
Tapsee Pannu
Tapsee, on the occasion of International Yoga Day 2020, wished her fans and encouraged them to indulge in this fitness activity.
View this post on Instagram

Yuga
Rakul Preet Singh
"TRUE YOGA is not about the shape of your body but the SHAPE of your LIFE, it's not about touching your toes but what you learn on the way down. You can't always control what goes on outside but you can control what goes on inside", wrote Rakul Preet on her social media profile.
View this post on Instagram