The only good thing about the scorching summers is Mango. Nobody can resist the temptation of a delicious mango slice. Mango, the 'king of fruits' is not just pure indulgence but a powerhouse to various nutrients like vitamin A, iron, copper and potassium. It is high in antioxidants beta-carotene and vitamin C, and are great for boosting the immune system, further protecting eyesight and aiding digestion. The presence of fibre and pectin in it makes it a perfect fruit that helps in controlling high cholesterol level. Despite offering several health benefits, most of you consider it to be a fattening fruit. Isn't it? Well, let me tell you, mango contains negligible fat. It is your inactivity that is making you fat, not the mango on your plate. In this post, I am going to debunk the most common mango myths. And I am sure on realizing the facts of mango, your love for this fruit will increase manifold.
ALSO READ: Drink Bael Ka Sharbat This Summer And Lose Weight
Mango MYTHS- Diabetics Can't Eat Mango
FACT- It would be incorrect to assume that consumption of mango is prohibited for people suffering from diabetes. Actually, it is the quantity that matters! In fact, Mangoes are a better option for diabetics than simple carbs, sugary drinks or processed food.
ALSO READ: Diabetes Friendly Breakfast- Food Items With Low-Carb
Being rich in antioxidants and fibre mango help in improving insulin sensitivity. The fibre content present in the mangoes can help in keeping the blood sugar level in check. These fibres slow down the absorption of sugar in the body and thus have minimal effect on the blood glucose levels. Moreover, mangoes have a GI of 51 which according to the American Diabetes Association (ADA) is considered as a low or medium score. Diabetics should make sure to have the firm ones because as the mangoes become ripe and soft, their glycemic index rises.
ALSO READ: Best Tips To Control Diabetes: Diabetes Management
View this post on Instagram

Mango – separating the lies from the truth. The lies – 1. It's very high in sugar and calories 2. It's very high on glycemic index 3. People with Diabetes and obesity should avoid eating it. The truth – 1. Mango is great to taste, is in season and a store house of nutrients 2. It is low on glycemic index 3. It is not just safe but recommended for people with Diabetes and obesity for its rich nutrient profile. High on fibre, antioxidants and phytonutrients. Khao aur khane do, Mangoes. — More details in the infographic (thank you @mfuturewala for helping with the design). A mango a day, keeps fears at bay.
MYTH- Mango Is Full Of Calories & Makes You Gain Weight
FACT- According to nutritionists, mangoes are not associated with weight gain. It is a perfect fruit for summer which nourishes the body. It makes you gain weight only when you consume it in the wrong way.
A medium-sized mango has nearly 150 calories. Actually the culprit or the real treasure-house of fat calories are milkshakes, mango with cream, ice cream, aamras, pudding etc. So make sure to eat the mangoes without adding any fat or extra calories. Also, refrain from taking mangoes right after a meal which increases the overall calories intake. It is advisable to savour mangoes around mid-morning or as an evening snack.
Don't forget, excess of anything makes you gain weight. Similar is the case with mango. Mango actually can help you in weight loss if consumed with the right portion. Just replace your unhealthy snacks with this fibre-rich delicious fruit.
ALSO READ: 8 Traditional Summer Drinks To Keep You Cool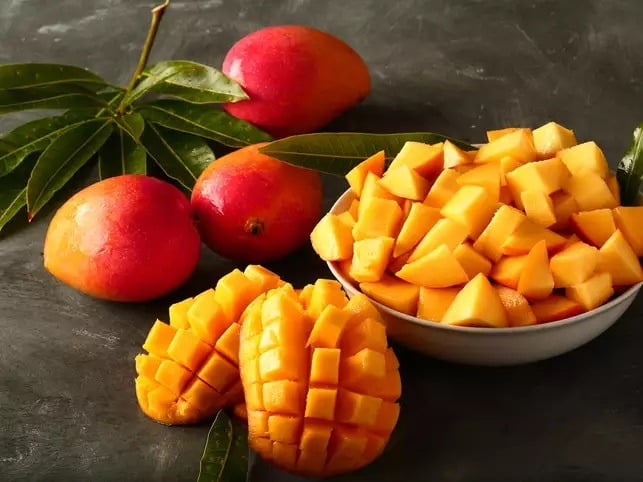 MYTH- Mangoes Are Heaty & Cause Acne
FACT- It is believed that excessive consumption of mangoes tends to produce heat in the body; which raises the body's temperature and may further cause ailments like acne and boils. This is not true at all! Well, it is true that mango is not a cooling fruit, but it never raises your body temperature if you are consuming in moderation. Also, you have a solution to this- just follow this age-old practice of soaking mangoes in water before eating for at least 30 mins to reduce phytic acid content.
Mango, the best summer fruit, is rich in vitamin C, potassium, magnesium, fibre, vitamin B6 and beta-carotene- all are essential healing nutrients for skin health. The fibre in mangoes cleanses the gut which is overloaded with toxic substances. Therefore, mangoes do not cause acne or any skin conditions unless you consume a lot of them.
ASO READ: Anti Acne Foods: What To Eat To Get Rid Of Pimples
Keep in mind- not abstinence, but portion control is the key. So, enjoy mangoes guilt-free & remember this mango season will be back again so no need to go overboard.
Here are some ways to relish the mango in a guilt freeway.
Have mangoes as an in-between snack.
Don't have mangoes with or after meals.
Don't juice mangoes. Try to avoid calorie-laden milkshakes or the aam ras as they contain fats and added sugar.
Avoid the mango flavoured yoghurts which are full of added sugar and preservatives. Instead, add chopped mango to a bowl of yoghurt and enjoy!
The post Most Common Mango Myths Debunked- Learn The Facts appeared first on Be Fit And Fine.