Having ruled the box office through the nineties with so many blockbuster movies, Karisma is a paparazzi favorite and still ruling the hearts of her fans. Despite being in her mid 40's, she radiates youthful elegance! Just give one look at the mother of two and you will wonder how she has beaten age? Lolo, as she is fondly nicknamed, keeps her diet on check and makes sure she eats clean and healthy. Eager to know Karisma Kapoor Diet plan? Scroll down to get inspired.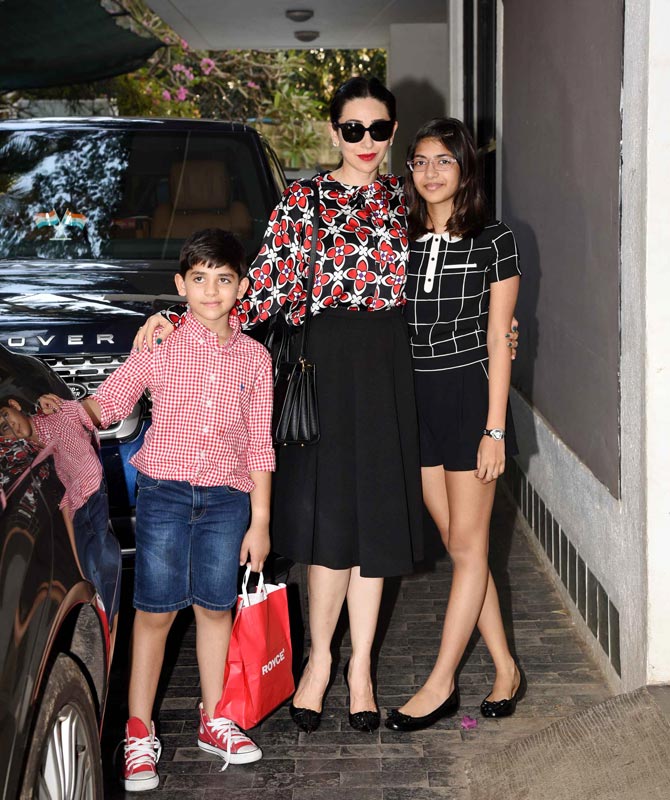 "Skincare regime isn't just about moisturization. If you eat healthy and keep your skin nourished, you automatically look better", said Karisma Kapoor
The diva has a prominent Instagram profile where she shares her relatable and delicious foodie moments quite often. Her healthy food choices will give you a clear idea as to why she has that sparkling glow on her face.
Karisma Kapoor Diet Plan: Be BERRYLICIOUS
Karisma truly believes in the power of berries as they tend to have a good nutritional profile. She often posts pictures of her breakfast bowl filled with varieties of berries like blueberries, raspberries, cherries, blackberries, and strawberries.
View this post on Instagram

#berried#healthybreakfast#shawnmendes#onrepeat#earlymornings
Berries, being rich in antioxidants, are good for the Skin and hair. They help the body to produce collagen, the substance that helps to keep skin supple and smooth. They are low in calories and contain high fiber content which gives a sense of fullness, keeping hunger pangs at bay. Skin-boosting berries make for a healthy snack at any time of the day. But Karisma generally prefers to have them in breakfast.
View this post on Instagram

Good morning#mybreakfast#strawberrys#yummy#vacationtime
Now, when you have got Karisma's berry good way to improve skin, start loading up on this berrylicious superfood!
Get Gorgeous With GRAPEFRUITS
Apart from berries, grapefruit is the other best superfood which is packed with skin-friendly antioxidants. Karisma gives a healthy start to her mornings with this pink and red colored fruit which prevents her skin from aging.
This citrus fruit helps protect her skin, smooth wrinkles, and diminish age spots. Thanks to the fruit's fat-burning properties, it may also help to slim down faster. Grapefruit is rich in immune-boosting vitamin C that helps strengthen the immune system too.
ALSO READ: 5 Anti-Aging Breakfast Foods For Beautiful Skin
View this post on Instagram

#mymorningbreakfast#grapefruit#healthystart
Hydrate With WATERMELON
When it comes to skin hydration, this evergreen beauty relies on watermelon. Watermelon is a delicious low-calorie treat with numerous benefits. Its high water content keeps her skin hydrated and nourished. She prefers to eat in her breakfast. Watermelon is known to naturally detoxify the body and thus helps in losing weight. Karisma even shared a pic of big chunks of watermelon on her social media handle.
View this post on Instagram

#breakfastlove#watermellon#hearts
Anti-Aging ALMONDS
Lolo is known to kick off her mornings with a healthy serving of porridge topped with almonds. The beautiful actress had posted a picture of her breakfast bowl filled with a variety of fruits and fiber rich almonds.
For health and nutrition, she avoids taking supplements and firmly believes in natural foods. Almonds are rich in proteins, magnesium, fiber, omega-3 fatty acids, vitamin E, potassium, calcium etc. Inculcating almond diet regularly will not only give you clear, pimple-free skin but also maintain the softness of skin and act as anti-aging beauty secret!
ALSO READ: Omega-3 Fatty Acid Food Sources
View this post on Instagram

#colourfulbreakfast#healthybreakfast
Antioxidants Rich CHIA SEEDS
The secret behind her sculpted and toned hourglass figure is chia seeds smoothie! She prepares it in almond milk which gives a pinch of protein. But the real stars are the chia seeds, which are high in antioxidants, omega-3s, and other nutrients. She pairs it well with the puréed apple which helps in detoxification.
Isn't it a delicious way to flush out the toxins and delay the onset of wrinkles?
View this post on Instagram

My morning healthy treat#yummy#homemade#chiaseeds#almondmilk#appplepuree#mixednuts
CUP OF JOE
Lolo's Instagram post reveals that she cannot do anything without her favorite cuppa! She keeps sharing her coffee posts with her fans.
The caffeine found in the beverage acts as an appetite suppressant and a metabolism booster. She loves sipping a cup of joe but makes sure not to add sugar in it, which indeed cut bountiful calories from her diet.
ALSO READ: Coffee Beauty Secrets For Beautiful Skin And Hair
View this post on Instagram

Coffee anyone #melbournecafe#coffeebreak#lovecoffee#melbournemoments#aussidiaries#aboutthisweek