The joy of breathing fresh, clean air, early in the morning is so rejuvenating. But do you know that the air and gases you're sucking up through your nose could be killing you? Yes, the air pollution levels in the country and especially in Delhi have reached alarming rates. The effects of air pollution can have devastating effects on your health and the environment. In this post, I am going to share my reviews on 3M Air Conditioner Filters And Respirators. Before that, let me make few things clear to you.
If you think your home is the cleanest place you can be- you're probably wrong! Various scientific studies have shown that 'Indoor Air' can be 2 to 5 times more polluted than the air outside. Outside, though the air may seem polluted, it's constantly moving and pollutants are continually being diluted and dispersed. Inside, your home is packed with all kinds of chemicals that generate pollution every time you use them. Let's check out various sources of outdoor and indoor pollutants.
OUTDOOR AIR POLLUTANT SOURCES
Construction, Smog, Pollen (from plants, grasses and trees), Particulate matter from dust storms, Exhaust Particles, Waste Burning, Agricultural Activities, Cleaning Chemicals etc.
INDOOR AIR POLLUTANT SOURCES
Candles/Tobacco Smoke, Household Dust, Bacteria and Viruses, Human Skin and Hair, Heating equipment (stoves, heaters, fireplaces, chimneys), Paints and strippers, carpet dyes and fibres, glues and adhesives etc.
– all contributing to increased PM2.5 concentration (PM2.5 particles are air pollutants with a diameter of 2.5 um or less, small enough to invade even the smallest airways.)
Exposure to PM 2.5 particles leads to short term effects such as irritation in the eye, throat, nose, lung, shortness of breath, sneezing, coughing, tiredness etc. But prolonged exposure in the long run leads to stroke, ischemic heart disease, chronic obstructive pulmonary disease(COPD), various respiratory diseases, lung cancer etc.
ALSO READ: Boost Immunity With Flu-Fighting Foods.
WHO Guidelines for exposure
PM2.5: 10 ug/m3 annual mean
PM10: 20 ug/m3 annual mean
KNOW YOUR AIR
Are you 'Air Aware?' I mean it's very important to track the quality of air we breathe in our city and our homes in specific – where we spend most of our time. You can watch out for air quality through:
Websites that offer real-time information of air quality levels across the city and forecasts the levels over the next few hours. It also helps identify the best time to go outside without getting overexposed to pollution.
Mobile apps that can help you keep track of air quality in different microenvironments across cities. You can download it to 'be air aware.'
Air Quality monitors which reveal the quality of air in the immediate surrounding of the user, and can be used to check the air quality of rooms, public areas, cars, etc.
Worried about Poor Air Quality? Fret not! 3M has found an Easy and Affordable Solution to these problems. Scroll down to know more about it.
For many people health risks may be greater due to indoor air pollution rather than outdoor pollution. So, it's important to try to improve the indoor air quality in your home with-
3M AIR CONDITIONER FILTERS
PRODUCT DESCRIPTION
It's a new air filtration solution from the 3M brand you already know and trust!
This electrostatic Air Conditioner filter from 3M, claims to filter out 83% PM2.5 and other micro particle pollutants from the air inside your home in just one hour so that you can breathe clean and stay healthy. These filters are designed to complement the existing filtering screen of your wall mounted air conditioners.
The American Lung Association is the health partner of 3M and the Filtrete Brand to achieve its mission of saving lives by preventing various respiratory diseases.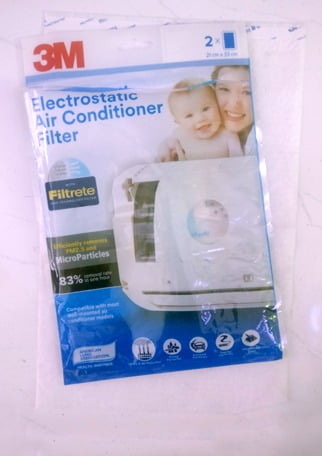 PACKAGING
The package contains two filter sheets, one each for the left and right screen of your split AC, along with 6 units of 5cm x 1cm double tape.
Sheet Material: These AC filter sheets are made with very delicate non-woven fibre composed of ~90% air, only ~10% fibre to ensure least effect on airflow and electrostatic charge on surface to pull unwanted particles from the air.
Colour: White
Dimension: 21cm x 33cm
To balance air flow and PM2.5 capture rate, these sheets cover around 80% surface of existing mesh of most models of ACs. In case you feel it is reducing air flow by large extent, you may cut it smaller as per your AC size. For best results, make sure to replace when the filter turns black.
KEY FEATURES AND DETAILS
Designed with electrostatic technology from 3M to pull in and trap unwanted air particles while letting clean air flow through.
Compatible with most wall-mounted air conditioner models.
Proven to capture 83% PM2.5 (Particulate Matter of diameter
Highly effective in capturing large particles like smog, dust mites, pollen, road dust, human skin/hair and pet dander.
Easy to use & Affordable.
HOW TO USE?
It's pretty straightforward and easy to install. Let's discuss all the instructions in brief.
Open the front cover of your wall mounted AC. Remove and clean the existing plastic mesh filtering screens.
Place the 3M filters vertically onto the centre of the mesh screens. Allow gaps on each side.
Use the double-faced adhesive tape to attach the top of the filter to the mesh screens and fold the bottom behind the screens.
Install the plastic mesh screen with 3M filters back into the air conditioner.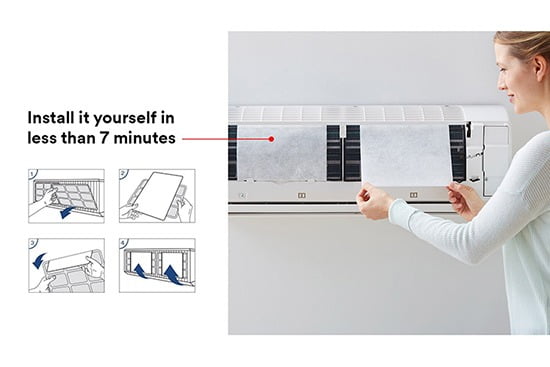 Although the life of the filter depends upon the individual condition of air quality in your home but for best results, change filter every 1-3 months. You can assess physical state of the filter before you decide to change.
ADVICE: Make sure not to wash the filter as it will reduce its effectiveness and, is not recommended.
TIP: Keep your room/house air locked when using purifying device as outside air comes in with more pollutants and your device will have to do more work
RATE
The other appealing part about using electrostatic air filters is its price- INR 425/- This is definitely a plus.
For more discount, purchase it from here: http://amzn.to/2B68Jvo
PROS
Easy & quick do-it-yourself application.
You can also cut and use it accordingly.
Purifies and delivers cleaner indoor air within an hour of use.
Filter media works like a magnet to pull unwanted particles from the air.
Proven to capture 83% of PM2.5 from indoor air.
Occupies no additional space at home like air purifiers do.
Air purifiers require maintenance in terms of filter change and also have a running electricity cost associated with them which is not in the case of 3M AC filters. It only needs attention every three months.
It saves expenditure and affordable way to purify indoor air.
Even during winters, you can simply turn your AC on "Fan" mode and use it only for one hour everyday for cleaner air
CONS
I wish the filter sheets were larger and must be changed once or twice a year and not after every 3months.
I am using 3M Air Conditioner filters and within few weeks I'm amazed at how much dirt/dust they collect. Really glad to have this option in my hands to breath fresh, clean air in the comfort of my home and office.
If someone in your home suffers from asthma or severe allergies then it should be the best deal for you. Go ahead, install 3M Electrostatic AC Filters, run the AC on fan mode to get cleaner air and stay healthy! Don't forget to close your doors and windows.
3M RESPIRATORS
Not only indoor, 3M takes care of your health outdoors as well. As we all know that the outdoor air is now at extremely unhealthy levels, make sure that you have an air pollution mask that's tested and certified.
PRODUCT DESCRIPTION
3M Respirator is designed to help provide reliable respiratory protection of at least 95 percent filtration efficiency against PM2.5. The exclusive 3M

Cool Flow

valve provides the userwith extra comfort and they are able to breathe while keeping cool, this is especially helpful for individuals with eye glasses – to prevent fogging.
This respirator can also help reduce inhalation exposures to certain airborne biological particles (examples: mold, Bacillus anthracis, Mycobacterium tuberculosis), but cannot eliminate the risk of contracting infection, illness, or disease.
The respirator incorporates 3M's proprietary technology with advanced electrostatically charged microfiber filter media designed for ease of breathing while giving you cleaner air.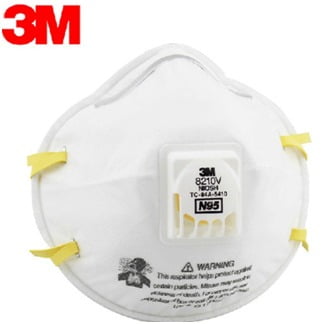 KEY FEATURES And DETAILS
NIOSH approved for at least 95 percent filtration efficiency against certain non-oil based particles.
Exclusive Cool Flow exhalation valve.
Good fabric quality and cushioning nose foam.
Adjustable nose clip helps provide a custom fit and secure seal.
Reduces fogging of eyewear with the adjustable nose clip.
RATE
For rates and discount offer, check: https://goo.gl/BFF4GL
Facebook: https://www.facebook.com/FiltreteIndia
It's time to 'Make Every Breath Count!' Beat the deadly smog and pollution with '3M Respirators' which is easy to use and affordable too!
The post 3M Air Conditioner Filters: Amazing Alternative To Air Purifier appeared first on Be Fit And Fine.