Lips are more sensitive than the rest of your skin as they don't have oil glands like other parts of the body. That is why the lips are more susceptible to drying out and becoming chapped (cracked). Before sharing the easy tips and remedies to prevent Dry Chapped Lips, let me give you some brief on it's causes.
ALSO READ: Natural Home Remedies And Tips For FRIZZY HAIR.
CAUSES OF DRY CHAPPED LIPS
Whether it's weather-induced or related to a lack of self-care, lack of moisture can make the problem worse.
Dehydration.
Smoking and drinking alcohol.
Sun damage.
Excessive licking of lips – habitual licking.
Skin irritants in toothpaste.
Allergies.
Certain medications, such as retinoids and chemotherapy drugs.
Lack of humidity in the air during the winter months
PREVENTION
INCREASE WATER CONSUMPTION
Increase your water intake if you want to Prevent Dry Chapped lips. Hydrating your body is very essential to keep your whole body and lips healthy. Make sure to increase your consumption of water especially in winter season to prevent your lips from drying. This is because cold air tends to zap the moisture right out of your skin and lips.
MORE VITAMINS & MINERALS
Just like the rest of your body, the skin on your lips needs nutrients to stay healthy. Deficiency of vitamins and minerals take away moisture from the lips and result in dry, chapped lips with reddishness.
Make sure you are getting enough of these vitamins and minerals in your diet- B Vitamins, Multivitamins, Iron, Mineral Supplements and Essential Fatty Acids
*Consult a doctor before taking any multivitamins.
STOP LICKING YOUR LIPS
Control your habit of licking the lips as it tends to make the lips drier. Saliva from the tongue can strip the lips of moisture, causing more dryness. So, avoid your habitual licking.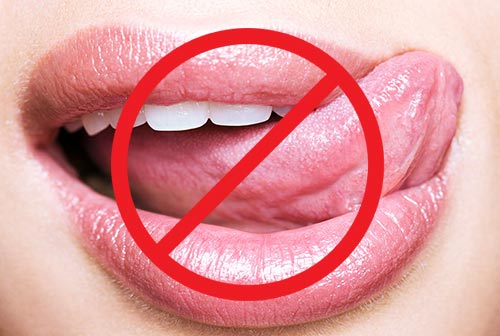 EXFOLIATE LIPS
Exfoliating is one of the best ways to prevent dry chapped lips. By exfoliating, the dead skin gets removed from your lips which in turn makes your lips baby soft.
You can brush your lips with toothbrush after brushing your teeth to get rid of unsightly dry skin. Don't forget to moisturize your lips immediately afterward with a good petroleum jelly.
APPLY A MOISTURISER
Moisturizers are an essential part of keeping your lips hydrated. Use moisturiser which contains shea butter, vitamin E oil, or coconut oil. Lip balm also helps to seal in moisture and protect your lips from outside irritations. Applying lip balm promotes healing and prevents chapped lips. Choose one which has ingredients like beeswax, petroleum, or dimethicone. Using a lip balm with SPF is great way to protect lips from sun damage.
HOME REMEDIES TO PREVENT DRY CHAPPED LIPS
HONEY
Honey has a power to moisturise and heal. It hydrates your dry lips to restore lost moisture.
Just apply pure organic honey on your chapped lips several times a day. You can also add some glycerin in it and apply this paste at night before you go to bed so that the honey can work while you sleep.
GLYCERINE
Glycerin moisturizes your lips and leaves them clean, pink and supple. This simple recipe will work effectively.
Mix ½ teaspoon of castor oil with ½ teaspoon of glycerin. Massage gently all over your lips before going to bed at night.
GHEE
Ghee or clarified butter helps to keep the lips smooth and heals the cracks formed.
Just take some lukewarm ghee and apply it on your lips before going to sleep. You'll wake up with smooth moisturized lips. You can also apply a little bit into your naval for getting soft-supple lips.
MILK CREAM
Milk cream is an excellent skin softener. The high fat content in it makes it a great natural lip moisturizer too. When applied on lips, it eliminates dead skin and makes lips smooth.
Simply apply small amount on your lips, leave on for 10 minutes and then wash off with cold water.
VASELINE
Applying vaseline or petroleum jelly is another simple yet effective home remedy to soften and nourish the lips and prevent it from drying. It seals in the moisture in the dry lips.
Apply 2-3 times a day and repeat this daily to get the desired result. Avoid flavoured lip balms!
ROSE PETALS
Soak 5-6 rose petals in 2 spoons of raw milk and keep it overnight. Next morning, make its paste and apply on the lips for a good 15 minutes. Then wash off with cold water.
This would not only heal the dryness but also helps in retaining the lost pink color.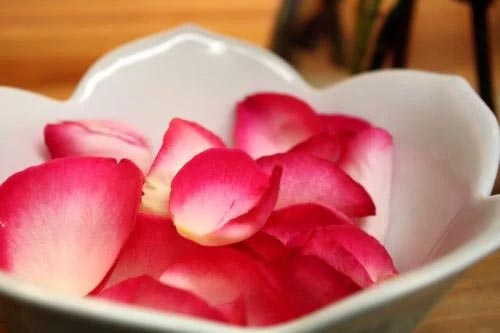 SUGAR
Sugar is a great exfoliator and helps to get rid of the cracked skin on your lips.
Mix one tsp of honey with 2 tsp of brown sugar. Apply this paste to your lips and let it sit for 5 minutes. Rub your lips with the fingers gently to loosen the dead skin cells. Wash it off with lukewarm water. Make sure to moisturise your lips with your favorite lip balm after this.
ALOE VERA
Aloe vera gel heals the dry chapped lips and gently removes the dead layer of skin cells. It provides a cooling effect and also relieves the pain of your cracked or peeling lips.
Cut the aloe vera leaf and scoop out the gel. Apply this fresh gel on your lips and leave it on overnight. Repeat this process daily to get smooth and soft lips.
The post Prevent Dry Chapped Lips: Easy Tips And Remedies appeared first on Be Fit And Fine.