The heartthrob actor, Karan Singh Grover is well-known for playing the character of Dr. Arman Malik in the serial "Dill Mill Gayye" and recently in news for marrying bong beauty, Bipasha Basu, a fitness icon. He has sculpted physique and muscular body. Having being quoted as the "Salman Khan" of Indian television he makes sure to live upto that in any way possible. This post is for all fitness enthusiasts who would love to know everything about Karan Singh Grover fitness tips
DIET CHART
Being a son of trained dietitian, Karan knows all his diet requirements such as what and when should he eat any particular diet. He himself is an ex-hotelier, so the dude has good knowledge of all about nutrition.
Fortunately, the hardcore Punjabi munda is not inclined towards fatty food and prefers homemade fare. "Unless l'm travelling and there's a Burger King around, in that case I'll have double whoppers every day. I love eating and I eat a lot. While shooting in the city, I carry my dabba from home. Everything is put in separate boxes and packed for me," he confides. Let's have a look on his diet chart.
My wifey made the healthiest and yummiest dinner for me!!! ❤️ I love you @bipashabasu
ALSO READ: Healthy Diet Chart Of Shilpa Shetty Kundra
BREAKFAST
Carrot, beetroot/apple/spirulina/spinach juice with one spoon of apple cider vinegar.
Six egg whites.
A big bowl of oats with honey, walnuts, almonds and raisins.
LUNCH
Oats khichdi with beans, carrots and peas.
Two chicken breasts.
SNACKS
Protein is important for a body so he takes protein shakes after every workout in the morning or evening.
Variety of fruits.
DINNER
Brown rice with boiled chicken, egg or fish.
Sometimes dal, or any other gravy item with a lot of salad.
CHEAT DAYS
In one of his recent interviews, he revealed his love for 'BESAN LADDOOS.'
"Last month, I've been having cheat days every day. I love cookies, candies and laddoos. I can avoid rice, that's not a problem. But if there are besan laddoos anywhere around in the house, they call out to me. I'll know exactly how many more are left in the dabba. And I eventually finish them. I also love Skittles. Last month, I had 30 laddoos in three days. I spent one month in the gym after that!", he laughs. Karan works out like a maniac after that because perhaps the 'guilt takes over'.
Now this is how you celebrate success!!! Eating a whole box of besan ka ladoos!!! Thank you @bipashabasu for the box of yumminess!!!
He drinks lots of water (3.5 to 4 litres every day.) He believes water is the best detox trick that everyone can follow easily.
ALSO READ : Detox Water Recipes For Flat Tummy
"One shouldn't eat anything after 8pm" is a myth according to him. Karan says, "It's for people who sleep by 10pm. I sleep late, by 1am. So if I have my dinner at 8pm, by that time my metabolism would have slowed down. You need to eat every two hours."
Karan Singh Grover Fitness Tips On WORKOUT ROUTINE
"Working out daily is crucial. It's a constant in my life. Workout is like meditation for me. I do it 50 percent for my body and 50 percent for my mind. It calms me down. In this way, I channelise my energies in the right direction. It keeps me balanced," he said about his holistic approach. Karan doesn't like sticking to just one particular form of training. He keeps on changing and loves variations. He tried his hands at pilates too. But he's more inclined towards a workout program that includes a mix of weight training, yoga and calisthenics. His workout routine includes-
GYM
This fitness freak has allocated his days on the basis of various muscles and body parts. Karan's weight training is divided into three days-
one day is for the legs.
the second day is for chest/delts/triceps.
the third is for his back. Posterior, biceps, abs and obliques.
Remember the name #aussiemonkeys
YOGA
He does yoga thrice a week. On those days he doesn't do workouts.
CALISTHENICS
These exercises are done without special equipment. "Calisthenics has been around for a long time but it became popular recently. All you need is a pull-up bar and you can exercise around it including doing push-ups," he explains.
Being a sports lover, Karan also stays fit by playing basketball and volleyball. "I also swim whenever I get the time. I could live in water!" he says.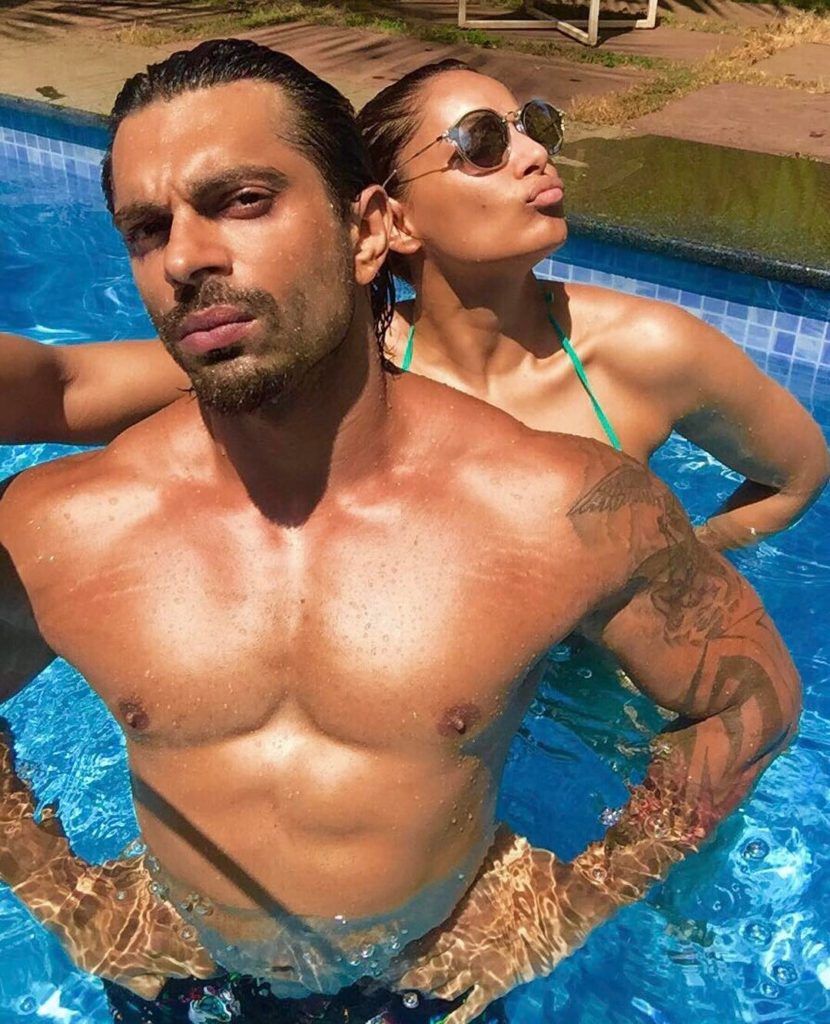 KARAN SINGH GROVER'S ADVICE ON FITNESS
He has advice for youngsters who want a body like his."Firstly, don't go with just the aim of having a great body because being fit is more important than having a great body. Secondly, when you look at the mirror, don't see what you have rather visualise what you want yourself to be.
If a person works out for 21 days non-stop, it will become a habit. Take a walk down the street, go for a morning jog, buy a gym membership and attend it just because you've paid a lot of money. Do whatever it takes to keep fit. In those 21 days, your mind will conjure up excuses like 'lt's Sunday so the gym is shut'. 'l'm not feeling well' or 'I have an early morning tomorrow'. Don't listen to it. Don't take too many break days. Consistency is the key secret," he stresses.
ALSO READ : Fitness Tips For Healthy Lifestyle By Shilpa Shetty
On bonding with his first leading lady, Karan says,"Bipasha is a fitness freak like me and that's what we bonded on." The power couple workout together in a gym named 'I Think Fitness' in Mumbai's Bandra and the common passion adds to their chemistry.
Man: what workout are you gonna be doing today my lady? Woman: the one where I put this band around your neck and hang from it my lord!!!
ALSO READ : Aerobics Dance Workout With Bipasha Basu
The post Karan Singh Grover Fitness Tips : Diet Chart and Workout Routine appeared first on Be Fit And Fine.