ADP is skilled at delivering architectural and interior solutions to new and existing Healthcare Facilities, often working in live environments, solving clinical problems and adding real value to the service, says Ranjan Ray, Director, ADP, in conversation with Elets News Network (ENN).
Give us an overview of ADP.
Founded in 1965, ADP has grown up to be one of the most admired architectural and design company internationally.
ADP has a 50+ year heritage which has provided us an exceptional insight into how the buildings and spaces we design help communities function and thrive.
Inspired by people, our success originates from shared endeavour and collaboration, which has resulted in long-standing client relationships and a loyal staff.
Our combined resources of over 120 staff operating from eight studios, seven in UK and one in India, gives us an international perspective to handle a wide range of project portfolio in Healthcare, residential, education, commercial and industrial sectors.
ADP is skilled at delivering complex, technical solutions to new and existing healthcare facilities, often working in live environments, solving clinical problems and adding real value to the service.
We guide Hospital and clients in achieving these outcomes, using 'intelligent derogation' to make best use of space, improve patient-flows and reduce bed blocking.
We are experienced in all forms of procurement and delivery and are used to working with technical specialists for installation of technical equipment in theatre and diagnostic environments.
ADP is today an internationally acclaimed architecture firm, which designs patient centric hospitals for developing cities in India. Can you shed some light on such hospitals' significance?
'Patient-centric' care has become a familiar term in both the healthcare sector and Government policy.
This concept states that people are at the centre of the design. Their emotional and psychological needs are met within spaces that feel tranquil and domestic in scale, with careful thought given to sensory stimulation. ADP has been working on environments that place the patients first for all the hospitals that we design.
Working with a 'patient-centric' hospital in Odisha, we have actively explored and helped define the design of patient-centric hospitals.
Inclusion of natural daylight and landscaping, which introduces the therapeutic presence of nature into spaces both inside and out.
During the designing of that hospital, we have learnt a lot about the needs of the patients and which elements of design they particularly value, improving their experience and outcomes.
There is a considerable migration of patients from developing cities to developed cities in India, due to the lack of proper healthcare facilities in the smaller town and villages. This results in a major socio- economic issue.
We believe that if more and more 'patient centric' hospitals and healthcare facilities were to be built in the developing towns of India, it would maintain the balance. It also helps in adding value to the social and economic conditions of these areas.
Can you share what kind of demand is in the market these days in terms of the design aspect?
Demand for healthcare facilities is currently very high. There are just not enough hospitals in the country to cater to the huge population. The positive change that has emerged from this situation is that healthcare facilities of all sizes are being built across towns. Investors and owners see this as a feasible business opportunity. Patients don't have to travel far and wide for quality healthcare.
To ensure that these buildings are made as per a satisfactory standard, most clients are now turning to architects and hospital managers to ensure that national and international standards like NABH is maintained during design/construction and management.
We have noticed that in the past decade, clients are more appreciative of design concepts and elements that we try and incorporate in their buildings. We are currently working on a 30-bed specialist Mother and Child hospital in a Delhi NCR satellite town where the design brief has to include all elements which will make expecting mothers and small children comfortable in the facility.
How important is design for improving visitors or patients' experience of a healthcare facility?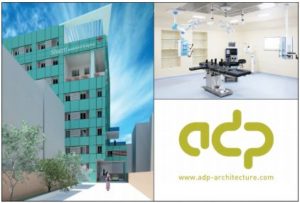 At ADP, we believe that architecture has the power to transform. This ability to change our physical world means that architecture has an intrinsic effect upon the quality of life. We ensure that people, their needs – both physical and emotional – are at the heart of the design process. Every solution is personalised according to the user which is a differentiating factor in the structures designed by us.
We understand the client's objectives and ensure that the resulting architecture is relevant and directly derived as per client and user's need.
We believe that design has to be the starting point for a successful user experience in the facility to be created. Without a good and functional design, the building will eventually be very inefficient and ultimately fail.
Any specific innovative technique that you have adopted off late to cater distinct service?
Sustainability has always been one of the innovative techniques that we always employ in all our designs whether the client asks for it or not. We believe that every time we get a building constructed we ensure that our creations do not take a toll on the natural resources. Therefore, we try and make our buildings less energy consuming and easier to operate and manage.
We ensure that our designs are compatible with national and international Green Building rating systems like GRIHA, BREEAM and LEED. Off late, we have also introduced concepts which look after the health and well-being of the occupants and users of our buildings which work in the following areas -air, water, nourishment, light, fitness, comfort, and mind.
We believe that design has to be the starting point for a successful user experience in the facility to be created. Without a good and functional design, the building will eventually be very inefficient and ultimately fail.
Please share about some of your important clients. How do you cope up with highly demanding clients?
All clients are highly demanding simply because they want their buildings to be the finest. The best way to be able to cope with a demanding client is to – LISTEN. Once you understand wh every stage of the design and construction. It helps gain trust and also ensures that he is not surprised or shocked at the end product, instead is happy with the outcome.