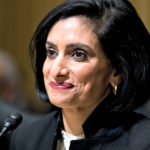 Verma was administered the oath of office by US Vice President Mike Pence on Tuesday, a day after she was confirmed for the position by the US Senate, media reports said.
The Indian-American's appointment to the key post is expected to determine the Health outcomes for over a third of all Americans, who receive health insurance coverage under one of the three US federal insurance programmes — Medicare, Medicaid and the Children's Health Insurance Programme.
Verma and her care consulting company, SVC, Inc, introduced the Healthy Indiana Plan 2.0 under the then Governor of Indiana, Mike Pence, utilising a pathway known as the 1115 waiver create the most conservative Medicaid expansion programme in the country that diverged significantly from the guidelines under the standard Obamacare programme.
Verma would likely be empowered by the executive order to allow more states to use 1115 waivers to exempt themselves from Medicaid restrictions and privatise their programmes, as well as implement plans like work requirements, atlantic.com reported.
"At each step of this process one of President Trump's most important objectives though has been to give the freedom and flexibility to states across the country to design healthcare programmes especially Medicaid to the unique needs of their most vulnerable citizens and that's where Seema Verma comes in," the Vice President said on the Indian-American's appointment.
Speaking about her plans, Verma had earlier said that she would consider the idea of block granting Medicaid or instilling per-capita caps, two policy options that would reduce federal spending by essentially locking in federal funding on a yearly or per-person basis.
Both of these plans would essentially transform Medicaid from an means-tested safety net programme with a guarantee of coverage to an exhaustible benefit with no guarantee of coverage beyond a certain point. These policies would inevitably shift more costs to poor and low-income Medicaid enrollees.
Verma's CMS would be a leading authority in determining the financial and programmatic feasibility of such proposals, atlantic.com said.
It is expected that Verma would be granted an arsenal of tools to push back the expansion of public insurance and cede more of it to the private sector, an arsenal that she helped develop and hone in creating HIP 2.0.
Even if Obamacare repeal languishes, Verma will have the power to reshape large swathes of health care as we know it, particularly for Americans who are struggling financially, the website reported.